News

Congratulations to Dr. Erin Calipari on the 2019 Freedman Prize Honorable Mention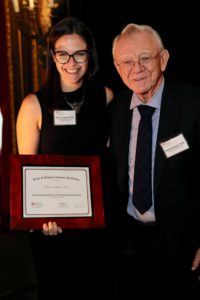 The Brain & Behavior Research Foundation awards Klerman and Freedman Prizes recognizing exceptional clinical and basic research in mental illness. The prizes are awarded annually to honor the work of outstanding scientists who have been supported by the Foundation's Young Investigator Grants Program.
---
Congratulations to Dr. Erin Calipari on receiving the Avenir Award from the National Institute on Drug Abuse
NIDA's Avenir Awards provide grants to early stage investigators who propose highly innovative studies.  "Avenir" is the French word for "future", and these awards represent NIDA's commitment to supporting researchers who represent the future of addiction science.This project focuses on combining optical tools and big data approaches to define the interplay between epigenetic signatures and neural activity patterns in substance use disorder.
---
From VUMC Reporter
Brentwood, Tennessee's JourneyPure, a provider of both residential and outpatient treatment for individuals who are addicted to drugs and alcohol, has made a commitment of $100,000 to Vanderbilt University Medical Center (VUMC) to support the training of fellows in addiction medicine.
---
From the Vanderbilt Reporter:
Stephen W. Patrick, M.D., MPH, MS, has been chosen to receive the Nemours Child Health Services Research Award, recognizing his work surrounding neonatal abstinence syndrome, a drug withdrawal syndrome experienced by infants exposed to opioids while in utero.
---
A natural signaling molecule that activates cannabinoid receptors in the brain plays a critical role in stress-resilience — the ability to adapt to repeated and acute exposures to traumatic stress, according to researchers at Vanderbilt University Medical Center.
---
---
VCAR member Stephen Patrick, MD, American Academy of Pediatrics (AAP) policy statement release.
---
Congratulations to Rita Baldi from Sachin Patel's lab, and to Brad Grueter for their NARSAD Young Investigator Awards.
Dr. Baldi's award will promote studies aimed at understanding the role of the endocannabinoid system in stress-resilience.  Dr. Grueter's award will allow his lab to move forward on research aimed at understanding interactions between the nervous and immune systems.
---
VCAR investigor Sachin Patel discusses implications of recent DEA decision on marijuana research.
---
Sachin Patel MD, PhD was one of 106 researchers to receive the Presidential Early Career Award for Scientist and Engineers.  This Award is the highest honor betowed by the United States government on science and engineering professional in the early stages of their independent research careers.
---
Vanderbilt University
Women may be at higher risk than men when it comes to overuse of opioid-containing painkillers, speakers warned at a research symposium at Vanderbilt University Medical Center earlier this month.
---
​Vanderbilt University researcher Danny Winder, Ph.D., has received a MERIT Award from the National Institute of Alcohol Abuse and Addiction (NIAAA), part of the National Institutes of Health, for his contributions to understanding how alcohol affects the brain.​
---