A Class Act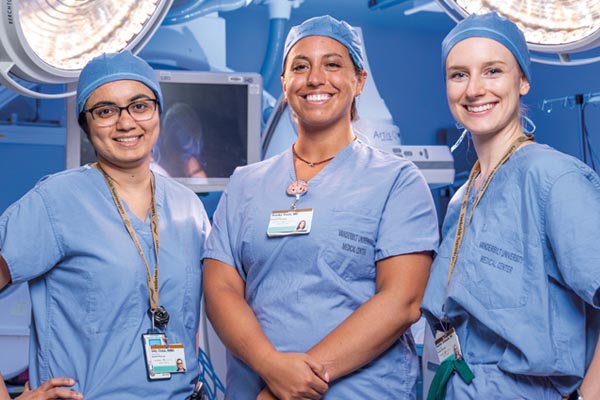 The glamour of being a neurosurgery resident is a yarn. It's a world of busy calls, sharpening skills, the occasional moments of doubt, and seemingly more obligations than unlimited coffee could fuel — even if time stretched to 30 hours in a day.
Somehow, though, it all gets done for the three third-year neurosurgery residents, just as it has for the residents who came before, and just as it will for those who will come after.
One milestone that distinguishes this trio from previous residency classes is that they are all women. In 2017 — for the first time in the Vanderbilt University Medical Center neurosurgery department's history — each physician who matched is a woman: Silky Chotai, MD, Heather Grimaudo, MD, and Danika Paulo, MD.
There have been a handful of all-women residency classes in other neurosurgery departments across the U.S. in recent years, but they are unusual — and therefore remarkable. There are a greater number of programs with few women as residents or staff, said Lola Chambless, MD, associate professor of Neurological Surgery and residency program director.
Reid Thompson, MD, William F. Meacham Professor of Neurological Surgery and chair of the Department of Neurological Surgery, announced the demographics of the class proudly at an orientation in 2017, recalled Paulo. Others called the group revolutionary when they arrived, particularly because the department didn't set out to find a groundbreaking class.
"I did not plan on being a 'female neurosurgeon.' I just wanted to be a neurosurgeon, so learning I was part of the first female class was surprising. I thought it would have been done before me. Now it's something I'm proud to be a part of, and it's created a bond of solidarity between us," said Grimaudo.
"It was an amazing feeling when I found out. Knowing that I will be working along with two other women who have achieved a lot in their careers was a great feeling," said Chotai, who also trained in India.
Chambless and Thompson are in lockstep about the benefits of perspective that stems from a team made up of diverse life experiences, thoughts and gender.
Thompson grew up in India, Malaysia and Indonesia and is better for it, he said. He loves being around the increasing diversity of younger people in the department. It keeps him learning and young — and the ideas that get tossed around about care and research have more texture.
"People talk about diversity — it's not a box to check. It is beyond gender, too. We're better because we're diverse. I would argue that we're the most diverse in the country in terms of our residents. They come from all over the world," said Thompson.
Nationally, 6% of board-certified neurosurgeons are women, and 15% of residents nationally are women. The VUMC department is now more than 25% female, and Thompson, whose pride for his colleagues is contagious, is quick to show off a photo of the group in scrubs on campus. One is a woman from Pakistan who placed best in math in her country one year.
Not only do women match at a lower rate than men, but being female is the No. 1 risk factor for attrition during residency, said Chambless, senior author on an analysis of neurosurgery residency attrition in the November 2018 Journal of Neurosurgery. It's been the theory for years that the pipeline of younger, entering physicians would close the gender gap, but that's not happening, which points to underlying issues.
"I think the majority of female attrition is happening when you're a one-off and not part of a larger female group," Chambless said. "This isn't just an issue with residents. We see it all the way up the career ladder."
Her theory — yet untested — is that programs with more women will have less female attrition.
There's no mission to have a 50/50 split because Thompson and Chambless are looking for the best minds that are the best fit for the group's culture. In the future, the majority of residency program could women if they are the physicians who fulfill what the department wants and choose to be there.
"It's not an easy path, so you can't oversell it, but there's a way to do it," said Thompson. "If you have a department where young people can see themselves in a role model, then they can see themselves as a role model."
The residents pointed to seeing women in the field as a reminder that — of course — it's possible. Chambless said balance is different for everyone and it's vital for all residents to recognize what works for one person could be a misalignment for another.
"Increasing female prevalence translates into more role models that will inspire future female neurosurgeons and eventually close this gender gap. We can demonstrate that it is, indeed, possible to be a neurosurgeon, wife, mother, have hobbies, a healthy work-life balance, and be whatever you want to be," said Paulo.
The changing demographics of the field is concurrent with rapidly advancing technology and a deeper understanding of the brain that wasn't possible even a decade ago.
There are better outcomes and people often survive and need follow-up care, which necessitates surgeons have people skills that weren't always required when the field began, said Thompson. The female resident trio is excited to be entering the field at a time of accelerated change — it's part of the specialty's allure.
Three years into a seven-year residency, the sheen of being a milestone residency class for the department is mostly worn off, which is fine since none of them set out to change any demographics. They want to change lives.
Yet, they recognize they are breaking boundaries and shifting perceptions for co-workers as well as patients. Paulo said they are frequently mistaken for nurses, and the residents must often reassure patients of their credentials and training.
"We're on the rise and I'm proud to be a part of that movement. On a daily basis, we are changing patients' and co-workers' expectations of what a neurosurgeon 'should be,' adding our own flair, taking a new angle, seeing things through a different perspective, breaking the mold," said Paulo.
Chotai said she's been "lucky to receive equal treatment" as male colleagues, and that having an all-female class in this program and in others should not be an outlier, but a norm.
"I want us, as the first all-female class, to be known as an effective, cohesive group of neurosurgery residents that provided excellent patient care. I want us to show the strength of female-driven medical care and the strengths of diversity within a team," said Grimaudo.