Allied forces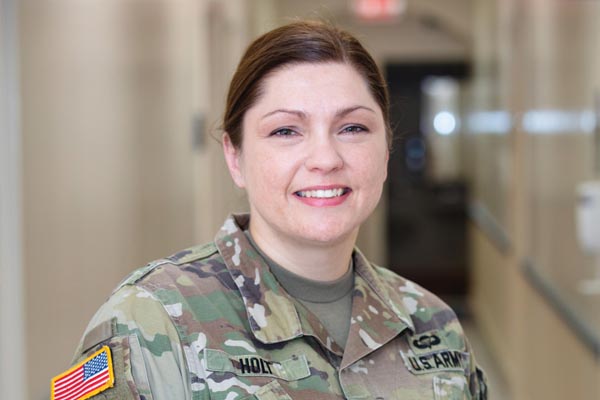 When Danielle Holt, MD, FACS, began a new job in 2019 as the chief of the Department of Surgery at Blanchfield Army Community Hospital (BACH) at Fort Campbell, Kentucky, she said it felt like coming home.
Holt, a lieutenant colonel in the Medical Corps of the United States Army, is a 2005 graduate of Vanderbilt University School of Medicine (VUSM), and BACH is a short drive up Interstate 24 from the campus where her medical education began. She is also one of many VUSM students with a military commitment who elect to complete a clinical rotation at BACH as part of their training.
After graduating from Harvard University and receiving her commission in the Army from ROTC, Holt said the tremendous support she felt at Vanderbilt in regards to her personal commitment to military service was the primary reason the medical school was at the top of her list.
"I was just overwhelmed with the positive reception and the understanding at Vanderbilt that my commitment to the military is a commitment to service," she said. "At Vanderbilt, the emphasis is on professionalism — to not just provide the best care but to become a better human being in the process. That was something I felt like I did not see on the interview trail at other medical schools. Even to this day, I feel excited when I think about it. It's a genuine, professional community, and everyone there honored my commitment to the military."
She witnessed the close congeniality between the military and both VUSM and Vanderbilt University Medical Center (VUMC) early in her education, which strengthened that feeling. Maj. Gen. Steve Jones, MD'78, who was then serving as hospital commander at BACH, came to speak to one of Holt's medical school classes, making a lasting impression and inspiring her career path.
Jones was instrumental in establishing an arrangement with VUMC to have military medical surgeons complete rotations alongside Medical Center surgeons to better prepare for deployment. This arrangement has endured to this day.
Holt coordinates with providers at both VUMC and the Nashville VA Medical Center if specialized care is needed that is not available at BACH. She was reminded of just how small the world is when she learned her former supervisor and fellow general surgeon at Walter Reed National Military Medical Center, Philip Perdue, MD, was hired in 2020 as the chief of Surgery at the Nashville VA Medical Center.
"The thing about the military is that even though you're moving around to different places in the world and setting up new roots, it's amazing how interconnected it all is and how many folks you'll come across later on down the road," she laughed. "It's the same way with colleagues from my time at Vanderbilt. It's reassuring to be able to call upon those familiar connections."
Bradley Dennis, MD, FACS, associate professor of Surgery in the Division of Trauma and Surgical Critical Care, serves as chair of the Vanderbilt Military Affairs Committee, and he agrees that the strong bond that exists with VUMC, BACH and Fort Campbell, and the military as a whole, is incredibly beneficial to all.
"Our community here at Vanderbilt recognizes the important role that the military and the military medical community play in protecting our soldiers and helping all of our armed forces to be successful in their missions," Dennis said. "There's definitely a major role for the Vanderbilt alumni, the Vanderbilt community and our medical students to be engaged in supporting the education and the maintenance of skills for military medical personnel."
While there have been informal partnerships and exchanges between BACH and Vanderbilt for many decades, the Vanderbilt Military Affairs Committee was formed in 2019 to better coordinate existing partnerships and forge new collaborations between Vanderbilt and any facet of the military, including those with Fort Campbell and BACH, Dennis said.
Many of the current partnerships between VUMC and BACH/Fort Campbell involve having military medical personnel complete clinical rotations in trauma, burn, the emergency department and other critical care areas at the Medical Center, as well as educational opportunities such as the Advanced Trauma Life Support (ATLS) course led by members of the VUMC Trauma Outreach team. ATLS training instructs learners on how to efficiently assess, resuscitate and stabilize a patient — invaluable skills in combat. Military medics have also come to Vanderbilt's Surgical and Anatomical Simulation (SAS) facility for hands-on training, Dennis said.
There is growing research that supports the importance of military and civilian partnerships for military surgeons to maintain complex trauma skills. Two such studies were published in Military Medicine in 2017. The studies compared the number and types of extremity injuries treated at civilian trauma centers and military treatment facilities and evaluated the viability of cross-training programs at civilian trauma centers to address current priorities for combat casualty care. Lt. Col. Daniel Stinner, MD, an assistant professor of Orthopaedic Surgery at VUMC and an active-duty Army officer, was a co-author on both papers.
Stinner spends four days per week at VUMC and one day at BACH to assist in orthopaedic trauma care and education. Lucas Groves, MD, is another active duty Army soldier and assistant professor of Clinical Ophthalmology who divides his time between VUMC and BACH, and Chris Bickett, MD, an assistant professor of Clinical Emergency Medicine, also practices at both VUMC and BACH.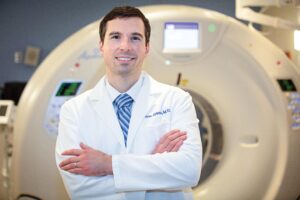 "Another active-duty member of the military, Dr. Josh Smith, will graduate from our Trauma Surgical Critical Care Fellowship in August and then join our faculty," said Dennis. "These are outstanding physicians, and having them here is a tremendous benefit to our patient population."
"Rotations at Vanderbilt enable our military physicians to build and maintain their skills while stationed at Fort Campbell," said Col. Patrick T. Birchfield, BACH Commander. "When they are called upon to support deployments, they will carry that additional expertise in performing emergency trauma surgeries to help save the lives of our soldiers. For the Vanderbilt team, these military provider rotations are a valuable asset, benefiting both treatment facilities."
Plans are in development for VUMC to become an official site of an Army Military-Civilian Trauma Team Training (AMCT3) partnership that will build on past collaborative successes, Dennis said. The AMCT3 program delivers medical training opportunities to military medical personnel by embedding them in a civilian trauma center for two to three years.
"Our partnership with Vanderbilt University Medical Center is one we greatly value at Blanchfield Army Community Hospital," said Birchfield. "Our hospital, as well as the families and retirees at Fort Campbell and surrounding communities benefit from the close proximity of this reputable medical center.
"The rich experience gleaned from our military rotating at Vanderbilt enables them to improve the care they offer our own beneficiary population. This partnership greatly improves readiness for our military surgical and specialty teams, while simultaneously boosting the breadth of experience on the Vanderbilt team. Both agencies benefit greatly from this connection."
For Holt, the leadership skills she learned through ROTC and sharpened throughout her military career have perfectly complemented both the medical training and commitment to exceptional patient care she gained at VUSM.
"My experience during medical school certainly encouraged me to pursue surgery as my field of specialty," she said. "And there is that added Vanderbilt touch of doing everything with humanity and compassion. I feel like so many of the intangibles our instructors were hoping to instill in us — such as developing a good bedside manner — were always consistent, regardless of what rotation I was on."
Following medical school, Holt was deployed during Operation Enduring Freedom as a trauma surgeon at the 14th Combat Support Hospital at Forward Operating Base Salerno, Afghanistan. Her most recent role before returning to Tennessee was serving as chief of the General Surgery Division at Walter Reed National Military Medical Center in Bethesda, Maryland, during which she also served as the General Surgery Consultant to the White House.
When her husband, Lt. Col. Heath Holt, assumed command of Fort Campbell's Soldier Recovery Unit (formerly the Warrior Transition Battalion) in April 2019, Holt was thrilled to return with her family, which includes a young son and daughter, to familiar territory as she began her surgical leadership role at BACH.
BACH serves the community surrounding Fort Campbell, Kentucky, the 101st Airborne Division (Air Assault) and the Fort Campbell community. Accredited by the Joint Commission, BACH provides both soldier- and patient-centered medical homes for more than 72,000 enrolled soldiers, retirees and their family members receiving primary care.
In addition, BACH provides numerous specialty care services, including emergency medicine, surgery, integrated disability evaluation, traumatic brain injury care, behavioral health, women's health, and inpatient care, to more than 101,000 eligible beneficiaries within a 40-mile radius of Fort Campbell.
"I think the best thing about coming back here is already having an understanding of the community and the resources that are available," Holt said. "Even though we're up the road from Vanderbilt, we're closely connected, and one of the big strategies for our military medical community as a whole is to increase those partnerships. BACH serves active duty service members, their families, and retirees who make up the Fort Campbell community. Many of these patients receive specialty referrals at Vanderbilt, and our long-standing connection strengthens the communication between care teams and patient expectations of the care they will receive."
Ryan Grippo, MD, a 2006 graduate of VUSM and the first Dean John E. Chapman scholar, is another alumni who practices at BACH. As a civilian provider at a military medical facility, he said he takes great pride in taking care of active-duty and retired members of the military and their families. His father is a Vietnam veteran who instilled in his sons a deep respect for the military, and through his job as a radiologist, Grippo is able to directly thank service members every day.
After completing medical school, Grippo completed a transitional residency at Riverside Regional Medical Center in Virginia before returning to VUMC for a radiology residency. A musculoskeletal imaging fellowship he then completed at the University of Utah gave him an extra level of expertise to provide care tailored to the patient population at BACH, he said.
"Many of our active-duty service members come in with musculoskeletal joint pains and concerns," Grippo said. "Otherwise, they're typically in very good physical shape. It's rewarding to be able to image someone and make a diagnosis. Most often it's something that can be treated, and they can then get back to their life as usual. It's been a fantastic experience to be able to serve our service men and women in this way."
BACH's radiology department is a full-range, high-volume practice, and Grippo said being a medical student at Vanderbilt, with access to a Level 1 Trauma Center, prepared him well for his current role. As a student, he participated in the care of patients with a broad range of complexity, from those needing a routine ultrasound to patients requiring much more specialized care.
The collegial, team-based environment at Vanderbilt also mirrors the atmosphere at BACH, Grippo said. For example, a recent collaboration with an orthopaedic surgeon at BACH led to the joint publication of a study in the Journal of Orthopaedics.
Whether it's medical students completing a clinical rotation at BACH, military medical personnel working alongside VUMC providers, or VUSM graduates working at military medical facilities throughout the world, the relationship between Vanderbilt and military medical personnel is essential and invaluable, said Dennis.
"These partnerships are an ideal opportunity for Vanderbilt to give back to the military and to be a component of maintaining the battlefield readiness of our medical military colleagues," he said. "Vanderbilt has certainly a desire to show our appreciation and our respect for the work that those folks do, and I think helping them maintain their skills is really a small token of our appreciation. The other thing is that these folks come down from their base, whether it's Fort Campbell or from other bases, and they work side by side with us, augmenting our workforce. And they do great work."