Alumni profile: Jeff Spencer, M.D.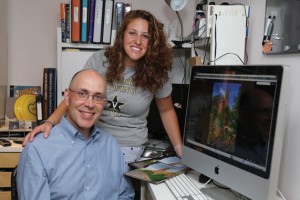 New York State of Mind
With more than 31,000 applications received for the Class of 2018, Vanderbilt University seems to be on everyone's radar. Jeff Spencer, M.D., '87, BS '83, is doing his part to make sure his home state of New York is aware of what Vanderbilt has to offer.
Spencer proudly represents Vanderbilt at college fairs, interviewing applicants and contacting accepted students and alumni through the Commodore Recruitment Programs (CoRPs). For 15 years he has volunteered to extend the reach of the undergraduate admissions office with a personal touch.
"Today New York ranks second only to Tennessee as home to the most undergraduate students. I sometimes spend entire Sunday afternoons interviewing Vanderbilt applicants," he said.
In addition to volunteering with CoRPS, Spencer became one of the first regional members of the Coalition for the Canby Robinson Society, at the request of Robert Collins, M.D., who died in November 2013.
"This has been a great success in getting Vandy medical alumni engaged and staying connected to VUSM. It has helped raise a lot of money for Medical School scholarships," said Spencer, who was also the fundraising chair for his class's 25th medical school reunion, which established the Class of 1987 scholarship.
Spencer is currently in the middle of a three-year term on the Vanderbilt University Alumni Association Executive Board, and is happy to represent both the Schools of Engineering and Medicine.
Volunteering is not the only thing that brings him back to campus. His daughter, Maddy, is a biomedical engineering student and a member of the Class of 2016.
"It's a lot of fun to see the Vanderbilt undergraduate experience through her eyes. She kids me about how different it is now than in 'the good ole days,' but when she mentions classes or labs that she's taking, I smile, remembering back when."