Creative Care for Complex Cases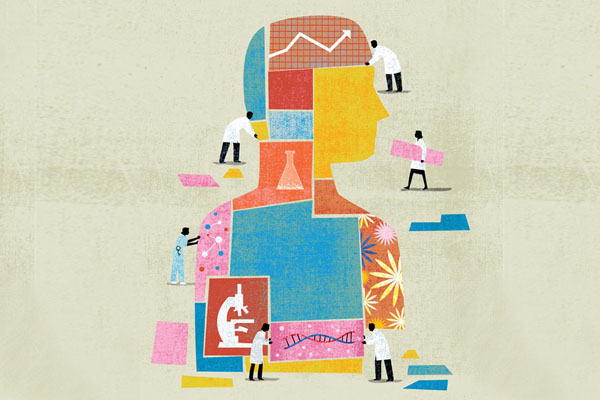 When Eddie Dotson arrived at Vanderbilt University Medical Center last September, he weighed 627 pounds and truly embodied the label "morbidly obese." He had so much fluid in his chest it was hard to breathe and his heart, liver and kidneys were failing.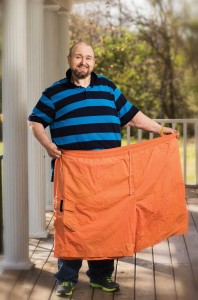 Dotson, 41, from Pegram, Tennessee, loved to ride motorcycles but had gotten so heavy he was basically confined to his bedroom. His sister, Veronica, had taken him to the hospital but wasn't able to care for him at home, and he faced spending the rest of his life in bed in an assisted living facility.
Then Vanderbilt's Complex Care Team got involved. The new service is charged with caring for patients with complex needs—medically, socially and economically. Complex patients may have health issues, like traumatic injury, multiple disease processes or mental illness, or be homeless, undocumented or uninsured.
"It's about bringing creative solutions to solve the issues of highly complex patients. We're concentrating the complex patients into the hands of a small team of providers with expertise with this population," said John Morris, M.D., associate chief of staff for the Vanderbilt Health System.
The Complex Care Team consists of a nurse practitioner, case manager, social worker and financial counselor. There are plans to add a pharmacist, and the team will expand as needs emerge. They estimate juggling the needs of at least 20 complex patients per day.
"This is one of the first opportunities to carve out a population of patients and care for them differently. The complex patients all are on different units in the hospital but are under the same care team," said Beth Anctil, MSN, administrative director of Transition Management.
In one case, an immigrant from Jordan had been hit by a car and needed to recuperate with family in his homeland, but had an expired passport. The Complex Care Team did the documentation paperwork and arranged a medical escort for his flight home. In other cases, a dialysis patient was banned from local outpatient dialysis centers for disruptive behavior, and a patient was ready to be discharged but had no home to go to.
In Dotson's case, the Complex Care Team knew he was committed to losing weight and with the help of Juan Cabrera, M.D., assistant professor of Physical Medicine and Rehabilitation, secured a scholarship for him to spend a month at Vanderbilt Stallworth Rehabilitation Hospital. (Vanderbilt pays for post-acute services for some uninsured patients within the new network, on an as-needed, case-by-case basis. Recipients undergo a formal evaluation to qualify.)
"In the hospital they said I was six hours from death and they didn't know if they could save me. I saw the writing on the wall. I had seen it before and just didn't listen, but I knew I had to lose weight this time," Dotson recalled.
"Sept. 24 was the first time I stood up for a few seconds. It tickled me to death and I never looked back."
Dotson left Stallworth a month later at 392 pounds, walking under his own power with just a cane. Today, he is at 269 pounds. He visits the YMCA every day for cardio and weightlifting.
"The first thing everyone asks when they see me is what surgery I had. They think you have to have surgery to lose that much weight, but you don't. You just have to have the willpower and good people to help you out."
Dotson has his sights set on a goal weight of 200, and then he will buy the nice suit he's always wanted to wear. He clearly believes he would be dead without the Complex Care Team and Stallworth staff.
"It was unbelievable how quick they got me on my feet. It's all in how bad you want it and having people to help you get there," Dotson said.
The Complex Care Team's nurse practitioner, Cherry Chassan, DNP, R.N., said Dotson's case embodies the team's patient-centered focus. Instead of simply discharging Dotson to assisted living, they learned he was motivated to lose weight and fought to get him into Stallworth, where he would have the resources he needed to succeed.
"The stories are very sad and the cases can be very hard, but we strive to do the best we can do," Chassan said. "We listen to what the patient's goals are and have to keep that at the forefront, even in complex cases."
An important piece of the team is the participation of the Center for Biomedical Ethics and Society.
"Many patients are complex because it's not clear what the right thing is to do for them. There can be a lot of confusion with the patient's wishes versus the family's wishes, or the primary care team may have concerns or reservations about the right thing to do. Bringing Biomedical Ethics into the discussions allows us to get a much clearer pathway forward for patients," Morris said.
The center's director, Keith Meador, M.D., said most people think of an ethics consult when there is an end-of-life dilemma, but it should be involved much sooner.
"Ethical challenges are frequently psycho-social, maybe involving family dynamics or living situation, or who are the best surrogates for helping make decisions," Meador said.
"We often talk about goals of care—what is the patient hoping for? What do they see as thoughtful consideration of what they want and expect as outcomes? Sometimes we think we know what patients want, but we really haven't listened. This is an intentional gathering of hopes and expectations of patients, families and the health care team."
System-wide Solutions
About 18 months ago Morris began tracking complex patients— defined as those staying more than 21 days in the hospital—and identified patterns in their disease processes and social situations.
"In the past, we dealt with complex patients on a hospital floor level via case managers. The problem is that a complex patient takes so much time and effort that it hinders the efficient case management of the standard patients. Every complex patient was managed as a one-time event because they were distributed across the enterprise. Now, with the complex care team, we can recognize patterns and design system-wide solutions," Morris said.
Among patients staying more than 21 days, Morris figures the Complex Care Team reduces excess days in the hospital by about 5,200.
"With this proof of concept, we are expanding the population that the care team is going to look at to be able to include patients with previous history of high resource utilization. If they meet certain criteria day 1, they will be flagged so the care team can begin following them," Morris said.
James Bayne was immediately flagged for the Complex Care Team when he was admitted to Vanderbilt on March 10 after a horrific car accident. Bayne, 36, was in the passenger seat while a friend drove him to work as an insulation installer. Another driver failed to stop at an intersection, Bayne remembers a loud bang, and then his memory picks up a month later in the trauma unit.
He was scalped and had a long list of broken bones: two vertebrae, collarbone, sternum, nearly every rib, left arm and left leg. He had two holes in his heart, his lungs were bleeding from contusions and his spleen had turned to mush. His heart stopped twice during the ambulance ride.
Bayne grew up in Great Falls, Montana, but had been estranged from his family as he bounced around the country. Despite the distance, his sisters Kim and Allison immediately rushed to his side.
"The doctors told us everything was touch and go," Allison recalled. "I thought we would be bringing his body back. To have this recovery is truly amazing."
After five weeks on the trauma unit, Bayne transitioned to Kindred Healthcare to be weaned off his ventilator. But the Complex Care Team knew he wasn't ready to go home to Montana, and secured him a scholarship for further rehabilitation at Stallworth.
"He had to meet a certain activity level to go home, and he worked really hard to get there. He used the cane for the first time and was so proud," Allison said.
"I still have coordination issues, but they gave me a list of exercises to do. I want to get back in shape and get back to work," Bayne added.
The Complex Care Team's case manager Tanya Parrish, R.N., ensured Bayne's sisters could care for him in Montana and set him up with a physician to continue his care there. Parrish said family involvement is key to recovery.
"His sisters showed up when many patients' families don't. Allison came down for a whole week to take care of his business and learn his needs. He's had a great recovery and will continue to get better with their help," Parrish said.
Bayne went home to Montana on May 9, excited to meet his niece and nephews for the first time.