From Vietnam to Vanderbilt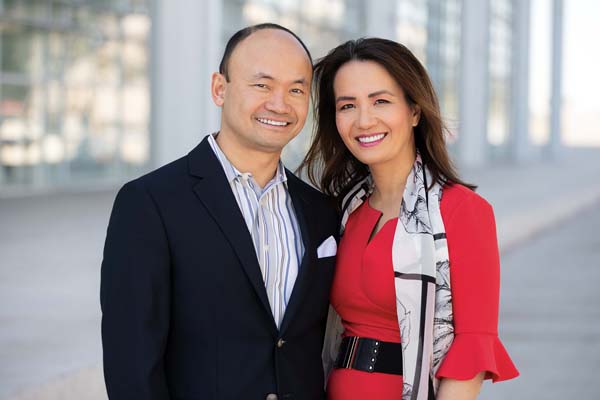 Duc Pham, MD'98, often speaks about how lucky he has been in his life. He recounts acts of kindness by teachers who helped him succeed in school, by organizations that offered him scholarships to attend medical school, and by the United States for welcoming his family after they fled Vietnam following the Vietnam War. Pham firmly believes that the best way to repay those acts is to pay it forward.
Making the journey
Pham was born in Bihn Dihn, in central Vietnam. His mother worked as a nurse and his father as a police captain in South Vietnam during the war years. After the South fell to North Vietnam in 1975, Pham's father was sentenced without trial to seven and a half years of hard labor in a prison camp.
"When my dad was released from the labor camp, he realized there was no future for our family in Vietnam," Pham said. "So he decided to get us out of the country."
In 1983, the family of seven escaped by boat, eventually landing at a refugee camp in Malaysia. They were accepted for resettlement in the U.S. as political refugees and transferred to a processing center in Bataan in the Philippines. There they completed English language training, as well as cultural and work orientation classes. Almost 15 months after fleeing Vietnam, they arrived in Houston, Texas.
Pham still feels lucky they were able to make the journey to America as a whole family — many others didn't. But moving to America at 14 years old was a struggle. In school, he barely understood what his teachers were saying. He would take quizzes home because he thought they were due the next day, only to find out that he was supposed to have finished it during class. Reading and writing in English came easier, but listening and speaking were hard.
"You can learn about it, but living it is a different thing," he said. "We had some training but it wasn't good enough to prepare me for school."
His parents struggled at first, too. Houston was in a recession. Despite her 23 years of nursing experience in Vietnam, Pham's mother couldn't pass a nursing exam due to language challenges. His father had no vocation or skills other than his experience as a police officer. The elder Phams took odd jobs until, by chance, they connected with people from their hometown who had connections at a local bank. With their help, the Phams purchased a foreclosed grocery store. They cleaned it up and reopened it. His parents would run the store for 20 years until their retirement.
Doing good for society
Pham eventually grew more confident in school and turned his sights toward his goal of becoming a doctor. Physicians are highly respected in Vietnamese culture, so his mother encouraged him from a young age to pursue medicine. Coming from a war-torn country of suffering also fueled his desire to help people through medicine.
"I saw people with war injuries, lost limbs, permanent disabilities and disfigurement," Pham said. "I knew I wanted to be a doctor because I wanted to do good for society."
He completed his undergraduate degree at Dartmouth. He chose Vanderbilt for medical school after receiving the Canby Robinson Scholarship, which would cover his full medical school tuition. For Pham, it was the gift of a lifetime.
He said he thrived in Vanderbilt's nurturing, family-like environment. He valued the high-quality curriculum, hands-on professors and administrators, and camaraderie with his classmates. It was at Vanderbilt that he realized his passion for plastic surgery. He completed his residency at the University of Texas Medical Branch at Galveston. He and his wife, Tam Le, a dentist, moved to Phoenix, Arizona, and settled into their respective careers. More than 20 years after graduating from Vanderbilt, Pham still credits his time in Nashville as a transformative period in his life.
"I don't think I would be where I am today without the support and education I got at Vanderbilt," he said.
A giving mindset
Despite their difficult circumstances while he was growing up, Pham said giving back was always central to their family philosophy. His mother's reaction when they learned he would receive Vanderbilt's Canby Robinson Scholarship has always stuck with him.
"She said, 'Son, you're very, very fortunate, and you're going to have to find ways to give back,'" he recalled.
He agreed. After graduation, he started making gifts to the School of Medicine, small at first, then larger.  In 2019, he and his wife documented a bequest to create the Pham Le Scholarship for future students at the School of Medicine in recognition of his own education and scholarship support as a student. The couple also established the Sanh Thi Pham, R.N. Scholarship for graduate students at the School of Nursing in honor of his mother. Both scholarships embody Pham's belief in the transformative power of education.
"My family came here with nothing, no language skills, no family connections or wealth, and no vocation or skill," Pham said. "As a kid growing up in a situation like that, my parents taught me that education is a way to advance yourself in society and support yourself."
The Vanderbilt alumnus considers it as his moral obligation to give back any way he can – especially to help support students who might not otherwise be able to afford a Vanderbilt education. In addition to giving financially, he provides charity medical work in Vietnam, El Salvador and Mexico, and he plans to continue supporting Vanderbilt and other organizations that make an impact on the world.
He and Le often talk to their three children about the importance of giving back, whether to society, school, or other causes they believe in. Pham believes teaching them to have a giving mindset will benefit them in the future.
"For a lot of people, when they think of giving, they think you have to give a lot of money," he said. "That's great if you can, but to me it's not about the amount, it's about the effort."
Planned gifts are designed to help you meet your financial and charitable goals while supporting the School of Medicine in the long term. New documented bequests from visionary donors contribute to a healthy fiscal future for our programs and signal an investment in the fundamental potential and promise of our mission. Once realized, endowed scholarships created through bequest gifts, like the Pham Le Scholarship, will help ensure our ability to attract bright students to Vanderbilt in perpetuity. Visit vu.edu/plannedgiving to learn more.