Handle with Care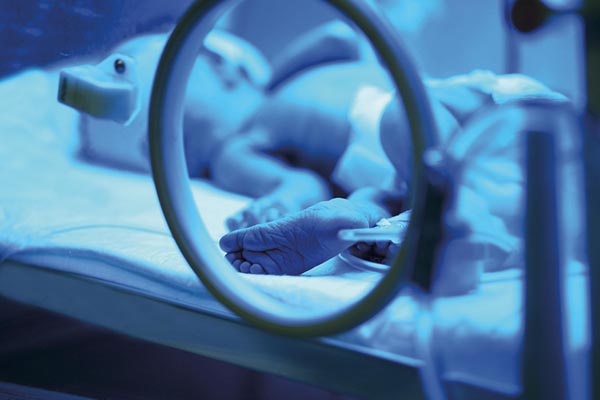 Neonatologist Stephen Patrick, MD, MPH, cares for one of the unintended consequences of the rampant opioid crisis — babies born with drug withdrawal — and he's on a quest to reduce that part of his practice.
He'd prefer not to treat babies with drug withdrawal, or neonatal abstinence syndrome (NAS), but it's part of the job. Withdrawal can cause tremors, fussiness, excessive crying or poor feeding as the baby withdraws from exposure to certain drugs before birth.
Patrick is stepping out of the traditional bailiwick of a neonatologist to explore the circumstances that lead to newborns with NAS — a diagnosis that has been on the rise around the country.
Patrick, director of the Vanderbilt Center for Child Health Policy, has become a nationally renowned expert on NAS although he acknowledges he was bewildered and somewhat judgmental when he first recognized the uptick in cases while working at the University of Michigan Health System as a resident and fellow.
After years of conversations with women, Patrick realizes that when he's treating a tiny, crying baby, what he's really treating is the newborn symptom of a larger, systemic problem that started years before the woman gave birth.
The stories of the mothers frequently reverberate with themes of struggle and trauma across the U.S.: unstable jobs, withering opportunity, violence, and poverty.
Patrick established the Vanderbilt Center for Child Health Policy, and along with colleagues measured that the rate of NAS rose from 1.2 cases per 1,000 hospital births in 2000 to 8 cases in 2014 — a year in which one infant with drug withdrawal was born every 15 minutes in the U.S.
Patrick's recent study, conducted alongside Bradley Stein, MD, PhD, director of the RAND Opioid Policy Center at RAND Corporation, casts light into the statistical corners of life, illuminating the connection between long-term unemployment and access to mental health providers to rates of NAS.
Patrick and Stein found that counties in eight states with persistently elevated levels of unemployment over a 10-year period had higher rates of NAS. In fact, the counties with the highest unemployment rate had 20.1 NAS cases per 1,000 births, compared to 7.8 cases per 1,000 births in the counties with the lowest unemployment rates.
Patrick wants the results to smack so plainly of the connection of health to opportunity that they can't be obfuscated into more streamlined discussion of treating the use disorder while ignoring what started women down the path of misuse.
"This should be a wake-up call for policymakers as they think about what's going on in our communities," said Patrick. "We know that current and past unemployment in counties is leading to more babies having drug withdrawal. That should open people's eyes to the problem."
Why do the research?
The macroeconomic research, published in the Jan. 29 edition of the Journal of the American Medical Association, is set against the backdrop of the "deaths of despair" buzzword.
Most of what people think they know about the roots of abuse, overdose and NAS is conventional wisdom extrapolated from headlines. Anecdotally, rural areas that are plagued by increasing suicide deaths are also hotspots for NAS. But confirming research has been thin.
Both the increases in suicide deaths and babies with withdrawal are grim descriptors of a problem with no clear catalyst and no clear solution.
Yet, there's an emerging body of research on the tangle of elements that lead to hopelessness in adults, and which, per Patrick and Stein, are implicit in the rise in babies born with drug withdrawal.
"There have been a ton of reports from poor rural America. Now here are some additional numbers that really go along with that," said Stein.
Economists Anne Case and Angus Deaton posit economic hardship and changes in the structure of communities — including the decline in rates of marriage and church attendance — lurk below the rise in overdose deaths.
Patrick said those same threads bubble in up conversation. Everything from changes in rates of marriage and religiosity to the types of jobs in rural communities seem like they are having an impact on the health of these communities — including boosting the number of babies he treats for withdrawal.
"We think about babies having drug withdrawal; it's not a medically complex thing to care for. It is socially complex, so the question, as we move forward, is not about picking the right medication in the hospital," said Patrick. "It's thinking more broadly about what's going on in communities and how can we talk about the economic development since it seems to be driving a health outcome."
Rocky times for Tennessee
Patrick is from a small town in West Virginia — the undisputed epicenter of the opioid epidemic — and he practices in a state that's among the most impacted.
More than one-fifth of Tennessee's 6.65 million people called rural areas home in 2016; and the state is among the hardest hit by the opioid use and overdose death crisis, particularly the Appalachian east.
Despite measures tightening access to prescription painkillers, overdose deaths continue to hit new records. Tennessee is routinely among the top three states with the highest number of painkillers per capita.
Patrick and his colleagues stay busy at Monroe Carell Jr. Children's Hospital at Vanderbilt treating babies born with drug withdrawal.
Tennessee started weekly tracking of the number of babies born with NAS in 2014. In 2018, 881 cases were reported — down from 1,015 in 2017. There were 17 cases in the first three weeks of 2019, a figure that's on par with the previous two years.
Tennessee's new governor, Republican Bill Lee, is making rural economic development an early priority. Fifteen of the state's 95 counties are federally designated as economically distressed. And in 2015, Hancock County, designated as distressed, had a 10-year unemployment rate of 11 percent and an NAS rate of 143 per 1,000 births — both much higher than the study's averages.
Patrick wants policymakers around the state to think about the research findings as they weigh the next phase of tackling the opioid problem. He thinks it is time to start addressing the underlying issues that put people on the path to abuse so they don't need treatment and infants aren't exposed.
"Opioid use is complicated. It's not just about the pill. It's not just about the drug, but it's about the communities and in many ways as we think about the next steps, as this Congress considers legislative action they should consider the infrastructure investing in communities," said Patrick.