Hooked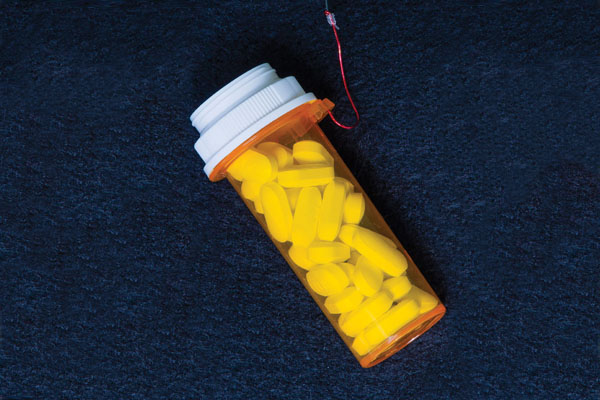 The epidemic of opioid abuse, which each day claims the lives of 91 Americans and adds billions annually to the nation's health care bill, can be stopped—but it's not going to be easy, say those steering the ship at Vanderbilt University Medical Center (VUMC).
"It took us a while to get here, and it'll take us awhile to get out of this place, too," says Stephen Patrick, M.D., MPH, M.Sc., assistant professor of Pediatrics and Health Policy at the Vanderbilt University School of Medicine who advises the government and professional groups on opioid drug policy.
The seeds of the epidemic were sown two decades ago, when doctors were encouraged to be more aggressive about treating their patients' pain. They were also told—erroneously—that opiates, narcotic pain-relievers like oxycodone, were not addictive when prescribed for legitimate pain relief.
Pain is the problem, says Tracy Jackson, M.D.
It's also the solution.
"Until we address the chronic pain that is driving the prescription of opioids … we are spinning our wheels," says Jackson, associate professor of Anesthesiology in the Division of Pain Medicine.
"Chronic pain is the No. 1 presenting complaint to U.S. doctors and the No. 1 reason people are out of work," Jackson said during a presentation last spring at TEDx Nashville, an "ideas" exposition.
"Economists say it costs us $630 billion a year," she said. "And yet our outcomes for the treatment of chronic pain are among the worst in the developed world, despite all the technology and pharmaceuticals money can buy.
"The root of the issue is a lack of education and awareness about the underlying causes of chronic pain," Jackson says. "No scientific study has ever shown that opioids are effective for chronic pain after about six months."
Resources stretched thin
Robust prescription drug monitoring programs, which clamp down on the oversupply of opiate drugs, can significantly reduce opioid-related overdose deaths, Patrick and his colleagues reported last year in the journal Health Affairs. As opiate prescriptions have dwindled, however, the use of street drugs, mainly heroin, has spiked.
The good news is that addiction increasingly is perceived as a disease requiring treatment rather than as a moral failing. But much more needs to be done. There is a growing need, say Vanderbilt experts, for more treatment options, better trained providers and a greater investment in primary prevention.
Nowhere is this more obvious than in the Emergency Department (ED) waiting room at Vanderbilt University Adult Hospital, where on busy days 5 to 10 percent of patients have complaints relating to withdrawal from opiates, alcohol or other addictive substances, says Ian Jones, M.D., executive medical director for Emergency Services and associate professor of Emergency Medicine.
Withdrawal from opioid drugs is difficult and painful, but it's not life-threatening for otherwise healthy people. Only the most complex and severe cases will be authorized for inpatient treatment.
However, everyone with opioid-related complaints is medically evaluated. Many of them have other mental health issues, including depression and suicidal thoughts, which may be precipitated by their substance abuse, Jones said. If patients don't need to be admitted, they're given information about where to go for a lower level of care. The departments of Emergency Medicine and Psychiatry are working on medication protocols to help ease withdrawal while patients seek treatment elsewhere.
In the past, some patients were referred to the Emergency Department's Psychiatric Transition Unit, which in 2016 moved into a new, seven-bed Psychiatric Assessment Service (PAS) at the Vanderbilt Psychiatric Hospital two blocks away.
Jameson K. Norton, MBA, Chief Executive Officer of the Vanderbilt Psychiatric Hospital (VPH) and Clinics, says his team works tirelessly to meet the demand for treatment of opioid addiction.
"Yet because there is such a shortage of treatment options relative to the need," he says, "the PAS encounters a similar challenge as the ED in providing timely disposition and placement with appropriate community resources along the continuum of care for the majority of cases."
The waiting list is also long at the Drug Dependency Clinic, part of the Vanderbilt Center for Women's Health at Vanderbilt Health One Hundred Oaks. Even though the clinic increased its hours from a half-day once a week to three days a week, its appointment schedule remains fully booked.
Another Drug Dependency Clinic is scheduled to open this year at the Vanderbilt Center for Women's Health at NorthCrest Medical Center in Springfield.
"We continue to see significant numbers of women of reproductive age who become pregnant while opiate dependent," says Jessica Young, M.D., MPH, assistant professor of Obstetrics and Gynecology, who has run the clinic since it opened in 2011.
"I don't think anyone expected the exponential growth and need initially," Young says, "but as time has passed, it only makes sense that the problem hasn't improved that much, because we really don't have the infrastructure in many counties to treat addiction in this population.
"We are also seeing a change in the way women are getting drugs," she said. "Initially we saw a lot of patients with prescription opioids, but now we are seeing more heroin and IV opioid which is obtained from the streets."
Pregnancy is a special case. Pregnant women may be hospitalized during treatment for opioid addiction to help ensure that their babies are not born prematurely or low birthweight.
There is an urgent need for better access to these kinds of opioid treatment and prevention services, particularly in rural areas, says Patrick. (See The Impact on Babies)
Research and Education are Key
One response is education – beginning in the first year of medical school. "The opioid epidemic is explicitly introduced to all of our medical students during their first-year coursework, from both scientific and ethical perspectives," says Kim Lomis, M.D., associate dean for Undergraduate Medical Education at Vanderbilt University School of Medicine.
"This is addressed throughout their clinical experiences as well," Lomis says. "Although students cannot write prescriptions, they are introduced to safe prescribing practices and receive training regarding alternate approaches to pain management."
An elective course offered in the senior year integrates the neuroscience of addiction with clinical skills in assessment and treatment of addictive disorders.
The goal is to train future physicians to recognize addiction as a chronic brain disorder, to effectively screen patients for substance abuse disorders in varied clinical settings, and to treat or refer patients for specialized treatment as indicated, while always approaching patients with compassion and respect, she says.
These changes were implemented over the past couple of years, Lomis says. "As the medical profession learns more about this epidemic, we will continue to incorporate new content for our students," she adds.
Another approach to prevention is research aimed at understanding addiction at the molecular level.
Last year, the Vanderbilt Center for Addiction Research (VCAR) was established to help align and propel the efforts of faculty researchers across the School of Medicine and College of Arts and Science. Their goal: to understand how drugs of abuse can "rewire" the brain.
Opiates, by definition drugs that have morphine-like effects, exert their pain-relieving actions through the brain's opioid receptors, proteins that bind opium-like compounds.
In some people, repeated exposure to opiates results in a "rewiring" of the neural circuitry of the brain to produce a "high," or intense euphoria, when the drugs are present, and equally intense bad feelings when the drugs are withdrawn, explains center director Danny Winder, Ph.D.
This change in brain function is known as plasticity. Researchers at Vanderbilt and around the country are trying to figure out how plasticity works at a molecular level so that one day the slide from analgesia to abuse can be reversed or even prevented in the first place.
"We strongly believe that drugs of abuse have common mechanisms of action," Winder says. "Ultimately, to solve the problem of addiction on a broader scale, we need to target those common mechanisms of action that all these disparate drugs tap into. That's what we're currently working on at the center."
Another active area of investigation around the country is "mindfulness" training, providing a non-pharmacological alternative.
Systematically training the mind to pay attention and focus on the present moment has been shown to induce physical changes in the brain that can reduce the perception of pain and the craving for pain-relieving drugs, says David Vago, Ph.D., research director of the Osher Center for Integrative Medicine at Vanderbilt.
That's because pain is not just a "body" phenomenon. "Pain is in our brains," the Division of Pain Medicine's Jackson says. "You cannot feel pain without a functioning brain. The pain, sleep and mood pathways are all interconnected. So we have to address the mind as well as the body when treating pain effectively."
If that's so, lifestyle changes, including reducing stress, should be able to relieve chronic pain. And they do. "We can drastically reduce our pain experience by doing nothing but change the way we think, breathe and move."
Two-thirds of patients who participate in functional rehabilitation programs return to work. Their health care costs are cut by two-thirds. "So why don't we do it?" she asks. "Insurance doesn't cover it … and frankly it flies in the face of our quick-fix, fragmented, multi-doctor system."
VUMC is working on it. Opioid alternatives, including acupuncture, massage therapy and yoga classes, are offered at the Osher Center. Interventional Pain Clinics at Vanderbilt Health One Hundred Oaks and Cool Springs provide these modalities as well as interventional procedures such as nerve blocks and spinal cord stimulators.
Throughout the Medical Center, pain clinicians work closely with primary care providers and other Vanderbilt specialists including psychiatrists and psychologists, neurologists and neurosurgeons, and orthopaedic and rehabilitation specialists to develop effective, long-term plans for relieving chronic pain.
Investments in basic research and primary prevention are not only wise, they're economical, because they ultimately reduce wasteful spending in other areas, Vanderbilt experts say.
"We need to rationalize health care," says Corey Slovis, M.D., chair of Emergency Medicine. "Increase expenditures in preventive medicine and primary care and decrease expenditures toward the end of life. There are many ways to cut health care costs, but sometimes you have to spend money to save money."
In the area of training, Jackson has developed a web-based continuing medical education module that details appropriate opioid-prescribing practices which can be accessed by physicians throughout the state. She's now developing functional rehabilitation pilot programs at VUMC and throughout the community.
There is no quick fix, either to chronic pain or to the opioid epidemic. "But there is a fix," Jackson says. "And it's up to each of us to spread the word."