Remote Control
When Willem Leister Einthoven, inventor of the electrocardiogram (EKG), sent an EKG over telephone lines back in 1906, it was the first example of modern telecardiology.
More than a century later, Vanderbilt Heart and Vascular Institute cardiologist Allen Naftilan, M.D., Ph.D., puts a stethoscope to his ears and listens to the heartbeat of a patient more than 90 miles away.
Telemedicine makes it possible for him to identify a heart's galloping rhythm or a whooshing murmur even though he's in Nashville and the patient is in Winchester, Tennessee.
Naftilan utilizes a Littmann TeleSteth System stethoscope, patient privacy-compliant video conferencing and a high definition camera. His patient is spared the three-and-a-half hour trip between the remote clinic and Vanderbilt University Medical Center (VUMC) and so is Naftilan. He's so pleased with the pilot program that he sent letters to all his Winchester patients notifying them of the telemedicine service.
Telemedicine and telehealth are transforming the delivery of care at VUMC and beyond by bridging distances for better collaborations between partner providers and saving time so hospitals and physician clinics can operate more efficiently. In 2016, 8,745 VUMC consultations and visits used remote video communications technologies. Next fiscal year, VUMC is on track to surpass 14,000.
"There is more momentum now than ever," said Amber Humphrey, MBA, assistant director for Telemedicine.
In total, 25 service lines at VUMC are participating in telemedicine initiatives. A dozen more are in various stages of development and implementation.
Broad Uses
From his office at VUMC, Kenneth Gaines, M.D., MBA, professor of Clinical Neurology, diagnoses a stroke in a patient at another hospital. Other VUMC clinicians use telemedicine to provide genetic counseling to aspiring mothers, answer prescription questions from hospital patients being discharged, and advise parents on strategies for raising children with autism spectrum disorders.
"It's a way to improve quality of care metrics in multiple different ways," Gaines said. "It turns out that it reduces costs, which is nice. You do the right thing and it ends up being a cost-saving piece. In order to make that happen, in order to link all those silos of care and to make it a comprehensive unit, you have to have a mechanism to do that. Electronic medical records aren't the mechanism as it turns out. That's a storage house for information, but it is not the solution to real time clinical care delivery. It's not the real answer to integration across a series of care delivery sites."
Telemedicine, on the other hand, does integrate care. David Charles, M.D., professor and vice chair of Neurology and medical director of Telemedicine, said remote diagnostic technologies, ranging from examination cameras to specialized stethoscopes, give patients greater access to specialized physicians. Patients, who appreciate this convenience, are embracing this means of health care delivery.
Sandra Hardin, 59, says telemedicine has improved her health and quality of life. She relies on a CardioMEMS device implanted into her pulmonary artery that can detect signs of worsening heart failure before symptoms, such as shortness of breath or weight gain, appear. Every morning, she reclines on a special cushion at her home in rural Falkville, Alabama, that transmits a report to her cardiologist at VUMC.
"Before, I was literally in and out of congestive heart failure all the time," Hardin said. "Now, I've been in congestive heart failure maybe once or twice. This allowed doctors to up my medication because they could see beforehand that my (pulmonary artery) pressures were increasing. They would call me and tell me to up my medicine."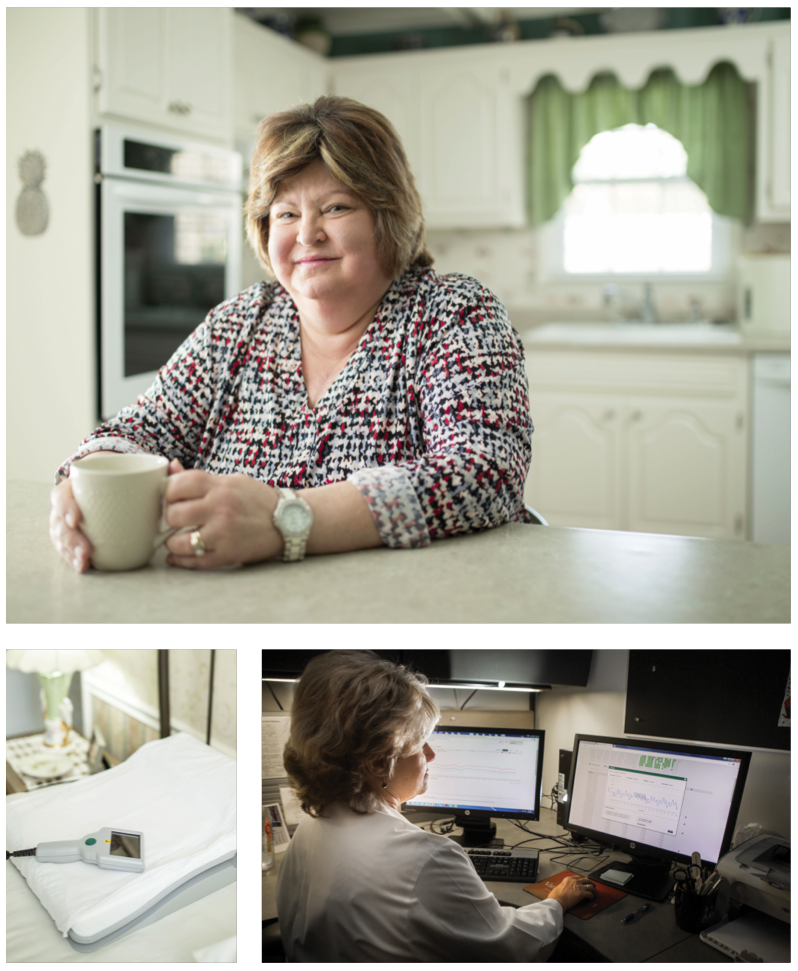 Charles believes wireless interaction between physicians and patients will become routine. "I think telemedicine will be a larger catalyst for change than the electronic medical record," he said. "We will go from an institution that started telemedicine a few years ago to an institution where virtually all our physicians, surgeons, pharmacists, nurse practitioners, physician assistants, nurses, counselors, dietitians and therapists utilize telemedicine as simply another way they connect with patients."
Clearing the static
Telemedicine hasn't had incentives and mandates to push its implementation, as was the case with electronic health records. Telemedicine has faced, and continues to face, legal, policy and reimbursement hurdles.
"Laws and institutions must go hand in hand with the progress of the human mind," Charles said, quoting Thomas Jefferson. "What's going on with telemedicine is exactly that. The technology has raced ahead. We have super high quality technology now available at a very low cost. It's readily accessible. But the federal and state laws and policy concerning insurance reimbursement are lagging way behind. Things are improving. The good news is that both are moving in the right direction."
In 2014 Tennessee became the 21st state to pass a telemedicine parity law, requiring insurance reimbursement for the service at the same level as in-office visits. However, Medicare won't reimburse unless the telemedicine visits are provided in a health professional shortage area. The success of telemedicine will likely bring about more policy changes.
"For payers, we are demonstrating the benefit of lower costs when patients living in rural areas receive care closest to their home," Humphrey said. "We are also demonstrating that the timeliness of that care in situations like stroke diagnosis clearly produces better outcomes."
State policies concerning medical licensure have continued to be refined, but much more work is needed. Most states require any physician practicing telemedicine to be licensed in the state where the patient is receiving care. While this is a common policy, it can present problems—especially when VUMC forges agreements with hospitals outside of Tennessee to provide specialty physician services.
Liza Weavind, MBBCh, MMHC, professor of Anesthesiology and Surgery, has dealt with these issues setting up a teleICU hospital network that will stretch across state lines.
"Many financial and bureaucratic barriers exist to providing seamless patient care across state lines because every state and individual hospital has its own requirements for licensing and credentialing physicians," Weavind said. "It's a lot of paperwork, time and money to process multiple state licenses and credentialing at individual hospitals."
The Federation of State Medical Boards is working to develop an interstate contract to expedite that process; only a few states have joined thus far.
Hospital administrators are aware that they often don't have the resources to provide highly specialized experts to manage complex patients and see teleICU as an opportunity to bring this skill set to the bedside virtually, she said.
"The service isn't meant to replace community physicians at the bedside, but we can help these physicians by providing support and second opinions for very complex cases," Weavind said. "We can decrease the burden of 24/7 care requirements so that they can achieve a better quality of life and remain connected to their home life and communities."
TeleICU is a teamwork initiative to improve patient outcomes.
"I think one of the biggest barriers that we still have to overcome is the skepticism about what care can be provided with modern technology in the form of telemedicine," Weavind said. "Many feel that it is not the same as actually having a physician at the bedside and it isn't. The teleICU intensivist draws on the same experience and diagnostic skills that they utilize at the bedside, as all our intensivists are practicing in the ICUs at Vanderbilt. The focus is to deliver the best outcomes for critically ill patients, but the vantage point is different. The teleICU intensivist's role is to complement and facilitate the work of the bedside teams to ensure patients have 24-7 access to an intensivist and evidence-based medicine built on best practices."
Quantifiable benefits of teleICU programs include reducing lengths of stay and improving outcomes for critically ill patients.
"An example would be the initiation of a sepsis-screening program in a community hospital ICU," Weavind said. "This could lead to early identification of septic patients, immediate (though remote) intervention with initiating broad-spectrum antibiotics and resuscitation to prevent acute deterioration."
Under this scenario, once culture results are available—no matter the time of day or night—antibiotics can be de-escalated and optimized by the intensivist on the TeleICU, she explained.
"These same intensivists, utilizing the technology to provide remote critical care, can provide remote teaching and education for nurses and residents in the ICUs that they monitor," Weavind said. "24/7 teleICU is additive. We complement the work of the bedside team with experienced clinicians, data and clinical best practices to provide care to our critically ill patients."
Pediatric Programs
Telemedicine can keep children in rural areas from falling through the cracks when they need specialized services not readily available in their hometowns. Vanderbilt Kennedy Center's Treatment and Research Institute for Autism Spectrum Disorders (TRIAD) is using telemedicine to provide diagnostic assessments, early intervention services and school-based consultations.
From July to November 2016, TRIAD conducted 176 telemedicine visits across the state when it partnered with the Tennessee Department of Education.
"Telemedicine technology allows us to extend our diagnostic and behavioral services into rural and low-resource communities where access is often limited," said A. Pablo Juarez, M.Ed., BCBA, director of TRIAD. "For example, around 70 percent of Tennessee's board-certified behavior analysts live in the areas in and around Nashville or Memphis, leaving large portions of the state without access to behavioral services."
A teleaudiology pilot program proved effective in identifying infants with hearing loss. A partnership between the Vanderbilt Bill Wilkerson Center and the Tennessee Department of Health, the program set out to retest the 29 percent of infants currently lost to follow-up who don't pass their initial newborn hearing test. A remote clinic set up in Union County retested 31 babies from March 2013 to June 2015, reducing the percent of babies lost to follow-up. Weakley County experienced the most dramatic improvement from 40 percent lost to follow-up to 0 percent. Two of the 31 babies required more advanced diagnostic testing, said Alison Kemph Au.D.
Plans are in the works to launch this initiative in some Vanderbilt Health Affiliated Network facilities with high-speed internet connectivity, Kemph said. With philanthropic support, telemedicine at Children's Hospital will be expanded to serve even more children in rural communities.
Convenient Counseling
Aspiring parents who received remote genetic counseling have given it rave reviews. The pilot program, which started in April 2015 at the Vanderbilt Center for Women's Health at NorthCrest Medical Center in Springfield, Tennessee, is being considered for Clarksville, Tennessee.
"It's a huge success," said Martha Dudek, LCGC. "It's the perfect service delivery model for genetic counseling. It's a great way to expand access to patients for these services while maximizing the efficiency for the provider and for the convenience of the patient."
Another pilot program utilizing telemedicine, Meds to Beds, was so successful that it is now the standard of care for the Vanderbilt Adult Hospital and plans are in the works to bring it to Vanderbilt Stallworth Rehabilitation Hospital. Patients being discharged from the hospital no longer have to go to a pharmacy for prescriptions. Instead, they receive their medications and counseling from the pharmacist via telemedicine before leaving their hospital rooms.
Teleneurology
Gaines supervises the team providing services to a teleneurology network that is staffed by 13 neurologists, serving nine community hospitals across Tennessee. The program is growing so rapidly that VUMC isn't the only hub site providing the service, Gaines said. The goal is to facilitate hubs in other parts of the state in the same way that Johnson City Medical Center is a hub for two community hospitals in East Tennessee.
"A regional hub makes the best clinical sense," Gaines said. "When you put telemedicine in an isolated hospital and you haven't built a system of care delivery around it, it becomes a little problematic."
Of 1,980 consultations VUMC neurologists conducted from 2014 – 2016, the vast majority of patients—87 percent—were successfully treated at their local hospital, according to a report recently presented at the American Neurological Association by Kelly Harper, Vanderbilt Telemedicine program coordinator II. Harper also reported that surveys of community-based physicians utilizing VUMC's teleneurology service showed that 92 percent found the service to be satisfactory or excellent.
"We have reduced unnecessary transfers to Vanderbilt," Humphrey said. "We are providing an elevated level of specialty care in community settings, keeping patients and their families closest to home while at the same time reducing health care costs. We are also reducing wait times for patients needing urgent evaluation by a specialist."
VUMC also benefits from fewer stroke transfers.
"Our teleneurology service helps ensure that our neuro-critical care unit has space for someone who must urgently transfer to Vanderbilt for an intervention or surgical procedure that is not available in the community-based hospital," Charles said.
Looking ahead
Plans are in the works to set up a system with Vanderbilt Stallworth Rehabilitation Hospital so head trauma patients can be quickly monitored after they progress from critical care units to the recovery process. A telepsychiatry program is also in the works.
Community-based primary care providers can also benefit from telemedicine.
"Would there be a way that providers in the Vanderbilt Health Affiliated Network could provide direct-to-patient urgent care for things like upper respiratory tract infections?" Charles asked. "That's an area we are actively exploring.
"We aspire to provide care to our patients when, where and how they want to receive that care. The day will come when the words telemedicine and telehealth will no longer be used because remote visits will become a regular part of the way that all of our health care providers are able to connect with their patients."