Smart Investment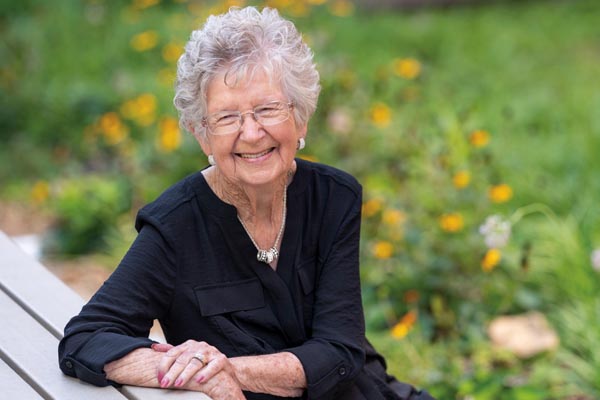 Diagnosed with colon cancer, Melba Martin, 88, needed surgery to save her life, but her colorectal surgeon, Timothy Geiger, MD, knew that her frailty and anemia, coupled with concerns about her heart, put Martin at high risk for developing complications both during and after surgery.
Martin told Geiger she absolutely had to recover quickly so she wouldn't miss watching her granddaughter Svanah ride her champion Tennessee Walking Horse in an upcoming show.
Wanting the best possible outcome for his patient, he referred Martin to VUMC's new High-Risk Surgical Encounter (Hi-RiSE) Clinic where surgical patients at higher risk of developing complications are comprehensively evaluated, and interventions are efficiently coordinated and completed in the weeks leading up to surgery.
At the Hi-RiSE Clinic, a team of anesthesiologists provides personalized preoperative prehabilitation, or care that proactively addresses health issues before patients ever reach the operating room. This can include treating anemia; providing smoking cessation therapy and counseling; coordinating nutritional supplementation; or a variety of other therapies based upon specific patient needs. Occasionally, this can also include referral to a medical specialist for additional evaluation and treatment.
"If you want to run a marathon, you wouldn't just get up and do it tomorrow, right? You would train for it," said Matthew McEvoy, MD, chief of Perioperative Consult Services. "The stress of surgery isn't something that occurs just on the day of surgery. There's at least a four- to six-week recovery period after major surgery. What we're doing is taking the time to get people in their optimal condition in order to run that big race and recover more quickly and fully."
McEvoy and Geiger were key architects of the Enhanced Recovery After Surgery (ERAS) protocol for colorectal surgery patients first put into practice at VUMC in 2014. Eight additional ERAS protocols have since been implemented which have led to significant reductions in both length of hospital stay and complications for surgical patients. ERAS protocols focus on standardized, evidence-based care that relies on the entire care team, including surgeons, anesthesia providers, advanced practice providers and nurses, for implementation and success.
Since the anesthesia care team partners with surgeons to manage the well-being of surgical patients throughout their hospital stay, it made sense to extend this collaboration further into the preoperative period to bring comprehensive, personalized care to high-risk surgical patients, McEvoy said. The Hi-RiSE Clinic was the natural next step.
Mirroring the development of the ERAS Program, the Hi-RiSE Clinic was made possible through the collaboration of a large number of individuals representing many medical specialties and including nursing, anesthesia, surgery and Health IT, as well as a Design Thinking team sponsored by Scott McCarver, VUMC Chief Operating Officer.
"To our knowledge, we're the only academic medical center in the southeast region of the United States that is making an investment in the prehabilitation and optimization of patients on this scale," said Warren Sandberg, MD, chair of the Department of Anesthesiology and Vanderbilt University Adult Hospital (VUAH) chief of staff for Perioperative and Critical Care Services. "This is an extension of what we call population health. With the Hi-RiSE Clinic, we're managing the health of an entire population, in this case the surgical population, by reaching out to them where they are and intervening to improve their health instead of just operating on them."
A large academic medical center is an ideal environment for prehabilitation, added Sandberg. Much of the clinical effort is not reimbursed, but the benefit comes from avoiding costly complications and longer hospital stays. It also helps to have a multidisciplinary, collaborative group of clinical specialists under one roof.
"Out in the community where it can be every doc for themselves, there may be little motive to work together and to delay financial gratification for the common good of the patient," Sandberg said. "That requires a major academic medical center or major group practice, where all the clinicians are aligned to the same goals. That's part of Vanderbilt's secret sauce as we provide personalized patient care."
While prehabilitation, or patient optimization as it is sometimes called, isn't a new concept, with an increasingly aging population that is living longer and likely to need surgical interventions, it makes sense to do it now, said anesthesiologist Ryan Smith, MD, who helped develop the Hi-RiSE Clinic.
"We see the demographic of our patients constantly shifting toward a more elderly population with more and more medical issues," said Smith. "Their expectations of what we may offer them in terms of health care are increasing, and they're also becoming more aware about their own health. In order to look after them safely, and in the best way, something like the Hi-RiSE Clinic is really important."
During a six-month pilot of the Hi-RiSE Clinic, colorectal, surgical oncology, major spine and orthopaedic oncology patients that were identified by their surgeons as being at high risk for complications were referred to the clinic. Beginning July 1, the service, based at the Vanderbilt Preoperative Evaluation Center (VPEC) on the Medical Center's main campus, became available to all surgical specialties.
With enhancements to eStar, VUMC's Epic-based electronic health record, patients with pre-existing conditions and risk factors who can benefit from pre-surgical care management through the Hi-RiSE Clinic will be automatically flagged as being eligible for a consultation. Surgeons can also refer additional patients. It's estimated that as many as 10-20% of patients undergoing major inpatient surgery at VUMC, or approximately 1,700 individuals annually, could benefit from the Hi-RiSE Clinic, McEvoy said.
"For a patient diagnosed with colon cancer, typically we've got about a six-week time period from when they see the surgeon until a desired surgical date," he said. "Traditionally, that patient was sent to VPEC for evaluation one or two days before their surgery, so we had little time to do any optimization. If we needed to do additional tests or evaluation, the surgery would often be delayed. Now, Hi-RiSE Clinic appointments occur shortly after the surgeon schedules surgery, and we ask important questions about nutrition, smoking, anemia, lung or heart disease, and a host of other questions so we can optimize the health of patients for their best possible recovery. And we have time to do something about those issues."
Addressing concerns before surgery provides undeniable health benefits for surgical patients, and there is also a large financial incentive for both the medical provider and patients, McEvoy said. For example, research shows that treatment of a post-operative pulmonary complication can cost $25,000-$50,000; complications due to poorly controlled blood sugar can cost $10,000 or more; and an episode of post-surgical delirium can cost an average of $8,200 to manage.
Preventing those complications through interventions before surgery helps patients heal more quickly, leave the hospital earlier and return to their regular activities of living. It also opens up hospital beds so additional patients can be cared for, Smith said.
"So, in addition to providing the best patient care and alleviating suffering, we want to do all of this work in a fiscally responsible way to minimize unnecessary costs to the hospital and to the health care system in general," he added.
For Martin, addressing anemia with iron supplements, boosting her protein intake to treat nutritional issues and optimizing her heart function related to her chronic heart failure during the month prior to her surgery made a huge difference in how she felt, and her family noticed.
"We knew we were preparing for battle, and this team was with her through every step," said her son Kelly Martin. "It was one of the most incredible things I've ever seen. And the timing was impeccable. When she got to the point where I think she'd done all she could do, and it was positively affecting her physically, it was time for her surgery."
Geiger couldn't be happier with Martin's recovery and said success stories such as hers have helped VUMC surgeons view scheduling surgeries in a new way.
"As surgeons, we really want to operate to fix the problem as soon as we can," he said. "So it is a cultural shift to say 'I'm going to hit the brakes, I'm going to let the patient get ready and then we're going to go to the OR.' But it makes sense. Being able to get high-risk patients ready for surgery makes all the difference in the world, and it really gives surgeons the best opportunity to do what we need to do and get the patient back to a normal life."
Martin's surgery was in late June at VUMC. She recuperated so well she was cheering for her granddaughter ringside at her horse show by the end of July, even earlier than she and her family had expected.
"I got rid of my walker in about two days," she said, less than a month after surgery. "I've been going shopping, and the other evening we went out for dinner and to Baskin-Robbins for ice cream afterward. I did really good."