The Envelope, Please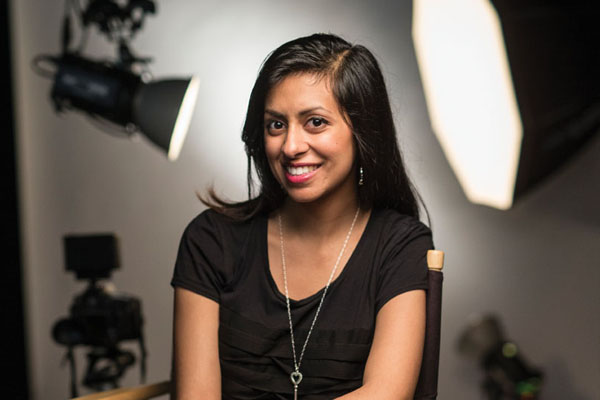 More than an hour had passed since Trisha Pasricha, M.D., '16, got the news.
It wasn't until all the cameras were shut down and the last shot secured that the tears began to well up in her eyes.
It was done.
Pasricha, like thousands of other fourth-year medical school students across the country, had waited for this day for years: Match Day, the crowning moment of medical school when the National Resident Match Program (NRMP) pairs graduating medical students nationwide with residency training programs.
The emotion-fueled day—and the eight months leading up to it—is the topic of Pasricha's documentary film "A Perfect Match."
People were hugging, calling family members and clinking glasses," recalled Pasricha. "I was running around getting interviews and filming the ambient shots. That's the moment I recognized that everyone was celebrating but me. I told myself—'I've got this.'
"I was finally able to process what it all meant," she said. "This was the biggest achievement of my life. I had worked really hard and it meant so much … and I just started crying."
Long a tradition at Vanderbilt and other medical schools, Match Day means School of Medicine students wait anxiously to be randomly called to the stage at Langford Auditorium to open the coveted envelope holding the letter containing the residency training program they were paired with.
Arriving at the auditorium earlier than her classmates, Pasricha set up numerous cameras throughout the venue in order to capture the annual festivities. She was more concerned with "pulling off the shoot" than where she was matching into an internal medicine residency, she admitted.
She barely remembers her own Match experience—standing on stage with her husband and opening the envelope revealing her residency location. After a brief celebratory hug, Pasricha returned to her post as director.
"Since I had dual roles, I detached myself so that I could just go in and film," she said. "It's a classic filmmaker dilemma—do you save the drowning child or do you film it? We all think we know we would save the child.
"As a peer (when filming and interviewing), I wanted to be the friend; to celebrate; to give a hug or show empathy. But as the filmmaker, I had to keep silent and let them talk through their emotions. I had to separate myself from the situation and be the person behind the camera. That was tough."
Director and Doctor
A very similar scenario brought Pasricha to medicine.
The daughter of a gastroenterologist, she always thought she would follow in her father's footsteps until she took her first film production course as a freshman at Harvard University.
She fell in love with film and majored in visual and environmental studies. Upon graduation, she had a job secured as a production assistant in Bollywood, the Indian cinema industry and also one of the largest centers of film production in the world. However, she opted to spend the summer leading into her senior year interning with CNN's Sanjay Gupta, M.D., and it proved to be a life-changing experience.
"I was really excited about the work I was doing with CNN," she said. "But I was thinking while we were reporting on all of these medical discoveries and breakthroughs, I kept feeling like I wished I was that person—the one making the discoveries and being a participant in the care rather than being the person behind the scenes filming it.
"Dr. Gupta was in Haiti, a few years after the big earthquake. They came upon a child who needed medical attention. In the world of filming, it was considered a great shot or moment, but Dr. Gupta said 'stop the cameras. I am a doctor first and I need to take care of him before we talk about filming.'
"That was when I realized I needed to go back to why I originally came to college—which was to become a doctor."
In addition to courses related to her non-medical major, Pasricha continued taking pre-med courses while at Harvard. Unsure how to combine her love for film and desire to become a physician, she applied to medical school and found Vanderbilt.
"Vanderbilt was one of a few places really excited about my interests. It's why I decided to come here, because I felt like at Vanderbilt you can do anything and there are people to support you in those endeavors."
It's a characteristic that Amy Fleming, M.D., Associate Dean for Medical Student Affairs, said sets Vanderbilt apart from many other medical schools.
"We are hoping to create a diverse class through our admissions process, and we appreciate the diversity of experience and backgrounds that our students bring," said Fleming. "By creating a diverse class of learners we can help change the culture in medicine and create future physicians who are better able to care for our diverse patient populations.
"Trisha is an example of expanding what people typically expect a doctor to do. Using her filmmaking skills in addition to her clinical skills, she is able to have a broader impact on the field of medicine. I really hope her film allows others to gain an understanding of the Match process and how difficult and stressful it is for students."
Fleming said Pasricha not only received the school's blessing but secured interviews with the president and CEO of the NRMP, Mona Signer, and the co-creator of the Match Day algorithm, 2012 Nobel Laureate Alvin Roth.
The lofty filming project required additional hands, including that of VUSM advisory college mentor and fellow film enthusiast Michael Pilla, M.D., professor of Clinical Anesthesiology.
Pilla was one of three cameramen on the Match Day film crew.
"Telling the story of Match is a great idea and could surely help students moving forward," said Pilla, who has known Pasricha for five years. "There have been documentaries of life in residency and life as a medical student, but I have not seen any documentation of this transition.
"I have no worries that it will be an amazing film," he said.
Class Collaboration
Medical student schedules are robust with little time for extracurricular activities, but Pasricha found periods within the curriculum to fit in her passion for film.
During the summer of her first year at Vanderbilt, she filmed her first documentary. She edited the project throughout her second year. At the start of her third year of medical school "A Doctor of My Own: The First Medical Students of Namibia" was released. The film, which delves into the health care emergency and global impact of medical education in Sub-Saharan Africa, was screened at most medical schools in the United States.
"During medical school, people make time for cooking and exercise," said Pasricha. "I made a little bit of time every day for my film."
Following her third year, she took a year off to explore the world of research at the National Institutes of Health. During that time, ideas for her next film project surfaced.
Once she had buy-in from VUSM administrators, the next task was locating her cast.
"Medical students are some of the most secretive, competitive and paranoid people in the world," she laughed. "I kept thinking that there was no way someone was going on camera, speak frankly about their fears and the process of Match.
"I was surprised that people were on board with the idea and willing to participate."
Despite knowing Pasricha for a long time, Greg LaChaud, M.D., '16, one of five classmates selected to participate, admitted saying 'yes' was not an easy call.
LaChaud, an orthopaedic surgery residency candidate at the time, was paired with his top choice. But the stress of the matching process and the potential for disappointment made him hesitant.
Match is incredibly stressful because people see it as a measure of who you are and as a summary of what you have done or synopsis of your life's work," he said. "It all culminates to one moment on stage where you open your envelope. If you don't get the result you wanted, it comes across as failure.
"All of your years in school, all of them combined, lead to this one moment. That is tough to share with the world."
LaChaud hopes future students will be able to relate to the stories featured in the documentary, but more importantly that the film highlights that "everyone's path is different and it's OK."
Pasricha wants the film to spark a discussion about the complicated Match process. Despite the sophisticated algorithm used to pair graduates with residency programs, she walked away with an overall good feeling about the method, she said.
"Everyone is going to become what they came to medical school to become—a doctor," she said. "Match tells you where you are going to be, not who you are going to be."
In July she began a new chapter as a resident at Johns Hopkins, where her husband, Eshwan, is a current graduate student. The pair met at Harvard and married in 2014.
As she settles in the same city, under the same roof with her husband, she is processing what it means to be a doctor and the transition from student to a health care provider.
With filming wrapped up, Pasricha plans to edit in her down time and release the documentary in conjunction with Match Day 2017.
Combining her love of film and medicine has proven to be a great match for her.
"In some sense when you are a doctor, you are a storyteller," she said. "You are gathering information to put together a story of a patient. It's what I love about being a filmmaker. Getting a sense of what a patient or an individual is going through … there is a component of compassion and humanity necessary for making films and as a doctor."
Learn more about the documentary at aperfectmatchfilm.wordpress.com.