The Other Side of the Bed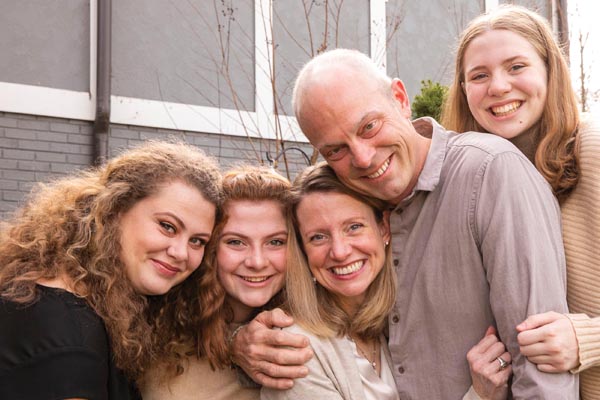 A month before his 49th birthday, Geoffrey Fleming, MD, had a biopsy of his liver to diagnose an unidentified metastatic disease that he already knew was "something bad." The next day, he jetted off to Scotland for a family golf trip, deferring the results of his procedure until his return.
On Aug. 26, 2019, he got the news: he had a liver and bile duct tumor known as metastatic cholangiocarcinoma, a cancer that, when treated, offers an average survival of 12-18 months.
As an Intensive Care Unit (ICU) provider at Monroe Carell Jr. Children's Hospital at Vanderbilt, the concept of terminal illness isn't new to Geoffrey, who has spent most of his career leading families through end-of-life conversations. He and his wife, Amy Fleming, MD, MScHPE, also a pediatrician at Children's Hospital and associate dean of Student Affairs for Vanderbilt University School of Medicine (VUSM), have been reminded each day throughout their careers that life can be fragile and fleeting through the sick children they've had the privilege to treat.
"I know there are things worse than death — I've seen them in the ICU," said Geoffrey. "I am fortunate to have stood at the bed of many children who died, and they have taught me how to be brave. They taught me how to live well — how to find the joy in a bowl of ice cream — and how to die with dignity and acceptance."
While the news was disheartening, Geoffrey found himself at peace knowing his life so far has been full of love and purpose. He, Amy and their three teenage daughters have been living as normally as possible, one day at a time, finding joy in the little moments such as sharing dinner, playing games and taking walks with their dogs.
"We have a pretty tight-knit family anyway, but this has made me really thankful for our girls," said Amy. "We have really nice teenagers who still seem to like us and want to be around us, and I'm so grateful for that. It has been tough with all of us quarantined in the house and trying to be extra careful to not be exposed to COVID-19 given Geoffrey's immunosuppression, but the fact that we all enjoy and want to be around each other is a gift.
"I think times like this make us all more appreciative of what we do have, and that's the way I have tried to stay focused."
A Chance Encounter
Amy and Geoffrey met during their first year of medical school at the University of Virginia in 1993. Geoffrey was a physical diagnosis partner of Amy's roommate, and the two belonged to the same tight-knit group of six friends who all sat in the back row of the auditorium.
"Geoffrey jokes that I paid attention and he didn't, but he did awfully well in medical school to say he didn't really pay attention," said Amy.
Midway through their second year, Amy lost a close friend and realized Geoffrey was the only person in whom she wanted to confide. The two started dating and got married the weekend after their graduation.
"We graduated, got married, went on a honeymoon and moved to a new state all in the span of about two weeks," said Amy.
Amy and Geoffrey moved to five different states in their first 10 years of marriage before settling in Nashville to raise their children and begin their careers at Vanderbilt in 2007. Geoffrey was offered a faculty position at Children's Hospital that fulfilled his clinical and research interests in extracorporeal membrane oxygenation (ECMO) and continuous renal replacement therapy (CRRT), but it took some convincing and networking for Amy to agree to the move and find a role about which she could be passionate.
Amy, who had always wanted to be a teacher and mentor, settled into a mentorship role for Gabbe College, one of VUSM's four advisory colleges.
"I remember interviewing for the college mentor role with the students here at Vanderbilt who said, 'We don't know you. Why should we give you this job?' And I said, 'I think I'm going to be doing this job regardless of whether you give it to me, because this is the person I want to be,'" said Amy.
"When I went through medical school, I connected with my dean of students, and I really admired what he did. He would have students over to his house and got to know us individually, and I thought, 'I could do that someday. I could be welcoming and bring people into my home and show them what it's like to have a family and be a woman in medicine.' It's that reality that we sometimes lose when we're in the middle of our medical training."
In 2014, she moved into her current role as associate dean for Medical Student Affairs, a position she considers her "dream job" because it allows her to focus on each individual student, their passions and how she can help them achieve their goals.
"The thing I value most about my role is the ability to get to know my students and to be a mentor who connects them with other people in our community who will support them as they grow into the leaders in medicine they're going to be," said Amy. "I love bringing people together. Our students are so excited and passionate about things. They get someone to work with as a mentor, and the mentors get someone who is excited and wants to help work on their projects or learn from them clinically. It's good for both sides."
In addition to her advising role, Amy is responsible for VUSM's programs focused on student wellness, careers in medicine and academic coaching to help students "become the best doctor they can be."
She also spends 10% of her time seeing patients on the inpatient service in the Division of Hospital Medicine at Children's Hospital.
"I find energy in taking care of children, and I get some of that same energy from my students. The joy of being young, having the whole world in front of you, knowing that you can make a difference and having the energy and desire to do that keeps me energized. They keep me young," said Amy.
A New Perspective
As doctors, Amy and Geoffrey have learned a lot about what it means to show up for patients and their families, but being on the opposite side of the hospital bed due to Geoffrey's cancer diagnosis has given them a unique view of what makes exceptional care through the eyes of a patient.
"I think it makes you a better provider when you go through something like this because you see the experience from a different perspective. I'm so grateful for the care that we get and for the colleagues who check on us, ask how we're doing and think to make sure that things are going the way they should," said Amy.
"I'm also grateful that the things I see them doing are not different from what they do for other patients. They are giving us the same great care they give to everyone they encounter."
Due to his immunosuppression, Geoffrey can no longer safely work with patients in the ICU, but being on the receiving side of care has brought him invaluable insight into the opportunities he feels he may have missed as a provider.
He believes the role of a physician has changed from being the sole owner of information to being a knowledgeable guide who can help put information into the context of a patient's care. He likes the term "health care docent" but realizes some might not agree with the analogy.
"All the time, our patients bring us ideas about their care, whether it's information they've found on Google or that somebody has given them. I used to live by this motto that said, 'My MD is better than your Google search.' But, in doing so, I missed an opportunity to partner with my patients," said Geoffrey.
While such dubious web-touted "treatments" as ionized water and specific diets may not cure cancer, Geoffrey now realizes how terrifying it can be as a patient to feel like one may be missing something that could potentially benefit their health.
"My plea to my colleagues would be to do what my doctors did, which was sit with me while I asked these questions and walk me through what was plausible, what was not plausible, what could potentially help and what could potentially hurt," said Geoffrey.
Another takeaway is the importance of establishing a connection with each patient, no matter the severity of their illness or how busy the provider's day may be. As an ICU physician, Geoffrey admits he often struggled with spending enough time connecting with patients who were less sick than others, forgetting that this may be the sickest that family has ever seen their child.
As a patient, Geoffrey, with Amy by his side, spends most of his time in waiting rooms, anxiously looking forward to the moments with his care team. When those moments finally come, Geoffrey wants to know he's being seen.
"When I say 'seen,' I don't want them to see a 49-year-old 'cholangio' in room three. I want them to see Geoffrey, who is a father, a husband, an ICU physician, a golfer, someone who loves to play bluegrass bass and who is a bit of a prankster. I want to be seen as me," said Geoffrey.
"As a provider, I have so often been afraid of becoming too emotionally connected to my patients or their families, because patients die. But, I've realized my care team is very good at making a connection with me that doesn't require them to open the Pandora's box of their heart. They just remember that I'm a golfer or ask us about our daughters, and it is so meaningful to me."
The Value of Community
While being on the other side of the hospital bed has allowed these lessons to crystalize, Geoffrey and Amy say the most important lessons they've received have come through witnessing the dedication of their colleagues and students and through the privilege of treating sick and dying children.
"Between the two of us, there are very few people across Vanderbilt that we don't know or haven't met. That is one of the greatest joys for us — we have built a huge network of colleagues that we've done a whole variety of things with. Sometimes, we went to those colleagues asking for help, and sometimes they came to us. It has been a real privilege to get to work with so many people across the entire institution," said Geoffrey.
Amy believes getting to know those colleagues as providers, co-workers and friends over the last 13 years has only doubled her confidence that she and Geoffrey will always have the support they need, regardless of what lies ahead.
"People always ask us what it is about Vanderbilt that we love, and my answer is that it feels like family to me," said Amy. "These are all colleagues, family and friends that I can rely on, and that becomes even more meaningful and important in a time like this. We have known 100% from the start that the support is there for us. There are so many hands outstretched to help us during this time, and that's a reflection of the community here."
For now, Amy and Geoffrey are focused only on the present moment — something they believe their family has always excelled at due to occupations that have constantly reminded them of life's fragility.
"My mantra through this has been, 'Love deeply, live passionately and demand meaning and purpose in your life.' That for me is the shorthand answer to 'How do you get to a place where you're 49 facing your mortality and are at peace with it?'
"I want to be a grandfather, I want to see my children grow up, I want to see many years of life with Amy," said Geoffrey. "I'm sad about the idea of dying, but I certainly do not have any fear and anxiety."