Community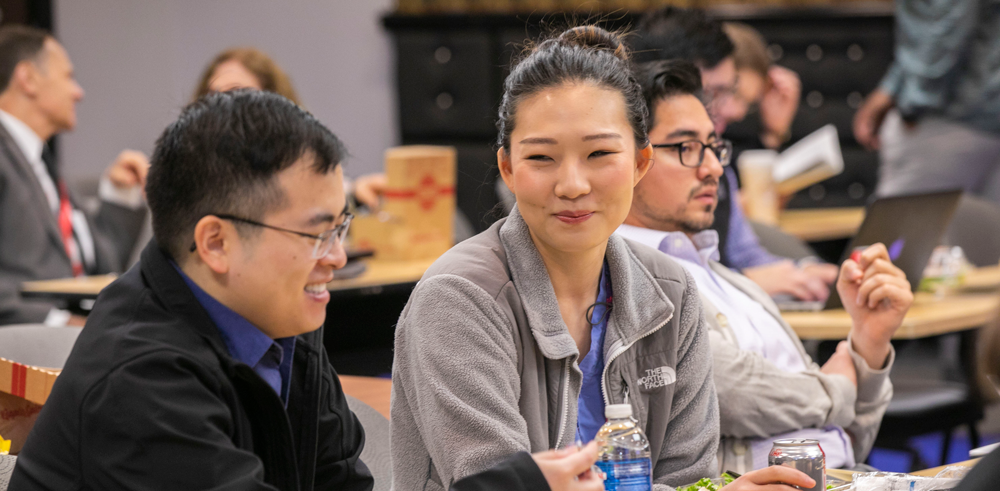 By becoming a medical scholar, you join a vibrant community of medical student researchers with a wide range of interests in diverse topics and methodologies. Past scholars have studied topics ranging from skin cancer prevention for the tattoo community to physical changes in Parkinson's patients.
Students investigate challenges and potential solutions in medicine according to their passions. Each student chooses a project interesting and exciting to them, pairing with a mentor who supports exploration and inquiry.
Meet William
William Quach studied biology at the University of California, San Diego, before coming to Vanderbilt University School of Medicine. An aspiring anesthesiologist, he plans to spend many hours in operating rooms during his career. He connected with practicing head and neck surgeon Dr. Alex Langerman during a research fair session and gained interest in medical ethics. Langerman asked William if he would be willing to work on a project with him to investigate the ethics of surgical consent from patients, exploring the consent process for surgeries where residents will practice and learn.
Through patient interviews and representative surveys, William seeks to find better methods to ethically explain resident roles to patients, ensuring full consent.
"This was a 180 from the research I had been doing. I had absolutely no background in social sciences," he said. "I really [wanted] to take a year to spend the time learning how to interview patients, learning how to do surveys and analytics, and trying to make sure it's all done correctly – not just cramming it through before I graduate…
"Some patients have like amazing insight into residents, like, 'You know, if I wrote this survey, I'd change this question'…It was so interesting because across three or four days, I got such a wide array of responses to validate in the survey. It supports the fact that we're doing good research because it's so varied."
Read more about William and his project.
Meet Maddy
When Maddy Ball entered medical school after several years working in technology and clinical research, she didn't imagine she would have the opportunity to pursue a year of funded research in Barcelona, Spain. Now, she studies neuromonitoring in children with congenital heart defects in a laboratory at Sant Joan de Deu Children's Hospital.
Maddy has been passionate about congenital abnormalities research since her time at Shriners Hospital in California, where she served as a clinical research coordinator. That interest, coupled with a desire to help disadvantaged populations, led her to apply for Medical Scholars.
"I really think one of the coolest things about Medical Scholars is it's not a specific project you have to do and apply specifically for," she said. "This project opens the door for us to explore diverse and important topics that are of interest to us. We propose a project that we're passionate about."
Maddy connected with her mentor in Spain with help from a former Medical Scholar Stephanie Hadley and Associate Dean for Medical Student Affairs Amy Fleming. Previous scholars regularly connect with students in the VUSM and Meharry communities to help with networking and lend advice for navigating the year of dedicated research.
"From a research perspective in our field, it can sometimes be hard to find mentors who will take you and support you on projects. But the opportunities are endless here. If there's something of interest to you, there's someone here to support you to get it done," she said.
Read more about Maddy and her project.
Meet Trevor
Texas-native Trevor Thompson's parents instilled in him a sense of responsibility and honest work ethic, especially when it comes to education and its application in the world. After completing his undergraduate studies at Baylor University, he matriculated at Meharry Medical College in Nashville.
During his first year at Meharry, fellow students alerted him to the Medical Scholars program and Vanderbilt's Student Research Training Program (SRTP). He worked with Lauren Woodard, PhD, to study 3-dimenstional kidney organoids, small structures to emulate properties of kidney cells. His positive experience with Woodard, who he said gave him the tools to succeed with a spirit of collaboration, encouraged him to connect with other researchers in the community. His network eventually led to an encounter with Dr. Adriana Hung at Nashville Veterans Affairs Medical Center. With an interest in nephrology and hematology/oncology, Trevor knew he should reach out.
"It was divine timing; she had actually been developing a study to look at the progression of Chronic Kidney Disease (CKD) in people with Sickle Cell Trait (SCT)," he said. "Naturally, I was intrigued."
Their study investigates how SCT affects the progression of CKD, particularly examining a genetic variation that considerably increases the risk of CKD. With Dr. Hung, Trevor and the research team gained access to the largest biobank in the world, "The Million Veteran Program," which enabled them to co-author scientific work published in the Journal of the American Medical Association (JAMA).
"These experiences have been extremely impactful for my early career in medicine, in that, I have been able to explore pathways to study a variety of topics…For some patients, the absence or presence of a certain gene variant is the main arbiter of their quality of life," he said. "I look forward to a future where this isn't the case. I also look forward to a time where a variety of tools will be available to physicians to 'turn on' or 'turn off' epigenetic elements contributing to morbidity and mortality. Vanderbilt and Meharry have made my ability to contribute to that future a reality. To those considering the [Vanderbilt Medical Scholars] VMS program, I would encourage them to find a clear and unambiguous purpose to pursue a research year."
Trevor has been selected as part of the kidney star program for the American Society of Nephrology.
You may also connect with:
SCRIPS Scholars – Vanderbilt and Meharry MD students who conduct interventional research at Vanderbilt or Meharry.
Research Scholars – Vanderbilt MD students who conduct year-out research at Vanderbilt.
Ready to apply or need more information? Email vms.research@vanderbilt.edu.