Aspirnaut™ – Undergraduate Discovery Science Experience in Renal Biology and Disease
Introduction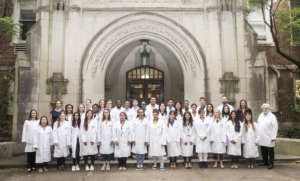 Aspirnaut™ is a K-20 STEM Pipeline for Diversity with the goal of increasing the numbers and diversity of the STEM workforce. The Aspirnaut™ Summer Research Internships are hands-on and mentored laboratory experiences for high school and undergraduate students interested in a career in the fields of science, technology, engineering, or mathematics (STEM).
About the Summer Experience: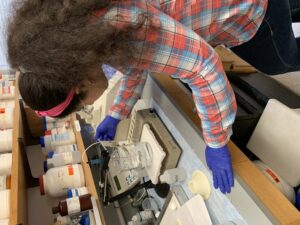 The program will run from May 29 – August 5, 2023 (10 weeks). Participants will receive a stipend of $650 per week (up to a total of $6,500). The cost of travel to the Kidney, Urology, Hematology (KUH) Summer Undergraduate Research Conference (location TBA), is covered by the program and is a requirement of participation.
There are two principle aims for this program:
An intense research experience for undergraduate students involving crafting of questions, designing and conducting experiments, and presenting and arguing results on the topic of "Renal Biology and Disease."
To augment the discovery science experience with guided professional skills development and guided self-discovery.
Participants reside on the campus of Vanderbilt University and conduct research activities at Vanderbilt University Medical Center (VUMC). Research assignments are coordinated under the direction of Billy Hudson, Ph.D., Scientific Director for the Aspirnaut™ Summer Research Internship Program and Director of the Vanderbilt Center for Matrix Biology. Interns join a mentor research lab and work with a mentor on the topic of renal biology and disease. Interns are fully engaged in their research project and meet regularly to discuss their projects with scientific mentors and to interact with distinguished guest speakers. At the end of the program, interns prepare abstracts, give oral and poster presentations to their peers and mentors, and attend the KUH Undergraduate Research Conference.
Activities and assignments will vary within a standard nine-to-five timeframe in laboratory atmospheres, with evenings and weekends available for the participants to complete assignments. In addition to the laboratory experience, participants receive training in a variety of areas including science communication skills, individual career planning, psychological principles for thriving, and more. There is plenty of free time to explore the university, the city of Nashville, and its surrounding areas.
Benefits
The program will run from May 29 – August 5, 2023 (10 weeks).
Participants will receive a stipend of $650 per week (up to a total of $6,500).
Housing will be provided at one of the Vanderbilt University campus dormitories.
The cost of travel to the Kidney, Urology, Hematology (KUH) Summer Undergraduate Research Conference (location TBA), is covered by the program and is a requirement of participation.
Eligibility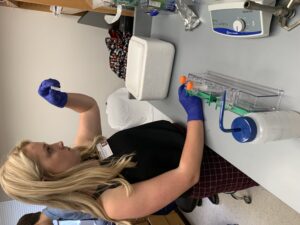 Rising sophomores, juniors, and seniors with a GPA of 3.0 or better on a 4.0 scale and who are in good standing at their primary institution are eligible. Rising seniors should have at least one semester remaining of their undergraduate education at the start of the summer program.
Applicants should have completed college biology and chemistry or biochemistry courses.
Candidates should demonstrate interest in/potential to pursue graduate study (i.e., Ph.D., M.D., M.S.) toward an advanced degree in STEM (science, technology, engineering, mathematics) fields and biomedical research.
Internship recruitment is targeted to underrepresented racial and ethnic groups, American Indians/Alaska Natives and/or those from geographically- and/or economically-disadvantaged backgrounds and/or those from families with limited levels of education as defined by the Federal government.
Interns must be a documented U.S. citizen or non-citizen national or permanent resident in possession of an alien registration receipt card (I-551) or other legal document of such status. International citizens studying in the United States with an F-1 visa are not eligible for these spots. Individuals seeking asylum or refugees are not eligible.
Interns must have valid, current health insurance at the start of and for the duration of the program.
2 letters of recommendation submitted on your behalf from college faculty (at least 1 should be from an instructor of a math or science course).
Official transcript showing academic coursework to date, including Fall 2022 semester final grades
Application Process
Applicants can apply through the REDCap application link:  https://redcap.link/ug2023apply
All applications and supplementary materials are due by 11:59 PM CST on Wednesday January 18, 2023. The application review committee will meet in early-March and decisions will be released in March.
Contact Information
Inquiries may be directed to Meagan Postema, Ph.D., Program Manager for Aspirnaut™ at VUMC.
Meagan Postema, Ph.D.
researchinternships@aspirnaut.org
P: 615-936-5275
Vanderbilt University Medical Center (VUMC)
D3300 MCN
1161 21st Avenue South
Nashville, TN 37232-2104
For more information, please visit our website: www.aspirnaut.org
As of August 2022, the Aspirnaut™ Program is moving forward with recruiting for the in-person residential program hosted on Vanderbilt University and Vanderbilt University Medical Center campuses. Please note that the program may not be able to occur in its entirety or intended format. We reserve the right to modify or cancel the program at any time for the health and safety of all individuals involved. This could result in a shorter program duration, hybrid (a mix of in-person and online sessions) model, remote/online based experience, or a combination of formats. Students must be fully vaccinated or exempted by their school in order to participate.
* NIH groups that are considered to be in need of special recruitment and retention plans in order to diversify the biomedical, behavioral, clinical, and social sciences workforce: 1) Individuals from racial and ethnic groups that have been shown by the National Science Foundation to be underrepresented in health-related sciences on a national basis (see data and the report Women, Minorities, and Persons with Disabilities in Science and Engineering, 2007, p. 262) and those groups shown to be underrepresented in health-related sciences on a national basis: American Indians or Alaska Natives, Blacks or African Americans, Hispanics or Latinos, Native Hawaiians or Other Pacific Islanders; 2) Individuals with disabilities, who are defined as those with a physical or mental impairment that substantially limits one or more major life activities; 3) Individuals from disadvantaged backgrounds who are defined as those who meet two or more of the following criteria: (a) Were or currently are homeless, as defined by the McKinney-Vento Homeless Assistance Act (Definition); (b) Were or currently are in the foster care system, as defined by the Administration for Children and Families (Definition); (c) Were eligible for the Federal Free and Reduced Lunch Program for two or more years (Definition); (d) Have/had no parents or legal guardians who completed a bachelor's degree (Data); (e) Were or currently are eligible for Federal Pell grants (Definition); (f) Received support from the Special Supplemental Nutrition Program for Women, Infants and Children (WIC) as a parent or child (Definition). (g) Grew up in one of the following areas: 1) a U.S. rural area, as designated by the Health Resources and Services Administration (HRSA) Rural Health Grants Eligibility Analyzer, or 2) a Centers for Medicare and Medicaid Services-designated Low-Income and Health Professional Shortage Areas. Only one of the two possibilities listed can be used as a criterion for the disadvantaged background definition; 4) Literature shows that women from the above backgrounds face particular challenges at the graduate level and beyond in scientific fields. (e.g. Data). Women have been shown to be underrepresented in doctorate-granting research institutions at senior faculty levels in most biomedical-relevant disciplines, and may also be underrepresented at other faculty levels in some scientific disciplines (Data).