Virtual VSSA | Summer 2021
Due to Covid-19 in 2020, the Vanderbilt Summer Science Academy developed a seminar series focused on individuals on different post-undergraduate paths (PhD, MD/PhD, and MD). Our 2020 program was so successful that we will be offering a similar program in 2021! (Manuscript in preparation) It is open to any undergraduate interested in pursuing one of these paths, regardless of if they applied to the VSSA or not!
During each seminar, two individuals will discuss both their personal journey, explaining their motivations, goals, and reasons for pursuing their path, as well as a professional story that illustrates their passion. Our goal is to help you build an understanding of the diversity of the community. We will complement these seminars with professional development seminars to help you know how to prepare for your next step!
To sign up for notifications about this program, especially if you have not applied to the VSSA, please complete this brief survey. 
Tentative 2021 schedule: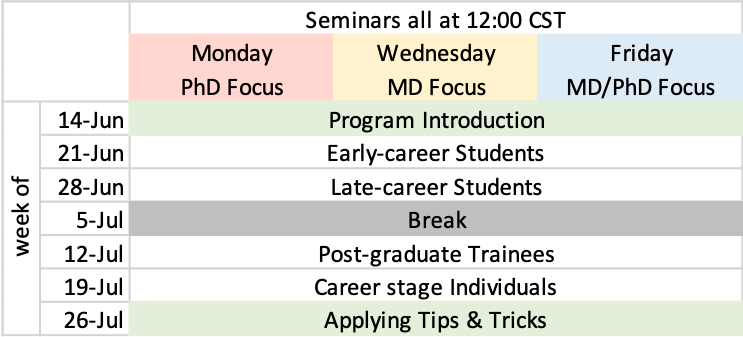 Please email elizabeth.a.bowman@vanderbilt.edu with any questions!