MPH students dive into COVID-19 response on local and state levels
by Emma Mattson
From accomplished alumni to first-year trainees, the Vanderbilt Master of Public Health (MPH) program has brought a wave of support to fight the spread of COVID-19 in Tennessee. We sat down with five MPH students to hear what it's like to train in public health during a public health crisis.
Global Health, Close to Home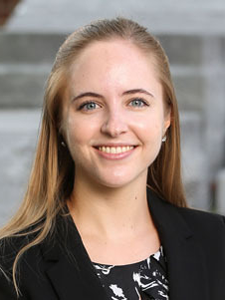 Second-year MPH student Caitlin Washburn had imagined a very different summer for herself.
Pre-COVID, she had two practicum experiences in the works: one for the TN Department of Health and one abroad in Namibia, both focused on vector-borne diseases.
When international travel became impossible, Washburn started looking for global health opportunities closer to home. When she heard of an opening at the Metro Public Health Department, she submitted her resume right away, near the end of April.
Things began moving very fast. Within three days, Washburn had been hired, and she started orientation for her new position in the beginning of May. Soon she was working full-time as the official coordinator for the COVID Response Community Health Worker Program.
Run by the Metro Public Health Department in collaboration with the Nashville non-profit Siloam Health, this program hires and trains community members to serve as public health liaisons with the diverse refugee and immigrant communities in Nashville.
The program's community health workers represent five different languages and work with people who have been exposed to or diagnosed with COVID. They drop off groceries and extra PPE supplies, offer financial assistance when necessary, and always provide a listening ear.
For Washburn, this emotional support is just as important as material supplements.
"Especially if English is your second language or you don't speak it at all, it's very overwhelming to be in the midst of a global pandemic," Washburn said.
Overall, Washburn said, the experience has confirmed her interest in global health, although not in the location she originally expected.
"It's been great to work with global communities— right here in Nashville," Washburn said.
Active COVID-19 Surveillance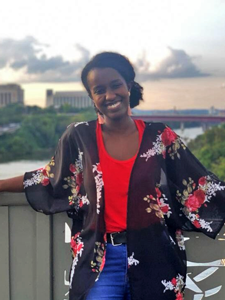 Washburn isn't the only MPH student who has shifted plans to better serve Nashville's needs during the pandemic.
Victoria Umutoni, an MPH student from Rwanda, had originally planned a summer practicum with Partners in Health in Sierra Leone. When international travel became unwise, she turned to epidemiology work closer to home— this time, with the Emerging Infections Program (EIP) in Nashville.
Umutoni is one of four MPH students currently involved in active surveillance of COVID-19 with EIP. Together with Bentley Akoko, Lin Ammar, and Isaac Schlotterbeck, Umutoni reviews the medical charts of patients admitted to Nashville hospitals, logs the data, and communicates it to the Centers for Disease Control and Prevention.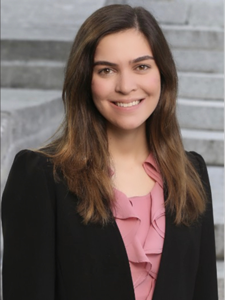 Like Umutoni, MPH student Lin Ammar had already begun working with the EIP last year on influenza surveillance. Now, her work has shifted completely to focus on COVID-19.
Ammar said she was impressed by how quickly the program switched over to COVID-19 surveillance. After all, the 2019-2020 flu season was just coming to a close when COVID cases began to rise in the U.S.
Many of her current team members were involved in the surveillance of other infectious diseases, but the crisis brought them together in new collaboration, Ammar said. Their first challenge was adapting to a new, COVID-specific database.
"In the beginning we were all figuring out the database together because no one has worked with it before," Ammar said. "Honestly, everyone was working together and helping each other out."
Besides active surveillance work, Ammar and her colleagues wrote an emergency preparedness plan for the EIP, featuring steps EIP could take to better prepare for future health crises that might require a transition to remote work.
"One thing we included was creating a survey to make sure employees all have access to wifi, a laptop, a desktop, a camera, and two desktop screens so they can have the electronic health record on one and the database on the other— steps that they could follow to make sure everyone has a smooth transition," Ammar said.
From Confusion to Clarity: Public Health at Work in Data Visualization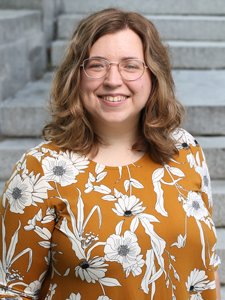 "We have more data available than ever," reports second-year MPH student Lauren Mitchell. "But it's also more difficult than ever to know what it means."
Mitchell spent this past summer at the Sycamore Institute, a nonpartisan public policy research center focused on Tennessee-specific data— and making public health information clear and concise has perhaps never been so crucial.
Just look at Mitchell's review of the effect of COVID-19 on medical debt in Tennessee. The takeaways are staggering: Mitchell and her co-author, Sycamore Policy Director Mandy Pellegrin, found that, as of 2018, Tennessee had the eighth highest rate of medical debt of any state in the U.S. What's more, the report predicted that COVID-19 treatment costs would only increase medical debt across the state.
According to Mitchell, one of the biggest learning curves in her time with the Sycamore Institute was adopting neutral language to describe data sets like these.
"I lean to the left and trying to translate that to a nonpartisan voice was very interesting," Mitchell said. "It was a very good experience for me— how to represent facts very neutrally and let people make their own decisions from them."
Mental Health during a Pandemic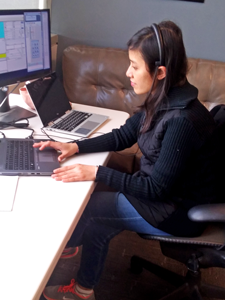 MPH student Ni Ketut Wilmayani works with a less tangible, but no less important, consequence of COVID-19: the pandemic's effect on mental health.
"In March, after the outbreak of COVID-19 in the US, Wilmayani began working for the Tennessee Poison Center Hotline. People call in with new and challenging questions every day, and the calls can last for up to an hour, Wilmayani said. Still, she sees it as a way to support a community in crisis.
"I came from Indonesia, and I really want to obtain much experience here in the U.S.," Wilmayani said. "Regardless of whether the practicum will be online or in person, what I want to do is just help people."
Experiencing a public health crisis is especially challenging if you're living in a foreign country, so as COVID-19 spread through the U.S., Wilmayani started looking for a way to support other Indonesian Fulbright Scholars like herself.
Along with ten of her close friends from the Fulbright community, Wilmayani started a taskforce for Mental Health. The group meets by Zoom every Friday night to share their experiences with online classes and remote work during the pandemic. It's a way to check in on each other and maintain community even as they're scattered across different states, Wilmayani said.
The group also provides support for Indonesians back home who have questions about COVID-19. Wilmayani recalls, for example, speaking with an undergraduate student from Jakarta, Indonesia, who wanted advice about continuing her bachelor's degree during a pandemic.
From data analysis to community health programs to mental health support, these five MPH students are engaging public health efforts during an incredibly unique moment.
Or, as Umutoni puts it, "We need more public health workers, now more than ever."
Curious about what a Master in Public Health could lead to? Read more about the MPH practicum experience and the Vanderbilt MPH program.