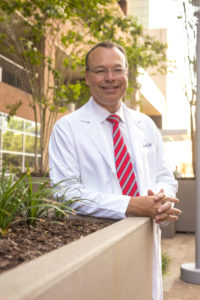 Dear Students, Friends, and Alumni,
While health care continues to change at an accelerating pace, and is more often than not at the center of a political tug-of-war, there has never been a more important time for our nation's best and brightest to pursue careers in medicine and the biomedical sciences. A recently published study by the American Association of Medical Colleges (AAMC) reaffirms there is a physician shortage that their analysis indicates is growing worse by the day. Projections indicate the shortage will leave the U.S. with a deficit of approximately 100,000 physicians by 2030.
The AAMC says this figure could vary based on policy decisions around payment and delivery reform, prevalence of the use of advanced practice nurses, and changes in ways that patients will consume health care services in coming years that may alter demand. No matter the variables, there will be greater numbers of patients overall and an increasing number of older patients needing our care.
The AAMC's data found the physician shortage encompasses not only primary care medicine but also includes most medical and surgical specialties, which their analysis found are impacted at even higher rates. All of this speaks to the important role Vanderbilt must continue to play as a national leader in medical education and training.
Irrespective of ongoing battles over health policy, or growing concerns about cost, we will continue to be called upon to care for the sick while also investing in research that will lead to new treatments and cures. We are committed to this challenge and I am eternally optimistic we are up to the task.
Our education and training programs continue to flourish. Due to impressive outcomes in key measures, the School of Medicine ranked 17 this year in U.S. News and World Report's Best Medical Schools-Research. While U.S. News is but one measure, we understand the influence of this ranking on prospective students and public awareness.
The Medical Center is the proud recipient of the 2017 Accreditation Council for Graduate Medical Education and Arnold P. Gold Foundation's DeWitt C. Bud Baldwin Award. The award recognizes institutions that "foster a respectful, supportive environment for medical education." Of 800 eligible institutions only 60 were invited to apply, and only three institutions were recipients, further validating the high quality of our programs in Graduate Medical Education.
Last summer, Dr. Andre' Churchwell, the Levi Watkins Jr. M.D. Chair, professor of Medicine, Biomedical Engineering and Radiology and Radiological Sciences, and senior associate dean for Diversity Affairs, assumed the newly created role of Chief Diversity Officer for Vanderbilt University Medical Center. Now, Dr. Churchwell is sharing his experience helping to make the School of Medicine a national leader in diversity and inclusion throughout our health system. Through his energy and guidance the Medical Center is working to become more reflective of our community and the population we serve.
By now, we have had one class complete their education entirely through Curriculum 2.0. The curriculum revision remains transformational and has resulted in iterations now having been implemented or under consideration at other schools. Most recently, VUSM was chosen to be a founding member of the newly formed Robert D. and Patricia E. Kern Institute for the Transformation of Medical Education (Kern Institute), a national initiative to transform medical education across the continuum from pre-medical school to physician practice.
Looking back over our long history the true constant has been change. We will always value and protect the traditions we hold dear, but with an eye toward the future.
I remain deeply honored to serve as your Dean.
Warmest regards,
Jeffrey R. Balser, M.D., Ph.D.
Dean, Vanderbilt University School of Medicine
President and CEO, Vanderbilt University Medical Center