Mission of the Program in Cancer Biology
To train new leaders in the field of Cancer Biology that will develop new knowledge that will translate into improved detection, diagnosis, prognosis, prevention, or treatment of cancer.
Research Areas of Emphasis
Cancer Immunity, host tumor interactions, and angiogenesis
Cancer Precision Medicine—targeted therapies and drug resistance using mouse modeling, human tumor tissues, and systems approaches
Bioinformatic analyses of tumor heterogeneity including genome, proteome, metabolome, and immunome components during tumor progression
Basic Cancer Biology—tumor progression, invasion and metastasis
Steering Committee
Ann Richmond, Program Director
Jin Chen, Director of Graduate Studies
Roger Chalkley
Barbara Fingleton
Hal Moses
Kimryn Rathmell
Julie Sterling
Alissa Weaver
Chris Williams
RESEARCH: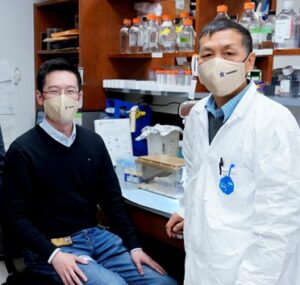 Jinming Yang, PhD, staff scientist, and Chi Yan, PhD, research instructor in the Richmond lab, reveal new strategy for reducing tumor growth, metastasis. "We had the hypothesis that if we could target CXCR2 in myeloid cells, we might ablate the trafficking of MDSCs into the tumor microenvironment and thereby enhance the immune response to a developing tumor," said Ann Richmond, PhD. The Richmond lab has long studied the role of tumor-secreted chemokine factors and their receptors on MDSCs, in particular the receptor CXCR2. CXCR2 is a key chemokine receptor involved in the movement of MDSCs into developing tumors and the pre-metastatic niche.
Read more

Ken Lau, PhD and his lab have established a method for preserving microbes and host cells together using a mucus-adhesive polymer called Poloxamer 407. Their approach, reported in npj Biofilms and Microbiomes, makes it possible for researchers to study complex host-microbe interactions in native tissue environments, and potentially in clinical specimens.