DEI Committee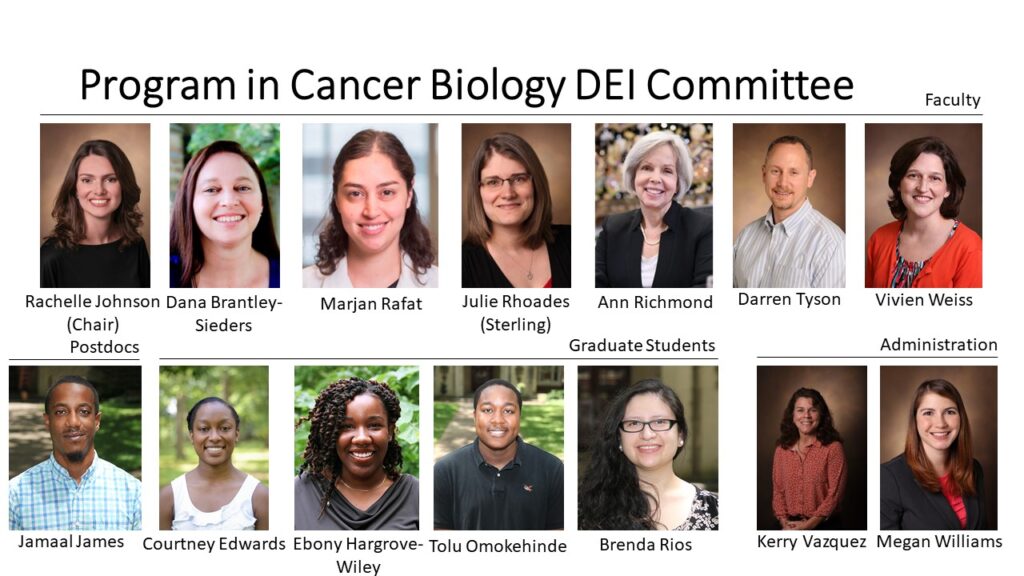 Meet the members of the Program in Cancer Biology DEI Committee. Our goal is to foster an inclusive, equitable learning environment, to encourage diverse ideas and opinions in the field of cancer biology, and to promote cancer-related career trajectories both within and outside of academia. We condemn racism and expressions of hate, bias and discrimination in all forms.
If any member of our community has experienced harassment or bias, we want to know as part of our efforts to create and sustain an inclusive community. The University Counseling Center is here to help all students who are experiencing high levels of stress during these unprecedented times. For more information about on campus resources and reporting acts of discrimination please reach out to the resources here. Equal Opportunity and Access Office, or visit Vanderbilt University's website  Equity, Diversity and Inclusion.
RESOURCES FOR THE PROGRAM IN CANCER BIOLOGY FOR  ENGAGEMENT ON SYSTEMIC RACISM AND INJUSTICE
JOURNALS
What Comes Next? Simple Practices to Improve Diversity in Science, by Steven Townsend
ARTICLES
White Privilege: Unpacking the Invisible Knapsack
BOOKS
Making all Black Lives Matter – Barbara Ransby
The History of White People – Nell Painter
The Fire Next Time – James Baldwin
How to be an Antiracist – Ibram X. Kendi
So You Want to Talk about Race – Ijeoma Oluo
White Fragility – Robin DiAngelo
The New Jim Crow – Michelle Alexander
Racism without Racists – Edurardo Bonilla-Silva
Just Mercy – Bryan Stevenson
The Color of Law – Richard Rothstein
Me and White Supremacy – Layla Saad
Between the World and Me – Ta-Nehisi Coates
The Possessive Investment in Whiteness: How White People Profit from Identity Politics – George Lipsitz
MULTIMEDIA
13th – Netflix
How I Learned to Stop Worrying and Love Discussing Race
Race Forward – What is Systemic Racism?
How to Be an Antiracist Educator?
We're in a moment of collective trauma. But there are glimmers of hope – Berkeley Blog
Avoiding Racial Equity Detours – Paul Gorski
Inside Higher Ed – Evidence-Based Action is Required
Inside Higher Ed – Channel Outrage and Disillusionment into Action
Inside Higher Ed – Making Sense of the Senseless
Inside Higher Ed – A Call to Action
Teaching Tolerance – How Can We Build Anti-Racist White Educators?
Colours of Us – 37 Children's Books to help talk about Racism & Discrimination
WEBSITES
National Center for Faculty Development & Diversity (Vanderbilt University Access)
Higher Education Recruitment Consortium (Vanderbilt University Access)
EAB (Vanderbilt University Access)
National Museum of African American History & Culture – Talking About Race
RECENT ACTIVITIES OF THE CANCER BIOLOGY DEI COMMITTEE:
Rachelle Johnson PhD, led the development of two sponsored lecture series featuring URM faculty:
1)  Avery D. Posey PhD, Assistant Professor, Department of Systems Pharmacology and Translational Therapeutics, Perelman School of Medicine.
2) Dineo Khabele MD, Professor and Chair of the OB/GYN Department at the University of Kansas.
The DEI Committee sent out a survey to evaluate faculty and trainee interest in various activities that would promote diversity, equity and inclusion.
Dana Brantley-Sieders PhD, Brenda Rios BS and Courtney Edwards BS, are developing more opportunities around alternative career training. They plan to have a seminar series featuring former Vanderbilt trainees, from diverse backgrounds, with student-led informal discussions on the speaker's personal and professional path to their current position.
Julie Rhoades PhD and Marjan Rafat PhD are working on developing and distributing ongoing DEI training opportunities. 
The DEI is planning and developing more volunteer opportunities and mentoring networks, please reach out and join our team.  Also, if you would like more information about the DEI library that has been established, please contact Rachelle.Johnson@vanderbilt.edu.