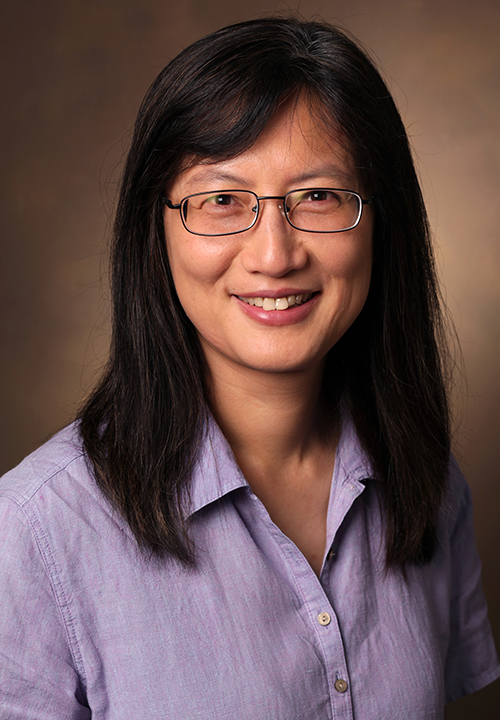 Jin Chen, M.D., Ph.D.
Professor of Medicine, Professor of Cell & Developmental Biology, Director of NCI T-32 Program

---
: T-3207E Medical Center North
1161 21st Avenue South
Nashville, - 37232
My laboratory investigates EphA2 RTK and mTOR signaling in tumor growth, metastasis, vessel normalization and tumor immunity, focusing on breast cancer and lung cancer.
Publications:
1. Amato KR, Wang S, Li T, Colvin DC, Pao W, Gray NS, and Chen J. (2016) EPHA2 inhibition overcomes acquired resistance to EGFR TKIs in lung cancer. Cancer Res 76(2):305-318.
2.Youngblood V, Kim L, Edwards D, Hwang Y, Santapuram P, Stirdivant S, Lu P, Ye F, Brantley-Sieders D, and Chen J (2016) The ephrin-A1/EPHA2 signaling axis regulates glutamine metabolism in HER2-positive breast cancer.  Cancer Res 76:1825-36.
3. A. C. Finney, S. D. Funk, J. M. Green, A. Yurdagul Jr., M. Rana, R. Pistorius, A. Yurochko, C. B. Pattillo, J. G. Traylor, J. Chen, M. D. Woolard, C. G. Kevil, and A. W. Orr.  (2017) EphA2 expression regulates inflammation and fibroproliferative remodeling in atherosclerosis.  Circulation Res 136:566-582.
4. W.Song, Y. Hwang, V. Youngblood, R. Cook, J. Balko, J. Chen*, and D. M. Brantley-Sieders*. (2017) Targeting EphA2 impairs cell cycle progression and growth of basal-like/triple-negative breast cancers.  Oncogene 36:5620-5630.  *Co-corresponding author.
5.D. N. Edwards, V.M. Ngwa, S. Wang, E. Shiuan, D. Brantley-Sieders, L. Kim, A. Reynolds, and J. Chen. (2017) The receptor tyrosine kinase EphA2 promotes glutamine metabolism in tumors by activating the transcriptional co-activators YAP and TAZ.  (2017) Science Signaling 10, eaan4667.
6.Raybuck, A.L., Cho, S.H., Li, J., Rogers, M., Lee, K., Williams, C.L., Shlomchik, M., Thomas, J.W., Chen, J., Williams, J., and Boothby, M.R. (2018)  B cell-intrinsic mTORC1 promotes GC-defining transcription factor gene expression, somatic hypermutation, and memory B cell generation in humoral immunity.  J. Immunol (in press).
Grants:
1. R01 CA177681  (Chen, Brantley-Sieders)   07/01/14-0/30/19   Ephrin-A1 in lipogenesis and breast cancer metastatic progression.
Our goal of this project is to determine how ephrin-A1 inhibits breast cancer metastasis and to test new drugs targeting EphA2 in subtypes of breast cancer that are refractory to existing therapies.
2. R01 CA95004   (Chen)    02/01/15-01/31/20
Endothelial mTOR signaling in tumor-blood vessel interaction
The aim of this project is to dissect the role of mTORC2 versus mTORC1 in tumor blood vessel, with the goal of developing mTORC2 as an alternative therapeutic target in cancer.
3. VA Merit Award  (Chen)   04/01/10-3/30/18
Targeting EphA2 in lung cancer subtypes that are refractory to current therapy.
This study aims at dissecting the role of EphA2 receptors in KRAS and EGFR mutant lung cancer.
4. T32 CA009592-29  (Chen)  06/01/13-0/31/18
Microenvironmental Influences in Cancer
The purpose of this training program is to prepare pre- and post-doctoral trainees for careers in basic and translational cancer research.
---