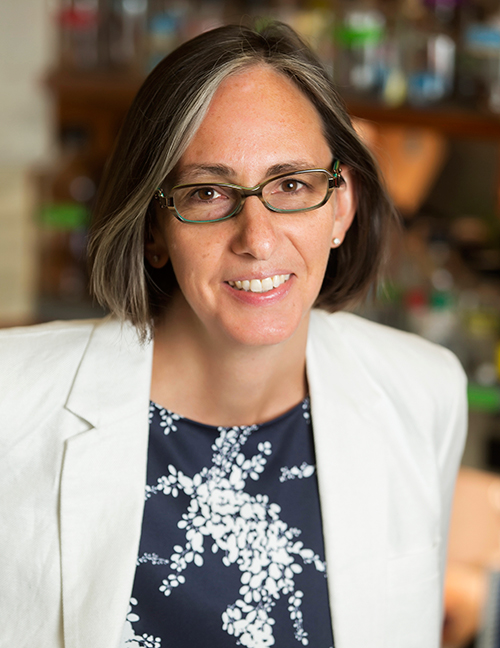 Kimryn Rathmell, M.D./Ph.D.
Professor of Biochemistry; Director, Division of Hematology and Oncology, Hematology/Oncology Division

---
: 798c Preston Research Building
2220 Pierce Ave
Nashville, TN - 37232-6307
The Rathmell Lab focuses on investigations into the underlying molecular drivers of kidney tumors. Our goal is to identify strategies to improve the treatment of cancers based on biomarker approaches to defining drivers of the cancer phenotype, or developing better ways to detect these cancers earlier.
HIGH IMPACT PUBLICATIONS:
"Set2 methyltransferase facilitates cell cycle progression by maintaining transcriptional fidelity."
Dronamraju R, Jha DK, Eser U, Adams AT, Dominguez D, Choudhury R, Chiang YC, Rathmell WK, Emanuele MJ, Churchman LS, Strahl BD.
Nucleic Acids Res. 2017 Dec 23. doi: 10.1093/nar/gkx1276. [Epub ahead of print] PMID: 29294086
"Ultrasound Molecular Imaging of VEGFR-2 in Clear-Cell Renal Cell Carcinoma Tracks Disease Response to Antiangiogenic and Notch-Inhibition Therapy."
Rojas JD, Lin F, Chiang YC, Chytil A, Chong DC, Bautch VL, Rathmell WK, Dayton PA.
Theranostics. 2018 Jan 1;8(1):141-155. doi: 10.7150/thno.19658. eCollection 2018.
"Comprehensive and Integrated Genomic Characterization of Adult Soft Tissue Sarcomas."
Cancer Genome Atlas Research Network. Electronic address: elizabeth.demicco@sinaihealthsystem.ca; Cancer Genome Atlas Research Network.
Cell. 2017 Nov 2;171(4):950-965.e28. doi: 10.1016/j.cell.2017.10.014. PMID: 29100075
"Comprehensive Molecular Characterization of Muscle-Invasive Bladder Cancer."
Robertson AG, Kim J, Al-Ahmadie H, Bellmunt J, Guo G, Cherniack AD, Hinoue T, Laird PW, Hoadley KA, Akbani R, Castro MAA, Gibb EA, Kanchi RS, Gordenin DA, Shukla SA, Sanchez-Vega F, Hansel DE, Czerniak BA, Reuter VE, Su X, de Sa Carvalho B, Chagas VS, Mungall KL, Sadeghi S, Pedamallu CS, Lu Y, Klimczak LJ, Zhang J, Choo C, Ojesina AI, Bullman S, Leraas KM, Lichtenberg TM, Wu CJ, Schultz N, Getz G, Meyerson M, Mills GB, McConkey DJ; TCGA Research Network, Weinstein JN, Kwiatkowski DJ, Lerner SP.
Cell. 2017 Oct 19;171(3):540-556.e25. doi: 10.1016/j.cell.2017.09.007. Epub 2017 Oct 5.
PMID: 28988769
"Integrated Genomic Characterization of Pancreatic Ductal Adenocarcinoma."
Cancer Genome Atlas Research Network. Electronic address: andrew_aguirre@dfci.harvard.edu; Cancer Genome Atlas Research Network.
Cancer Cell. 2017 Aug 14;32(2):185-203.e13. doi: 10.1016/j.ccell.2017.07.007.PMID: 28810144
"HNF1B Loss Exacerbates the Development of Chromophobe Renal Cell Carcinomas."
Sun M, Tong P, Kong W, Dong B, Huang Y, Park IY, Zhou L, Liu XD, Ding Z, Zhang X, Bai S, German P, Powell R, Wang Q, Tong X, Tannir NM, Matin SF, Rathmell WK, Fuller GN, McCutcheon IE, Walker CL, Wang J, Jonasch E.
Cancer Res. 2017 Oct 1;77(19):5313-5326. doi: 10.1158/0008-5472.CAN-17-0986. Epub 2017
Aug 4.PMID: 28807937
"Diagnostic accuracy of contrast-enhanced ultrasound for characterization of kidney lesions in patients with and without chronic kidney disease."
Chang EH, Chong WK, Kasoji SK, Fielding JR, Altun E, Mullin LB, Kim JI, Fine JP, Dayton PA, Rathmell WK.
BMC Nephrol. 2017 Aug 9;18(1):266. doi: 10.1186/s12882-017-0681-8.PMID: 28793871
"Renal Medullary Carcinoma: Establishing Standards in Practice."
Beckermann KE, Sharma D, Chaturvedi S, Msaouel P, Abboud MR, Allory Y, Bourdeaut F, Calderaro J, de Cubas AA, Derebail VK, Hong AL, Naik RP, Malouf GG, Mullen EA, Reuter VE, Roberts CWM, Walker CL, Wood CG, DeBaun MR, Van Poppel H, Tannir NM, Rathmell WK.
J Oncol Pract. 2017 Jul;13(7):414-421. doi: 10.1200/JOP.2017.020909.PMID: 28697319
"Integrative Genomic Analysis of Cholangiocarcinoma Identifies Distinct IDH-Mutant Molecular Profiles." Farshidfar F, Zheng S, Gingras MC, Newton Y, Shih J, Robertson AG, Hinoue T, Hoadley KA, Gibb EA, Roszik J, Covington KR, Wu CC, Shinbrot E, Stransky N, Hegde A, Yang JD, Reznik E, Sadeghi S, Pedamallu CS, Ojesina AI, Hess JM, Auman JT, Rhie SK, Bowlby R, Borad MJ; Cancer Genome Atlas Network, Zhu AX, Stuart JM, Sander C, Akbani R, Cherniack AD, Deshpande V, Mounajjed T, Foo WC, Torbenson MS, Kleiner DE, Laird PW, Wheeler DA, McRee AJ, Bathe OF, Andersen JB, Bardeesy N, Roberts LR, Kwong LN.
Cell Rep. 2017 Jun 27;19(13):2878-2880. doi: 10.1016/j.celrep.2017.06.008. No abstract available.
PMID: 28658632
"Comprehensive and Integrative Genomic Characterization of Hepatocellular Carcinoma."
Cancer Genome Atlas Research Network. Electronic address: wheeler@bcm.edu; Cancer Genome Atlas Research Network.
Cell. 2017 Jun 15;169(7):1327-1341.e23. doi: 10.1016/j.cell.2017.05.046.PMID: 28622513
"Mitochondrial dysregulation and glycolytic insufficiency functionally impair CD8 T cells infiltrating human renal cell carcinoma."
Siska PJ, Beckermann KE, Mason FM, Andrejeva G, Greenplate AR, Sendor AB, Chiang YJ, Corona AL, Gemta LF, Vincent BG, Wang RC, Kim B, Hong J, Chen CL, Bullock TN, Irish JM, Rathmell WK, Rathmell JC. JCI Insight. 2017 Jun 15;2(12). pii: 93411. doi: 10.1172/jci.insight.93411. PMID: 28614802
"Metabolic Alterations in Cancer and Their Potential as Therapeutic Targets."
Weyandt JD, Thompson CB, Giaccia AJ, Rathmell WK.
Am Soc Clin Oncol Educ Book. 2017;37:825-832. doi: 10.14694/EDBK_175561. PMID: 28561705
"Deep exploration of the immune infiltrate and outcome prediction in testicular cancer by quantitative multiplexed immunohistochemistry and gene expression profiling."
Siska PJ, Johnpulle RAN, Zhou A, Bordeaux J, Kim JY, Dabbas B, Dakappagari N, Rathmell JC, Rathmell WK, Morgans AK, Balko JM, Johnson DB.
Oncoimmunology. 2017 Mar 20;6(4):e1305535. doi: 10.1080/2162402X.2017.1305535. eCollection 2017.PMID: 28507813
"Integrative Genomic Analysis of Cholangiocarcinoma Identifies Distinct IDH-Mutant Molecular Profiles."
Farshidfar F, Zheng S, Gingras MC, Newton Y, Shih J, Robertson AG, Hinoue T, Hoadley KA, Gibb EA, Roszik J, Covington KR, Wu CC, Shinbrot E, Stransky N, Hegde A, Yang JD, Reznik E, Sadeghi S, Pedamallu CS, Ojesina AI, Hess JM, Auman JT, Rhie SK, Bowlby R, Borad MJ; Cancer Genome Atlas Network, Zhu AX, Stuart JM, Sander C, Akbani R, Cherniack AD, Deshpande V, Mounajjed T, Foo WC, Torbenson MS, Kleiner DE, Laird PW, Wheeler DA, McRee AJ, Bathe OF, Andersen JB, Bardeesy N, Roberts LR, Kwong LN.
Cell Rep. 2017 Mar 14;18(11):2780-2794. doi: 10.1016/j.celrep.2017.02.033. Erratum in: Cell Rep. 2017 Jun 27;19(13):2878-2880.PMID: 28297679
"Integrated Molecular Characterization of Uterine Carcinosarcoma."
Cherniack AD, Shen H, Walter V, Stewart C, Murray BA, Bowlby R, Hu X, Ling S, Soslow RA, Broaddus RR, Zuna RE, Robertson G, Laird PW, Kucherlapati R, Mills GB; Cancer Genome Atlas Research Network, Weinstein JN, Zhang J, Akbani R, Levine DA.
Cancer Cell. 2017 Mar 13;31(3):411-423. doi: 10.1016/j.ccell.2017.02.010.PMID: 28292439
"Associations between Tumor Vascularity, Vascular Endothelial Growth Factor Expression and PET/MRI Radiomic Signatures in Primary Clear-Cell-Renal-Cell-Carcinoma: Proof-of-Concept Study."
Yin Q, Hung SC, Wang L, Lin W, Fielding JR, Rathmell WK, Khandani AH, Woods ME, Milowsky MI, Brooks SA, Wallen EM, Shen D.
Sci Rep. 2017 Mar 3;7:43356. doi: 10.1038/srep43356.PMID: 28256615
"Untangling ccRCC prognosis with SLINKY." Reinfeld BI, Rathmell WK.
Oncotarget. 2017 Mar 21;8(12):18620-18621. doi: 10.18632/oncotarget.15536. No abstract available. PMID: 28220033
"Comprehensive Molecular Characterization of Pheochromocytoma and Paraganglioma."
Fishbein L, Leshchiner I, Walter V, Danilova L, Robertson AG, Johnson AR, Lichtenberg TM, Murray BA, Ghayee HK, Else T, Ling S, Jefferys SR, de Cubas AA, Wenz B, Korpershoek E, Amelio AL, Makowski L, Rathmell WK, Gimenez-Roqueplo AP, Giordano TJ, Asa SL, Tischler AS; Cancer Genome Atlas Research Network, Pacak K, Nathanson KL, Wilkerson MD.
Cancer Cell. 2017 Feb 13;31(2):181-193. doi: 10.1016/j.ccell.2017.01.001. Epub 2017 Feb 2.
PMID: 28162975
"Integrated genomic and molecular characterization of cervical cancer."
Cancer Genome Atlas Research Network; Albert Einstein College of Medicine; Analytical Biological Services; Barretos Cancer Hospital; Baylor College of Medicine; Beckman Research Institute of City of Hope; Buck Institute for Research on Aging; Canada's Michael Smith Genome Sciences Centre; Harvard Medical School; Helen F. Graham Cancer Center &Research Institute at Christiana Care Health Services; HudsonAlpha Institute for Biotechnology; ILSbio, LLC; Indiana University School of Medicine; Institute of Human Virology; Institute for Systems Biology; International Genomics Consortium; Leidos Biomedical; Massachusetts General Hospital; McDonnell Genome Institute at Washington University; Medical College of Wisconsin; Medical University of South Carolina; Memorial Sloan Kettering Cancer Center; Montefiore Medical Center; NantOmics; National Cancer Institute; National Hospital, Abuja, Nigeria; National Human Genome Research Institute; National Institute of Environmental Health Sciences; National Institute on Deafness &Other Communication Disorders; Ontario Tumour Bank, London Health Sciences Centre; Ontario Tumour Bank, Ontario Institute for Cancer Research; Ontario Tumour Bank, The Ottawa Hospital; Oregon Health &Science University; Samuel Oschin Comprehensive Cancer Institute, Cedars-Sinai Medical Center; SRA International; St Joseph's Candler Health System; Eli &Edythe L. Broad Institute of Massachusetts Institute of Technology &Harvard University; Research Institute at Nationwide Children's Hospital; Sidney Kimmel Comprehensive Cancer Center at Johns Hopkins University; University of Bergen; University of Texas MD Anderson Cancer Center; University of Abuja Teaching Hospital; University of Alabama at Birmingham; University of California, Irvine; University of California Santa Cruz; University of Kansas Medical Center; University of Lausanne; University of New Mexico Health Sciences Center; University of North Carolina at Chapel Hill; University of Oklahoma Health Sciences Center; University of Pittsburgh; University of São Paulo, Ribeir ão Preto Medical School; University of Southern California; University of Washington; University of Wisconsin School of Medicine &Public Health; Van Andel Research Institute; Washington University in St Louis.
Nature. 2017 Mar 16;543(7645):378-384. doi: 10.1038/nature21386. Epub 2017 Jan 23.PMID: 28112728
"Clinical and immunologic correlates of response to PD-1 blockade in a patient with metastatic renal medullary carcinoma."
Beckermann KE, Jolly PC, Kim JY, Bordeaux J, Puzanov I, Rathmell WK, Johnson DB.
J Immunother Cancer. 2017 Jan 17;5:1. doi: 10.1186/s40425-016-0206-1. eCollection 2017.
PMID: 28105368
"Context-dependent role for chromatin remodeling component PBRM1/BAF180 in clear cell renal cell carcinoma."
Murakami A, Wang L, Kalhorn S, Schraml P, Rathmell WK, Tan AC, Nemenoff R, Stenmark K, Jiang BH, Reyland ME, Heasley L, Hu CJ.
Oncogenesis. 2017 Jan 16;6(1):e287. doi: 10.1038/oncsis.2016.89.PMID: 28092369
"Strategies to overcome therapeutic resistance in renal cell carcinoma."
Siska PJ, Beckermann KE, Rathmell WK, Haake SM.
Urol Oncol. 2017 Mar;35(3):102-110. doi: 10.1016/j.urolonc.2016.12.002. Epub 2017 Jan 11. Review. PMID: 28089416
"Integrated genomic characterization of oesophageal carcinoma."
Cancer Genome Atlas Research Network; Analysis Working Group: Asan University; BC Cancer Agency; Brigham and Women's Hospital; Broad Institute; Brown University; Case Western Reserve University; Dana-Farber Cancer Institute; Duke University; Greater Poland Cancer Centre; Harvard Medical School; Institute for Systems Biology; KU Leuven; Mayo Clinic; Memorial Sloan Kettering Cancer Center; National Cancer Institute; Nationwide Children's Hospital; Stanford University; University of Alabama; University of Michigan; University of North Carolina; University of Pittsburgh; University of Rochester; University of Southern California; University of Texas MD Anderson Cancer Center; University of Washington; Van Andel Research Institute; Vanderbilt University; Washington University; Genome Sequencing Center: Broad Institute; Washington University in St. Louis; Genome Characterization Centers: BC Cancer Agency; Broad Institute; Harvard Medical School; Sidney Kimmel Comprehensive Cancer Center at Johns Hopkins University; University of North Carolina; University of Southern California Epigenome Center; University of Texas MD Anderson Cancer Center; Van Andel Research Institute; Genome Data Analysis Centers: Broad Institute; Brown University:; Harvard Medical School; Institute for Systems Biology; Memorial Sloan Kettering Cancer Center; University of California Santa Cruz; University of Texas MD Anderson Cancer Center; Biospecimen Core Resource: International Genomics Consortium; Research Institute at Nationwide Children's Hospital; Tissue Source Sites: Analytic Biologic Services; Asan Medical Center; Asterand Bioscience; Barretos Cancer Hospital; BioreclamationIVT; Botkin Municipal Clinic; Chonnam National University Medical School; Christiana Care Health System; Cureline; Duke University; Emory University; Erasmus University; Indiana University School of Medicine; Institute of Oncology of Moldova; International Genomics Consortium; Invidumed; Israelitisches Krankenhaus Hamburg; Keimyung University School of Medicine; Memorial Sloan Kettering Cancer Center; National Cancer Center Goyang; Ontario Tumour Bank; Peter MacCallum Cancer Centre; Pusan National University Medical School; Ribeirão Preto Medical School; St. Joseph's Hospital &Medical Center; St. Petersburg Academic University; Tayside Tissue Bank; University of Dundee; University of Kansas Medical Center; University of Michigan; University of North Carolina at Chapel Hill; University of Pittsburgh School of Medicine; University of Texas MD Anderson Cancer Center; Disease Working Group: Duke University; Memorial Sloan Kettering Cancer Center; National Cancer Institute; University of Texas MD Anderson Cancer Center; Yonsei University College of Medicine; Data Coordination Center: CSRA Inc; Project Team: National Institutes of Health.
Nature. 2017 Jan 12;541(7636):169-175. doi: 10.1038/nature20805. Epub 2017 Jan 4.PMID: 28052061
"Renal cancer subtypes: Should we be lumping or splitting for therapeutic decision making?"
Haake SM, Rathmell WK.
Cancer. 2017 Jan 1;123(2):200-209. doi: 10.1002/cncr.30314. Epub 2016 Nov 14. Review.
PMID: 27861752
---