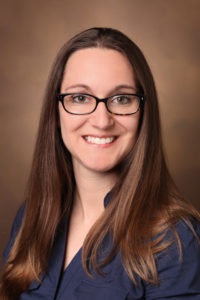 Sarah Short, Ph.D.
Postdoctoral Fellow, Williams Lab

---
Research Description
My main research project investigates the role of the selenium containing protein, Selenoprotein P, in intestinal homeostasis, injury, and inflammation. I also have worked to establish 3D intestinal organoid cultures from a variety of mouse models as well as human colorectal cancer patients, which I now use to determine how various proteins affect intestinal stem cell regulation and CRC tumor growth.
Publications
Reddy VK, Short SP, Barrett CW, Mittal MK, Keating CE, Thompson JJ, Harris EI, Revetta FL, Bader DM, Brand T, M. Kay Washington MK, Williams CS. BVES Regulates Intestinal Stem Cell Programs and Intestinal Crypt Viability after Radiation. Stem Cells. 2016; 34(6):1626-36. PMICD: PMC4893006
Parang B, Bradley AM, Mittal MK, Short SP, Thompson JJ, Barrett CW, Naik RD, Bilotta AJ,Washington MK, Revetta FL, Smith JJ, Chen X, Wilson KT, Hiebert SW, Williams CS. Myeloid translocation genes differentially regulate colorectal cancer programs. Oncogene. 2016; 35(49): 6341-6349. PMCID:PMC5140770
Barrett CW, Short SP, Williams CS. Selenoproteins and oxidative stress-induced inflammatory tumorigenesis in the gut. Cell Mol Life Sci. 2016; 74(4): 607-616. PMCID: PMC5274549
Barrett CW, Short SP, Choksi YA, Williams CS. Whole-mount Enteroid Proliferation Staining. Bio-protocol. 2016; 6(12): e1837. PMCID: PMC5760989
Wang C, Gong G, Sheh A, Muthupalani S, Bryant EM, Puglisi DA, Holcombe H, Conaway EA, Parry NA, Bakthavatchalu V, Short SP, Williams CS, Wogan GN, Tannenbaum SR, Fox JG, and Horwitz BH. Interleukin-22 drives nitric oxide-dependent DNA damage and dysplasia in a murine model of colitis-associated cancer. Mucosal Immunol. 2017; 10(6):1504-1517. PMCID: PMC5557711Short SP, Costacurta PW, Williams CS. Using 3D Organoid Cultures to Model Intestinal Physiology and Colorectal Cancer. Curr Colorectal Cancer Rep. 2017: 13:183-191. PMCID: PMC5736147
Parang B, Kaz AM, Barrett CW, Short SP, Ning W, Keating CE, Mittal MK, Naik RD, Washington MK, Revetta FL, Smith JJ, Chen X, Wilson KT, Brand T, Bader DM, Tansey WP, Chen R, Brentnall TA, Grady WM, Williams CS. BVES regulates c-Myc stability via PP2A and suppresses colitis-induced tumourigenesis. Gut. 2017; 66(5): 852-862. PMCID: PMC5385850
McDonough EM, Barrett CW, Parang B, Mittal MK, Smith JJ, Bradley AM, Choksi YA, Coburn LA, Short SP, Thompson JJ, Zhang B, Poindexter SV, Fischer MA, Chen X, Li J, Revetta FL, Naik RD, Washington MK, Rosen MJ, Hiebert SW, Wilson KT, Williams CS. MTG16 is a tumor suppressor in colitis-associated carcinoma. JCI insight, 2017; 2(16): 78210. PMCID: PMC5621889
Short SP and Williams CS. Selenoproteins in tumorigenesis and cancer progression. Adv Cancer Res. 2017: 136:49-83.
Short SP, Kondo J, Smalley-Freed WG, Takeda H, Dohn MR, Powell AE, Carnahan RH, Washington MK, Tripathi M, Payne DM, Jenkins NA, Copeland NG, Coffey RJ, Reynolds AB. p120 is an obligate haploinsufficient tumor suppressor in intestinal neoplasia. JCI, 2017; 127(12):4462–4476. Co-first author.
---