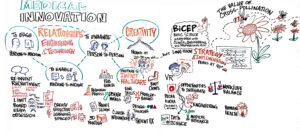 Innovation is

ESSENTIAL

 to medical culture.
The Medical Innovators Development Program (MIDP) is a four-year Ph.D. to MD training program tailored to engineers and applied scientists with existing Ph.D. degrees.
The purpose is to fill an unmet need for applied physician-engineers who can solve clinical problems by translating discoveries in engineering into valuable innovation that will improve the lives of our patients. Our mission is to improve human health by transforming Ph.D. leaders into empathic physician innovators.
Motivated innovative physician-engineers who understand clinical medicine, as well as biomedical design, are critical to achieving more than incremental change. The MIDP is the school of medicine's first step in a broader mission to bridge the gap between academia, industry, and health.