About
​Degree offered: Master of Public Health (M.P.H.)
Track options: Epidemiology, Global Health, and Health Policy
Total enrollment, 2022-23: 58
Full-time, two-year (five academic terms) program beginning every fall
Administered through the School of Medicine
Accredited by the Council on Education for Public Health (CEPH)
Track Options
Applicants select one of three tracks at the time they apply to the program:
Dual Degrees
Students must apply separately to the respective graduate programs, either simultaneously or sequentially.
Graduate Certificates
A number of Vanderbilt University departments and programs offer graduate certificates to students enrolled in a Vanderbilt post-baccalaureate program who wish to gain focused expertise in a specific area. Each program has its own admission and completion requirements. Permission of the degree program director and the certificate program director are required to pursue a certificate.
Below is a list of select graduate certificate programs which may be of particular interest to MPH students. Please check departmental websites for additional offerings.
Accreditation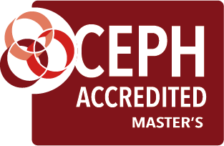 Open Period of Public Comment on CEPH Accreditation through October 30, 2023
The Vanderbilt University Master of Public Health and Epidemiology PhD programs have submitted an application for re-accreditation from the Council on Education for Public Health. A review is scheduled for November 2023. CEPH is now accepting public comments on the programs through October 30th. The public is invited to submit written comments to CEPH via email at submissions@ceph.org. Comments may also be sent by mail to the address below.
Council on Education for Public Health
1010 Wayne Avenue, Suite 220
Silver Spring, MD 20910
---
The Council on Education for Public Health (CEPH) is an independent agency recognized by the U.S. Department of Education to accredit public health programs and schools of public health. As part of the process, CEPH requires accredited programs to produce a self-study for each seven-year accreditation review.
The Vanderbilt MPH Program was awarded accreditation on October 24, 2015 for the full seven-year term, extending to December 31, 2022. The final accreditation report and final self-study are available below: