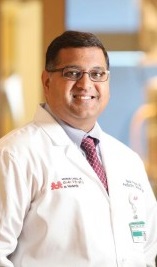 Neal Patel, M.D., M.P.H.
Chief Medical Informatics Officer, Vanderbilt University Medical Center

---
Dr. Neal Patel, professor of Clinical Pediatrics and Clinical Anesthesiology, associate professor of Biomedical Informatics, and chief medical informatics officer at Vanderbilt University Medical Center, received the institution's Five Pillar Leader Award, given for leadership in service, quality, growth/finance, innovation, and the promotion of staff and faculty satisfaction and commitment. Patel, a graduate of California Polytechnic University, received his M.D. from the University of Southern California and completed his training atChildren's Hospital Los Angeles. He joined Vanderbilt in 1997 and has held faculty appointments in the Department of Pediatrics in the Division of Pediatric Critical Care, the Department of Anesthesia, and the Department of Biomedical Informatics. He received his M.P.H. from Vanderbilt in 2000.
---