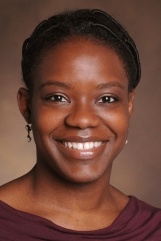 Rachel Idowu, M.D., M.P.H.
Medical Epidemiologist, Epidemiology Intelligence Service, U.S. Centers for Disease Control and Prevention (CDC)

---
A 2014 graduate of the Vanderbilt MPH Program, Dr. Rachel Idowu joined the Epidemiology Intelligence Service of the U.S. Centers for Disease Control and Prevention (CDC) as a medical epidemiologist assigned to the CDC's Center for Global Health. As part of her MPH work, she lived and worked in Nairobi as a 2011-2012 Fogarty Clinical International Research Fellow, partnering with officials in the Kenyan Ministry of Health to research the delivery of surgical and anesthesia care in Kenya. She received her medical degree from the University of California San Francisco in 2004.
"I remember my first time in a public health class hearing my professor describe the upstream-downstream model of health care, and it really spoke to me; it made perfect sense: of course you would want to work upstream — that's where you prevent illness."
In summer 2014, Rachel spent five weeks in Monrovia, Liberia assisting the Ebola outbreak response for the CDC's Division of Global Health Protection. Click here to read about her work.
---