New Dean's Faculty Fellows program recognizes early-stage faculty
By Lorena Infante Lara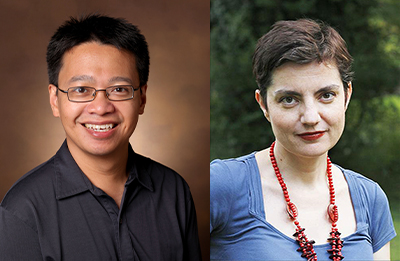 The School of Medicine Basic Sciences has established a new Dean's Faculty Fellows program designed to recognize the efforts of faculty in the early stages of their career. The award targets assistant professors who have shown a strong track record of scientific accomplishment and are likely to continue producing high-quality science in their respective fields.
The inaugural recipients of this award are Marija Zanic, assistant professor of cell and developmental biology, chemical and biomolecular engineering, and biochemistry, and Manuel Ascano, assistant professor of biochemistry and pathology, microbiology and immunology. Both awardees have been members of the Basic Sciences faculty since 2014.
"Since they joined our faculty, Marija and Manny have been exemplary role models to their students and to fellow department members. They are highly creative individuals at an exciting stage of their careers. Support from the Dean's Faculty Fellows will enable them to pursue their most intriguing new ideas." said Larry Marnett, dean of basic sciences.
Zanic, whose primary appointment is in CDB, studies microtubule dynamics. Microtubules are key biological polymers of the cytoskeleton, the structure that gives cells a defined shape. They are essential for processes such as cell motility—movement—and division. Zanic's biophysical approach to the exploration of microtubule biology is informed by her background, which includes a Ph.D. in physics from the University of Texas at Austin and a postdoctoral fellowship in biophysics at the Max Planck Institute of Molecular Cell Biology and Genetics in Dresden, Germany.
Since coming to Vanderbilt, Zanic and her team have laid bare some important aspects of microtubule regulation and determined the factors that cause microtubules to grow longer at one end than at the other. Through the use of a combined physics and biology toolkit, "Our research aims to discover the molecular mechanisms that drive dynamic remodeling of the microtubule network architecture, which is essential for its proper cellular function," Zanic said.
As microtubules are a common target for chemotherapeutic agents, and as many of their regulating proteins are implicated in cancer and neurodegenerative diseases, designing such a tool will help provide not only fundamental insights into cell structure but also knowledge that might aid in the clinic.
Zanic holds secondary appointments in chemical and biomolecular engineering and in biochemistry, and is involved in graduate teaching and mentoring of postdocs, graduate and undergraduate students. She is the recipient of numerous awards, including the Career Development Award from the Human Frontier Science Program, the Maximizing Investigators' Research Award from the NIH, and the 2016 Searle Scholars Award.
Ascano's main drive is to understand how cells use proteins to identify nucleic acids—DNA or RNA—as either self or non-self.
"It sounds superficially simple, but when you recognize that all RNA and DNA are variations of the same four letters, and that codons are hyper-conserved across species, you realize how remarkably difficult it really is for specialized cellular proteins to manage self gene expression in the face of a constant onslaught of pathogens such as viruses, which are ostensibly just packaged nucleic acids," said Ascano. Codons are the cipher that helps cells translate the DNA in the genome into the proteins it codes for.
Considering that over 70% of disease-causing viruses in humans are RNA viruses, and that a cell's own DNA should only be present outside of the nucleus during cell division, it is imperative for cells to monitor the cellular space—or cytoplasm—for foreign nucleic acids so that they might mount an immune response. Ascano's research, stemming from work he did as a postdoc, has resulted in the creation of two new biochemical techniques: PAR-CLIP and VIR-CLASP. The former allows researchers to identify RNA-binding proteins using UV light, and the latter, which is described in an upcoming Molecular Cell paper, will shed light on the first interactions between viruses and cell machinery.
Ascano, who did his Ph.D. at the University of Cincinnati College of Medicine did his postdoctoral training at Rockefeller University, has a secondary appointment in pathology, microbiology and immunology, and is involved in mentoring postdocs and graduate students, most critically in his role as the director of graduate studies of biochemistry. He holds three patents and has been recognized as a Simons Foundation Autism Research Initiative investigator and by grants such as the NIH Maximizing Investigators' Research Award.
In naming Zanic and Ascano the first two Dean's Faculty Fellows, Basic Sciences is reinvesting in their careers. They each will receive financial support for four years from funds derived from a $1-million endowment.
"I am very proud to name both Marija and Manny as the inaugural Dean's Faculty Fellows," Marnett said. "They are great young faculty and exemplars to our community."