An inward look into Biochemistry
By Wendy Bindeman
Welcome to the first of four articles in our new "Meet the Departments" series! The Vanderbilt University School of Medicine Basic Sciences is composed of four departments: Biochemistry, Cell and Developmental Biology, Molecular Physiology and Biophysics, and Pharmacology. Through this article series, we will be featuring each one, highlighting their proudest accomplishments, unique strengths, and vision for the future.
The Department of Biochemistry is nestled within the School of Medicine Basic Sciences, but even though Basic Sciences was only established in 2015, the biochemistry department has been an integral part of Vanderbilt since its foundation in 1925. Historically, the department was known for its prowess in nutrition and toxicology, although its areas of topical expertise have evolved over time. Stanley Cohen, who received the Nobel Prize in Physiology or Medicine in 1986 for his discoveries related to growth factor signaling, conduced his prize-winning work as a faculty member in biochemistry and sparked the development of the department as a force to be reckoned with in the field of cellular signaling.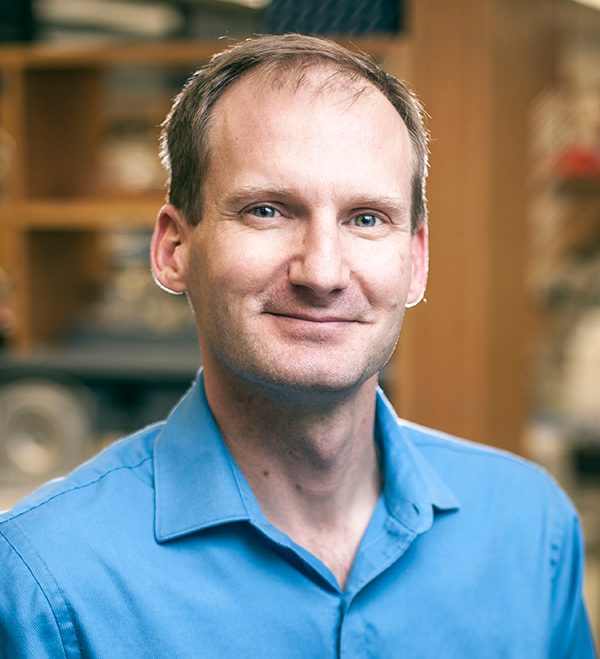 The department is currently led by David Cortez, professor of biochemistry and holder of the Richard N. Armstrong, Ph.D. Chair for Innovation in Biochemistry. It is a national powerhouse, occupying the No. 1 spot in funding from the National Institutes of Health for biochemistry departments nationwide for the past two years running, with over $32 million in funding in 2020.
Cortez, who transitioned from interim chair to chair last summer, defines biochemistry as "the pursuit of the mechanistic understanding of biological processes at the molecular level." Biochemists, he said, "really delve deep down into the molecules of biology and understand how their interactions and the processes that are happening within our cells yield biological outcomes."
The Department of Biochemistry currently has 23 primary tenure-track, 23 secondary, three educator-track, and 26 research-track faculty. An exceptional group of graduate, medical, and undergraduate students—and a large cohort of postdoctoral fellows—train in department laboratories.
Benefits of a unique structure
The biochemistry department, as part of Basic Sciences, is uniquely positioned compared to similar departments at other institutions. Basic Sciences is part of the university and is the only administratively independent school of basic sciences in the country. As it is separate from the Vanderbilt University Medical Center, the school's financial model is independent of clinical margin and is supported by the university's endowment. This allows for sustainable funding with strong and proactive investments into faculty, cutting-edge instrumentation, facilities, education and training, staff, and projects.
According to Cortez, this organizational structure provides "all of the advantages of being a department in a medical school and none of the disadvantages." Researchers can collaborate closely with clinicians at the medical center, yet retain access to resources and an administrative team that is focused on the needs of basic researchers, rather than having to split funding and attention with clinical endeavors.
Diverse research strengths and an emphasis on collaboration
Faculty within the department work on an incredibly diverse array of research topics, ranging from precise mechanistic studies of chemical reactions and proteins all the way to the development of novel cancer therapeutics for clinical use. Assisted by an excellent network of research cores and institutional centers, biochemistry investigators are leaders in applying advanced approaches in biochemistry, cell biology, genetics, structural biology, mass spectrometry, and chemical biology to thematic areas that include DNA and RNA metabolism, enzymology, molecular cancer biology, molecular virology, and protein misfolding diseases.
Collaborative interactions of biochemistry investigators are facilitated by shared instrumentation, open lab spaces, and research centers, including those led by biochemistry faculty, such as the Vanderbilt-Ingram Cancer Center, led by Jennifer Pietenpol; the Quantitative Systems Biology Center, led by Vito Quaranta; and the Mass Spectrometry Research Center, led by Richard Caprioli.
Structured activities open to anyone in the department—such as a cryo-electron microscopy discussion group—facilitate interactions between department members, whether they be students or senior faculty. Cryo-EM technology is currently undergoing rapid growth, so the discussion group ensures that faculty and trainees stay current on the latest developments in the field and provides an avenue to share expertise and communally problem-solve. The highly active Biochemistry Student Association also sponsors activities such as social events and a bi-monthly research colloquium.
Renowned faculty and mentors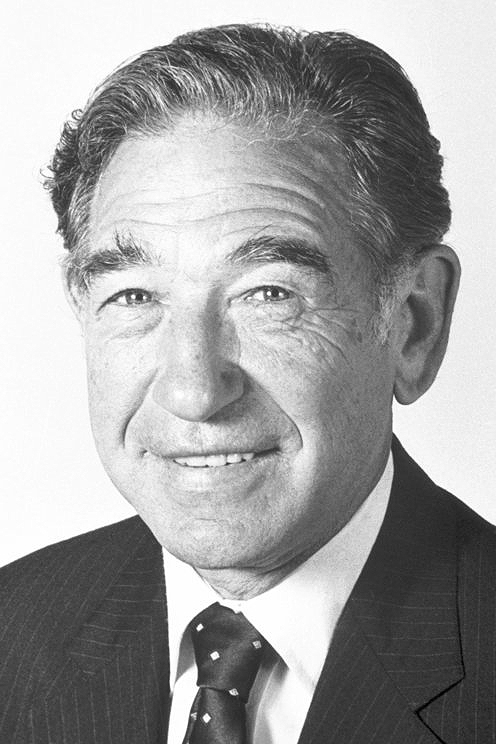 The late Stanley Cohen, Nobel laureate and professor of biochemistry emeritus, joined the Vanderbilt biochemistry department as an assistant professor in 1959 and remained on the faculty until his retirement in 1999. He was best known for his discovery of epidermal growth factor, a secreted protein that promotes cell proliferation. That discovery revolutionized our understanding of cell biology, laying the groundwork for understanding both embryonic and cancer development.
In 1986, he shared the Nobel Prize in Physiology or Medicine with his colleague Rita Levi-Montalcini for that work, making him the second Vanderbilt faculty member to receive the award. Cohen's contributions helped transform the biochemistry department into a leader in the field of cell signaling.
He passed away at the age of 97 in February 2020, and left a legacy of distinguished mentorship and exceptional science that Basic Sciences commemorates through the establishment and funding of the Stanley Cohen Innovation Fund. Established in 2019, the fund offers financial support to researchers who wish to pursue projects considered too risky to be funded through standard mechanisms, and has since supported seven different research projects.
Cortez, the current chair of the department, joined Vanderbilt in 2002 and has built a strong research program focusing on the mechanisms that maintain genome integrity. For his work, he was awarded the Stanley Cohen Award (for research bridging diverse disciplines, such as chemistry or physics, to solve biology's most important fundamental questions) by the School of Medicine in 2020.
In addition to his research accomplishments, Cortez is committed to fostering a positive training and mentoring environment for graduate students, postdocs, and early-career faculty. "We really care about mentoring," Cortez said, referring to the department. "And we make it intentional, so it's a great place to be a trainee because, in addition to great science and resources, we have great mentors."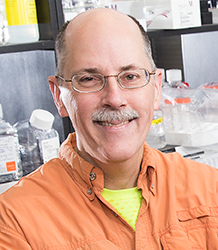 The biochemistry department is replete with talented faculty at all career stages, including many with internal and external leadership positions, such as Chuck Sanders, associate dean for research for Basic Sciences.
Like Cortez, Sanders is an exemplary amalgam of research and mentoring excellence. An expert in membrane protein biology—reflected by his recent election as president of the Protein Society—Sanders also exhibits outstanding training practices that were recently recognized by the department with an Armstrong Mentoring Award, named in honor of the late Professor of Biochemistry Richard Armstrong.
Sanders was recruited to Vanderbilt by fellow biochemistry professor Walter Chazin and then-biochemistry chair Mike Waterman in 2002—the same year as Cortez. He was initially attracted by the depth of expertise in the department and the opportunity to work with the Vanderbilt Center for Structural Biology. Broadly, his research focuses on "problems that are chemical or biochemical in nature but have direct medical relevance." In particular, the Sanders lab studies various membrane proteins and how their misfolding can result in disease, with a focus on understudied pathologies.
One current project in the Sanders lab focuses on the role of peripheral myelin protein 22 in Charcot-Marie-Tooth disease, a genetic disorder of the peripheral nervous system. After 15 "painstaking years" of work, the Sanders lab identified the defects responsible for many cases of the disease in the mid-2010s. This work subsequently attracted the attention of Ancora Innovation, a company established in partnership by Vanderbilt and Deerfield Management, an investment company. Ancora was designed to fund projects aimed toward the discovery of novel therapeutics to cure life-altering diseases, and is now supporting an early-phase drug discovery project guided by the Sanders lab's discoveries.
In excellent company!
Here are some of the faculty who call the Department of Biochemistry home. You can find the full list of faculty on the department website: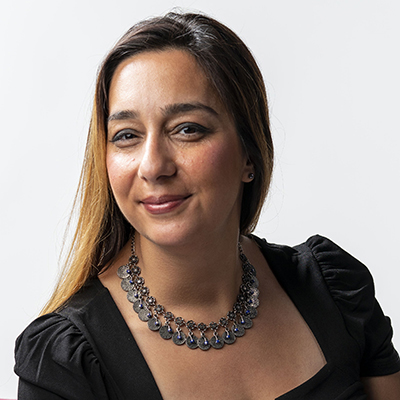 Houra Merrikh, professor of biochemistry
Stephen Fesik, Orrin H. Ingram, II Chair in Cancer Research and professor of biochemistry and pharmacology
Fred Guengerich, Tadashi Inagami, Ph.D. Chair in Biochemistry and professor of biochemistry
Research focus: genetic toxicology
Notable accomplishments: cited over 100,000 times; selection as an inaugural fellow of the American Society for Biochemistry and Molecular Biology in 2021
Manny Ascano, assistant professor of biochemistry
Research focus: molecular virology
Notable accomplishments: receipt of the Richard M. Caprioli Award for the creation of novel methods for studying RNA viruses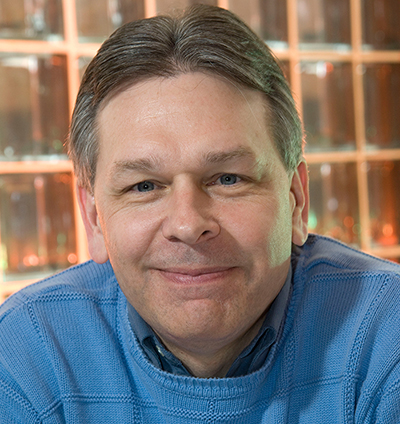 Scott Hiebert, Hortense B. Ingram Chair in Cancer Research and professor of biochemistry
Research focus: gene expression regulation related to acute leukemias
Notable accomplishments: appointment to the National Cancer Advisory Board by President Barack Obama in 2016­; appointment as acting chair of the NCAB for 2020–2021.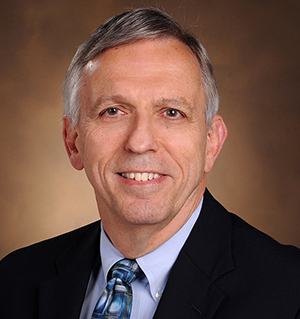 Richard Caprioli, Stanford Moore Chair in Biochemistry and professor of biochemistry
Research focus: development of advanced imaging methods using mass spectrometry
Notable accomplishments: appointment as director of the Mass Spectrometry Research Center in 1998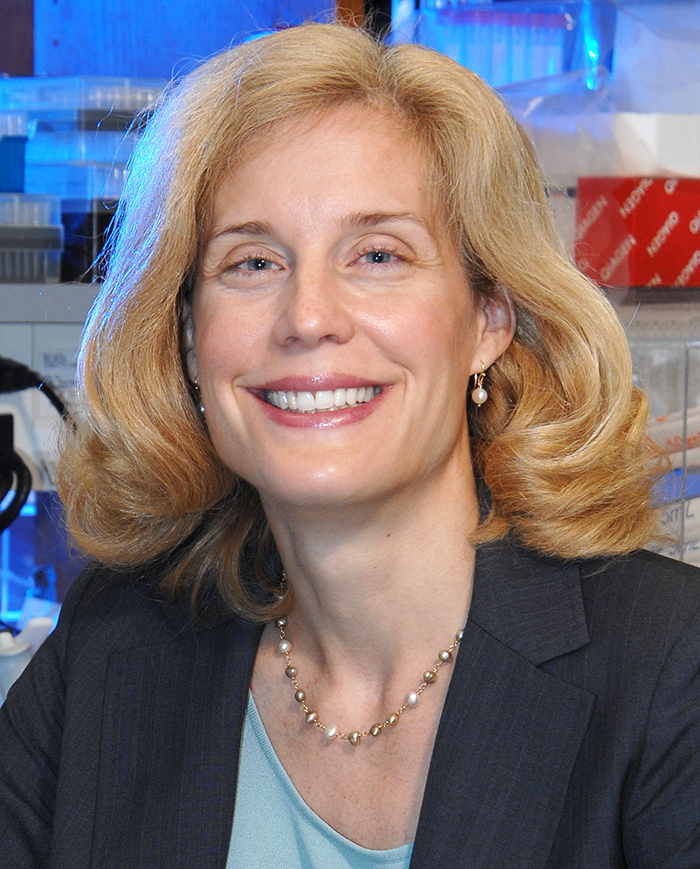 Jennifer Pietenpol, Benjamin F. Byrd Jr. Chair in Oncology and professor of biochemistry
Research focus: triple-negative breast cancer; p53 family of tumor suppressors
Notable accomplishments: appointment as director of the Vanderbilt-Ingram Cancer Center in 2008; appointment as executive vice president for research in VUMC in 2016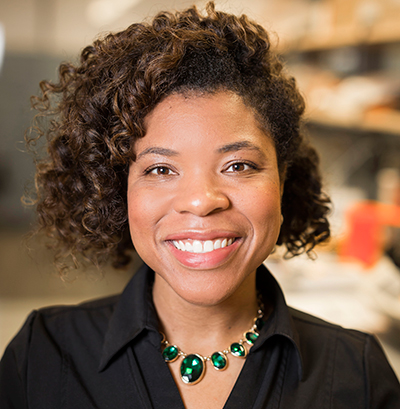 Breann Brown, assistant professor of biochemistry
Research focus: structural biology of protein complexes regulating mitochondrial physiology
Notable accomplishments: receipt of a 2021 NIH Director's New Innovator Award
Rising stars
In addition to the cadre of experienced faculty, biochemistry is home to many early-career researchers. Yi Ren, one such rising star, is an assistant professor of biochemistry whose lab has made exciting discoveries about the machinery that exports messenger RNA out of the nucleus.
Ren joined Vanderbilt in 2016 and her work demonstrates the power of coupling the services provided by core facilities to basic science questions that have the potential to yield translational applications. Ren is a structural biologist by training with expertise in X-ray crystallography and cryo-EM, advanced techniques used to probe and determine the physical shape of proteins and other biological molecules.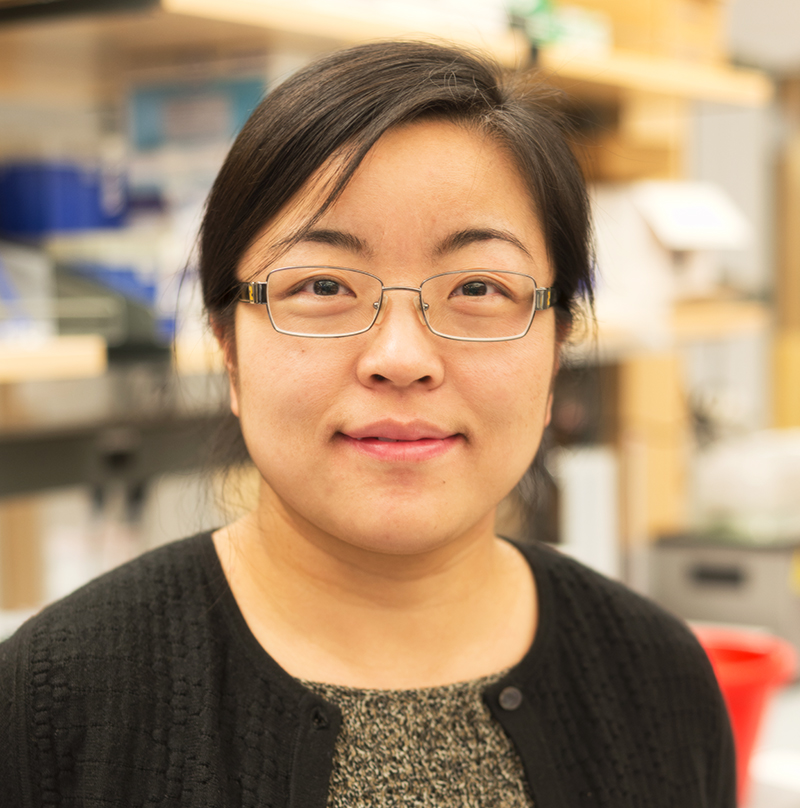 Over time, her lab has found that many viruses—including the influenza virus, vesicular stomatitis virus, and SARS-COV-2, the virus responsible for COVID-19—all interfere with the mRNA export process, thereby blocking host gene expression and interfering with the anti-viral response.
"It's important to understand the basic science," said Ren, "because if we understand how the machinery works, how certain viruses target host factors such as proteins involved in mRNA export, we can speed up our studies on the virus-host interaction." Understanding aspects of the virus-host interaction, in turn, may result in new opportunities for the development of anti-viral treatments.
Ren has benefited from the department's mentoring and support structures for early-career faculty. Overall, she said, the department provides a "nurturing" environment for trainees and early-career faculty and "understands the importance of basic research." This last point is especially critical, according to Ren: "Because of the department's support, I feel comfortable taking some risks and really working on what I would like to work on."
The future of biochemistry
Cortez has high expectations for the biochemistry department moving forward. His goal as chair is to work with his colleagues to make the department "exceptional." He said, "I want to really push it to where Vanderbilt Biochemistry is recognized throughout the country and the world as a destination for biochemistry research and training."
To meet this ambitious goal, Cortez has identified several areas of focus, such as the continual improvement of the training environment. He said, "We want the culture here to allow all department members to be the best scientists, the best staff members, and the best students that they can be," Cortez said. "And that really starts with making sure it's an inclusive and equitable environment."
Another area of focus is the recruitment of new talent. John York, the previous chair, hired seven assistant professors and one professor to expand the department, and Cortez is eager to maintain that momentum. This year, and with help from the university's Destination Vanderbilt initiative, the department is focusing on recruitment at both the assistant and associate professor level. In addition, the department is establishing Destination Biochemistry Postdoctoral Scholar Awards to support the research of outstanding young scientists.
Research infrastructure is an additional key area of investment for upcoming years. This includes everything from modernizing laboratory spaces and purchasing the most modern equipment available for departmental use to continuing to improve financial support structures through the creation of endowed chairs and the diversification of funding streams. Such resources, as Ren and Cortez both pointed out, provide researchers with the financial freedom to pursue "exciting" questions that can lead to unprecedented breakthroughs.
"We've had a really great history as a department and the trajectory we're on builds on that history," Cortez said. "The Department of Biochemistry is a destination for doing great science and learning how to be a great scientist. It is really a department that Vanderbilt can be proud of.