Resilient Wellness: How One Vanderbilt Student Made Public Health Personal During a Pandemic
by Emma Mattson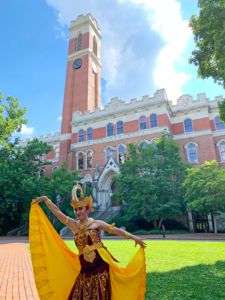 Ni Ketut Wilmayani had been in the U.S. just nine months before COVID-19 hit the country in early March. The second-year MPH student, who goes by Wilma, grew up in Bali, Indonesia, and earned her MD before travelling 10,000 miles across the Pacific to earn her public health degree at Vanderbilt University through a Fulbright scholarship.
When the pandemic hit, Wilma, like many other public health students, began volunteering in various capacities right away. She joined the TN Poison Control COVID-19 Hotline response, for example, and started a peer support group for other Indonesian students in the U.S. As a physician deeply invested in global health, sharing her skills and knowledge during an enduring pandemic seemed a natural response.
Wilma had quickly found ways to care for others during the pandemic; now she had to find ways to care for herself. How could she maintain a balanced life of self-care in the U.S., while still staying connected to her family and culture back home in Bali?
For Wilma, the answer to both these challenges came in an unexpected form: dance.
Dance as Cultural Sharing
Wilma has been performing traditional Indonesian dances since she was a toddler. In fact, she considered attending art school for dance before ultimately choosing medical school. Even now, with her medical degree complete, she finds time on the side for dance—as a means to both cultural connection and personal wellness.
In 2019, Wilma performed traditional Indonesian dances for the Celebrate Nashville Cultural Festival and for a farewell event at Kansas State University, where she completed a pre-academic training session before starting her MPH. So, when the Indonesian Embassy asked her in fall of 2020 to compile a video performance for Indonesian Independence Day on August 17, Wilma jumped at the chance.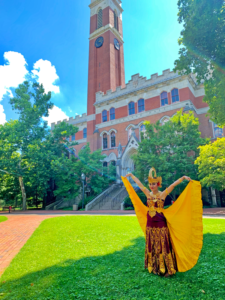 "I made the video in front of Kirkland Hall," Wilma remembers. "My friend helped me to make the video, and I danced that day and sent the video to the embassy. Then, we gave an [explanation] for the performance and what it was about."
Besides the Indonesian Embassy and the other Indonesian students in the U.S., Wilma also shared the video with her Vanderbilt academic adviser, friends from the MPH program, and other friends from the Fulbright community.
"It's really helpful for some of my friends who are stuck during this semester and this COVID-19 situation," Wilma said. "We give a flashback for the cultural event for our country."
The dance, which formed part of the 2020 Virtual Indonesian Festival, was a six-minute traditional Balinese dance called the Cendrawasih. The dance is inspired by the Cendrawasih bird, which is native to East Indonesia and represents happiness and joy in Balinese culture.
Besides providing a taste of home, Wilma said she hoped the cultural performance would also strengthen camaraderie between Indonesia, the U.S., and other countries represented by students at Vanderbilt. After all, 56 countries are represented at Vanderbilt in the undergraduate population alone, and celebrating cultural diversity builds unity and friendship.
Dance as Wellness on a Communal Scale
Prioritizing physical wellness comes naturally to a health professional like Wilma. Wilma herself uses a self-care wheel, a widely used mental health tool to encourage a balanced life. The wheel includes six different sectors of wellness, from physical to psychological health, and dancing forms a natural part of multiple sectors.
Positivity also plays a major role in Wilma's understanding of wellness.
"How you keep your psychological (thought and feeling) always being positive will impact your physical state, as health is comprehensive from all of your body and mind well-being," Wilma says. "So that is important to balance both."
Beyond individual wellness, however, dance can also form a part of communal wellness. After all, dancing and public health share a common mission, Wilma says: they both seek to heal and serve people.
"Public health is international relationship with other people, how you're healing people and preventing them [from getting] sick." Wilma explains. "Dance is a coping skill for how you deal with your problems [and] you can entertain other people."
Just as public health seeks to build healthy communities, dancing and sharing culture can be a way of caring for the people around you, too. Especially at the beginning of the pandemic, Wilma relied on her family back home and the family she built here in the U.S. Now, through activities like dancing and volunteering, she's giving back to the community that supported her.
"You are my family," Wilma says. "I build my own family here. […] If you think, 'Oh, I have no family here,' that gives back to your mind that you are alone. No, I have my own family here. My academic adviser, my mentoring committee, my practicum director, my friends—everyone here is my new family."
Now in her last semester of Vanderbilt's public health program, Wilma plans to continue for a PhD in the U.S. and hopes to study nutrition in global public health. Although she's not certain yet where she'll spend the next phase of her life, one thing is for sure: she'll stay connected to her home culture and build new family wherever she goes.