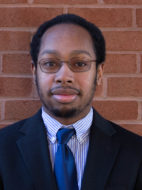 Jason Hughes
Graduate Student, Neuert Laboratory, Molecular Physiology and Biophysics

---
I am from New Jersey and got my bachelor's degree in Chemical Engineering from the University of Maryland, Baltimore County in 2018. I am currently a 3rd year PhD Student in the Molecular Biology and Physiology Program in the lab of Gregor Neuert. I am a ​NIH Integrated Training in Engineering and Diabetes Fellow and am a National Science Foundation predoctoral Fellow.
My current research interests are in studying gene regulation at the single cell level using quantitative experimental and computational modeling approaches. My thesis research focuses on understanding how the SAGA complex regulates gene expression heterogeneity and transcriptional memory in S. cerevisiae hyperosmotic stress adaptation.
In my free time, I enjoy playing board games, breakdancing, and playing the saxophone.
---