About
At the Vanderbilt School of Medicine Basic Sciences, we are conducting research to improve health and cure disease. Our approach is distinctive. We are making new discoveries and building on some of the greatest advancements in history. We bridge the gap between foundational scientific research and the patient bedside. We use cutting-edge technology to enable scientific breakthroughs at the molecular level. What we discover today paves the way for generations of innovations, bringing critical therapies to those who need them.
The research we perform in Basic Sciences is centered around three interconnected pillars: discovery, innovation, and impact.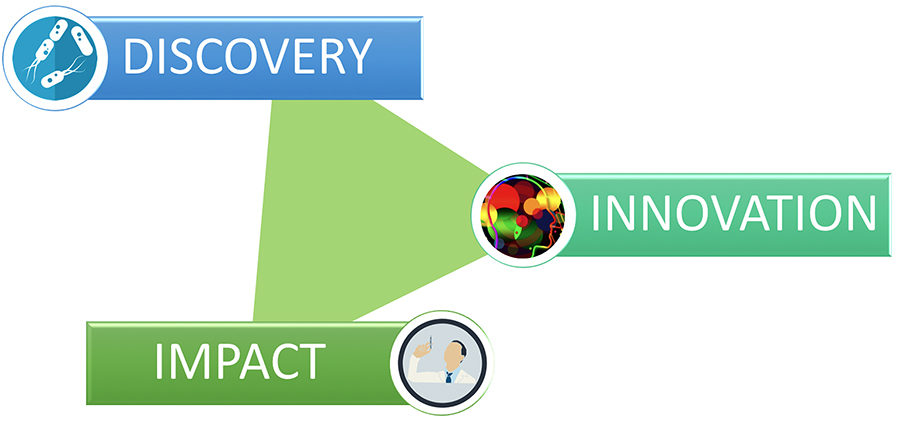 Discovery
Every major advance in medicine starts with fundamental discoveries that teach us how living organisms work in both health and disease. These discoveries are made in biomedical sciences laboratories that study life at all levels, from the individual molecules that encode heredity to the complex associations of cells that form tissues and organs.
Our team of over 1,000 faculty, students, fellows, and staff is making new discoveries every day – discoveries that enrich our understanding of biological processes and provide the foundation for new insights into the causes, prevention, diagnosis, and treatment of human diseases.
Innovation
Vanderbilt has made a heavy investment in infrastructure to put frontier methodologies in the hands of our researchers. Such technologies include those for multi-scale imaging such as CryoEM, CryoET, X-ray diffraction, lattice light-sheet microscopy, MALDI mass spectrometry, and positron emission tomography. Other technologies include high-throughput screening for drug discovery, genome editing, metabolic phenotyping, and functional analysis of proteins responsible for human disease.
The discoveries that Vanderbilt Basic Sciences faculty, students, and postdocs make are often the inspiration for innovative technologies that open entirely new fields of research. Vanderbilt has been ranked 10th among the most innovative universities in the world for the past 2 years. The many patents issued to Basic Sciences faculty are a major factor for this.
Impact
The impact of Vanderbilt Basic Sciences is broad and leads not only to new approaches for the diagnosis and treatment of disease, but also to the training of the best and brightest students and to their identification of productive careers that benefit society. Fundamental discoveries made at Vanderbilt have led to the development of drugs targeted to epidermal growth factor signaling, such as cetuximab and erlotinib, and are now leading to the development and testing of novel therapies for neurodegenerative diseases and neuropsychiatric disorders. In terms of training, our ASPIRE program exposes graduate students and postdocs to multiple career options early in their time at Vanderbilt, allowing them to understand how they can channel their passion for discovery to careers that are rewarding to them and that are productive for society.