By Lorena Infante Lara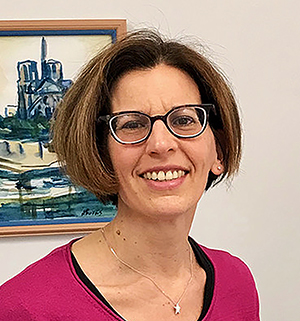 Vanderbilt University has a new program focused on the study of extracellular vesicles (EV). Alissa Weaver, Cornelius Vanderbilt Chair and Professor of Cell and Developmental Biology and of Pathology Microbiology and Immunology, will direct the Vanderbilt Program for Extracellular Vesicle Research. Weaver, an internationally recognized leader in EV research and co-chair of ISEV2020, the major annual meeting in the EV field for 2020, will be joined by co-director Andries Zijlstra, Associate Professor of Pathology Microbiology and Immunology.
"We have a real opportunity here to lead this very fast-moving field," Weaver said.
Vanderbilt already has a large number of investigators who are working on EVs. Formalizing the group under a single umbrella will facilitate synergy among existing research efforts, foster new collaborations, and connect Vanderbilt's EV research to the international community. This program will build on an already successful EV interest group.
EVs, as their name implies, are tiny vesicles that are released from cells into the extracellular space. The term encompasses diverse types of vesicles, including exosomes and microvesicles, that are actively released from cells and that carry biologically active protein, lipid, and nucleic acid cargoes. Although EVs were discovered a few decades ago, their role in normal and disease physiology was underappreciated. As they were initially described as "cellular garbage" – a means of selectively disposing of unwanted material from cells – researchers overlooked their importance for many years. The discovery in the late 2000s that EVs carry and transmit RNA between cells rekindled interest in the field, which has grown exponentially since that time.
Despite the initial belief that EVs are secreted only from highly specialized cells, researchers now know that all cells secrete them. "Even bacteria and plants release these vesicles," said Weaver. "They are evolutionarily conserved and are important in a variety of normal and disease events."
Current EV research at Vanderbilt focuses on six areas: EVs in cancer; extracellular RNA; development of technologies to isolate, analyze, and track EVs; EV biogenesis and function; EVs as disease biomarkers; and roles of EVs in tissue repair and regeneration.
The new Vanderbilt program was established with funding from the School of Medicine, Basic Sciences, which will go toward inviting seminar speakers, supporting a works-in-progress data club, hosting events and workshops, and purchasing and maintaining shared equipment essential for EV purification and analysis.
Designed as a means of promoting synergistic and interdisciplinary collaborations, the program will bring together faculty who currently conduct EV research or who are interested in exploring EV-related avenues related to their own research. Students and postdocs who belong to a lab that is part of the program will also automatically become members.
"This program has the potential to launch Vanderbilt to the forefront of EV research, and to advance our understanding of a variety of physiological and pathological states that rely on EVs for communication," Weaver said.
If you are interested in becoming a member, please reach out to Alissa Weaver.