By Kendra H. Oliver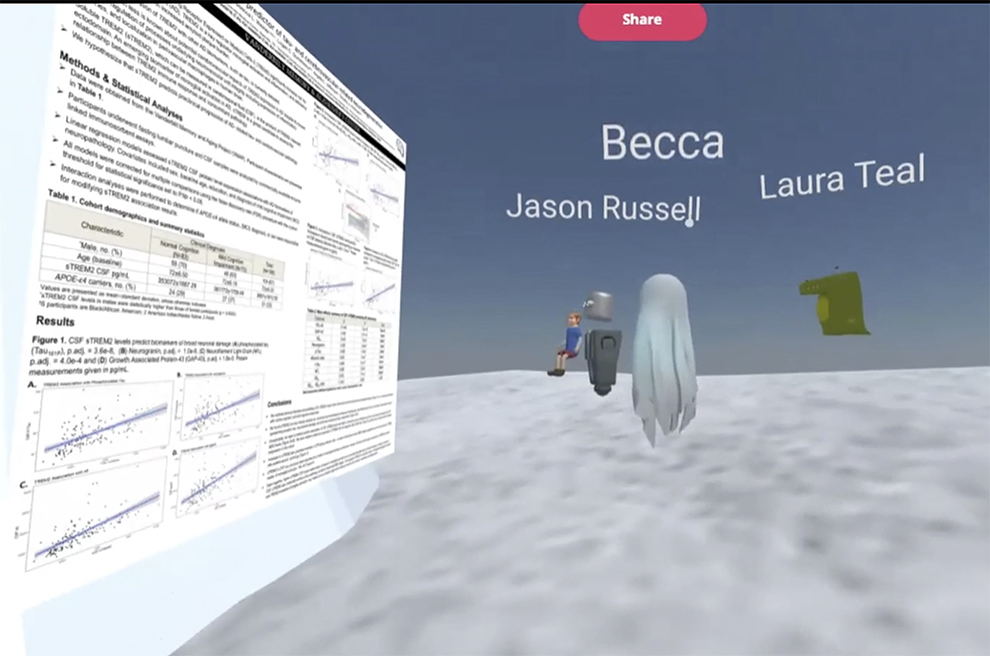 Academic departments are busy places filled with faculty who deal with tight schedules, trainees who are occupied with completing their degrees, and staff members who try to manage the organized chaos. Everyone handles their individual life responsibilities alongside work, and this is particularly true during a global pandemic. Bringing communities together can be hard even in the best of times, and it can feel particularly challenging now — but digital platforms can also facilitate connections. Through the use of Zoom and Mozilla Hubs, a joint Vanderbilt University and Meharry Medical College venture brought their trainees, faculty, and staff together for a retreat not just through videoconferencing, but by immersing them in virtual environments that enabled the free-flowing conversations characteristic of in-person events.
In a normal year, departmental retreats are critical for bringing communities together. They are a place where students can interact with faculty members, communicate with their peers, and continue to train as scholars, and where researchers can share successes and strengthen working relationships within others. Considering how socially isolated many of us have been in recent months, the need for a such events is more pronounced than ever.
The question is "how?" How do you bring a community together virtually, safely, and productively? Zoom, with its benefits and drawbacks, has allowed us to video chat with large and small groups, but how do you create an authentic gathering experience like that of a poster session? Many conferences and academic retreats favor "poster sessions" — typically held over one- or two-hour periods — during which researchers converse with other attendees about work that they highlight in an accompanying poster.
"Having a platform that allows for people to engage in meaningful conversations was definitely a focus for this retreat," says Ben Coleman, the lead student organizing this year's Vanderbilt-Meharry Annual Pharmacology Retreat. "This year has been a struggle for everyone, and Zoom fatigue can be a real problem, but the experience using Mozilla Hubs made connecting with peers both at Meharry and Vanderbilt fun and interactive virtually," says Coleman.
Each fall, Vanderbilt's Department of Pharmacology hosts a retreat that allows students & postdoctoral fellows to present their future research plans in 10-minute presentations, and is an essential component of the Ph.D. program and the department itself. It has been a joint Vanderbilt-Meharry venture for almost 20 years and has proven to be a successful continuation of efforts to foster the alliance between the institutions.
The retreat-planning committee, made up of graduate students Kayla Shumate, Joe Balsamo, Kennady Bullock, and Jamal Bryant, organized a two-hour series of Zoom presentations during which Vanderbilt graduate students Amy Stark, Jennifer Zachry, and Jordan Brown and Meharry graduate student Benem-Orom Davids had a chance to speak. The presentation also included updates from the newly formed Wellness and Diversity, Equity, and Inclusion Committees.
The retreat was capped by a poster session held in virtual rooms in Mozilla Hubs, an experimental, virtual reality-friendly platform that was created by the Mozilla Mixed Reality team. The pharmacology retreat virtual poster session was hosted in three virtual scenes — a catacomb, a snowy mountain, and a haunted house — and fostered communication and discussion of the students' work.
The Mozilla Hubs tool can also be used for standard videoconferencing, screen sharing, and a host of other activities. Assistant Professor of Medicine Raymond Blind said of the event, "I absolutely loved the virtual poster session, a gathering of avatars analyzing data on a poster is just as much fun as a real poster session, if not more!"
The rooms created for the poster session were a wonderful surprise for attendees, who could wander the virtual rooms with the help of a variety of avatars or characters. "Despite the virtual format, I still found myself drawn to conversations happening 'across the room,'" said graduate student Mark Crowder.
"I am proud to be part of a community that views challenging times as an opportunity to grow and innovate," said Shumate, a member of the retreat-planning committee. "Instead of securing event space and organizing caterers, retreat planning this year involved tasks like testing the virtual reality environment to optimize user experience. Ultimately, I think we created a space where people could re-connect with colleagues and have meaningful conversations."