Basic Sciences names Hodges, Siciliano as Dean's Faculty Fellows
By Aaron Conley
Emily Hodges, assistant professor of biochemistry, and Cody Siciliano, assistant professor of pharmacology, have been named Dean's Faculty Fellows of the School of Medicine Basic Sciences.
The Dean's Faculty Fellows program, started in 2020, is designed to recognize the efforts of faculty in the early stages of their career. The award targets assistant professors who have shown a strong track record of scientific accomplishments. By design, the program reinvests in early career faculty to promote their continued excellence in producing high-quality science in their respective fields.
"As a school, we value the innovative research and leadership of our early career faculty," said John Kuriyan, dean of the School of Medicine Basic Sciences. "We are so pleased to recognize Emily Hodges and Cody Siciliano as Dean's Faculty Fellows. They are making impressive and important discoveries that impact their fields, and we are excited to see what they discover next."
Emily Hodges
"Dr. Hodges is an exceptionally creative scientist who has already developed multiple methodologies that will broadly empower other investigators' research programs," said David Cortez, chair of the Department of Biochemistry.
Hodges received her Ph.D. in 2006 from Karolinska Institutet, where she studied high-resolution genomic tools for the discovery of protein function in mammalian cells with advisor Christer Höög. She then spent four years as a postdoctoral fellow at Cold Spring Harbor Laboratory in the lab of Gregory Hannon, focusing on next-generation sequencing applications for targeted genomics and epigenome profiling in differentiating mammalian lineages. While in the Hannon lab, Hodges developed an exon capture technique for next-generation sequencing that she used to help the Svante Pääbo laboratory sequence the Neandertal genome, an effort that resulted in a Science publication. "This technology has been used by hundreds of investigators to sequence the exomes of millions of individuals," said Cortez. "This had a profound impact on our ability to study human diversity and sequence changes that cause diseases like cancer."
Hodges joined Vanderbilt as an assistant professor of biochemistry in 2015, focusing her lab's research on understanding how DNA methylation controls gene expression. Her work at Vanderbilt has led to two novel techniques, ATAC-Me and ATAC-STARR-seq.
ATAC-Me allows for simultaneously interrogating DNA methylation and chromatin accessibility from a single DNA fragment library. "It is the first method of its kind to look at these forces in tandem and allowed the Hodges lab to uncover more complexities of the role of DNA methylation in gene expression than were previously known," said Cortez. This method has been used by other investigators in the field and has been cited 45 times.
The other method, ATAC-STARR-seq, is an integrated approach that quantifies changes in transcriptional regulatory activity, chromatin accessibility, and transcription factor occupancy with a single assay. Hodges has used this method to uncover important insights into silencers and enhancers of gene expression. This method has allowed her to examine gene regulatory regions linked to human diseases using BioVU, Vanderbilt's highly genotyped biobank connected to deidentified electronic medical records. ATAC-STARR-seq is also being used by other investigators in the field.
In recognition of these revolutionary developments, Hodges won a Stanley Cohen Innovation Fund award in 2022.
"The Dean's Faculty Fellow Award will provide extra funding to help expand her research program and take advantage of the large number of exciting research directions that are coming from her genetic analyses," said Cortez.
Cody Siciliano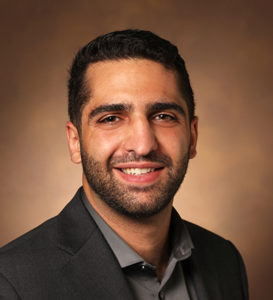 "Dr. Siciliano is an exceptionally talented and devoted scholar and truly deserves this honor," said Ege Kavalali, chair of the Department of Pharmacology. "His innovative and groundbreaking work promises to significantly advance our understanding of brain function, positioning him as an emerging leader in the field."
Siciliano received his Ph.D. in neuroscience from Wake Forest University in 2015 under advisor Sara Jones. He went on to do postdoctoral training at MIT's Picower Institute for Learning and Memory in the laboratory of Kay Tye. In 2019, Siciliano joined Vanderbilt as an assistant professor of pharmacology and a member of the Vanderbilt Center for Addiction Research. His primary research focuses on clarifying the fundamental principles that govern synaptic and circuit communication within the brain and their influence over complex motivated behaviors.
The power in Siciliano's research comes from utilizing his multidisciplinary expertise as he draws from analytical chemistry, behavioral pharmacology, and optical imaging for individual projects. Using these skills, he has created new methodologies that allow precise observations of circuit activity in the nonhuman primate brain at a level of detail that had only been possible in rodent and nonmammalian species. "This represents a major technological advance in systems neuroscience," said Kavalali.
Since his arrival at Vanderbilt, Siciliano has published 27 papers in journals that include Science, Nature, and Nature Neuroscience. In recognition of his work, he was selected for Forbes' 30 Under 30 – Science in 2021 and received the highly competitive Daniel X. Freedman Prize recognizing contributions to neuropsychiatric disease research. Like Hodges, he has received a Stanley Cohen Innovation Fund award, plus a grant from the Whitehall Foundation and multiple awards from the Brain and Behavior Research Foundation. Siciliano's discoveries have been featured in the public sphere in Newsweek, Scientific American, NPR, and others. His rigor as a scientist has been further recognized by invitations to serve on NIH study sections, serve as a reviewer for key scientific journals, and give national and international talks.
"I cannot think of anyone more qualified for this award," said Kavalali. "Cody is emerging as a leader in neuroscience, and his innovative work and level of productivity are unmatched within his subfield. His unwavering commitment to discovery, innovation, and mentorship makes him an ideal Basic Sciences Dean's Faculty Fellow."