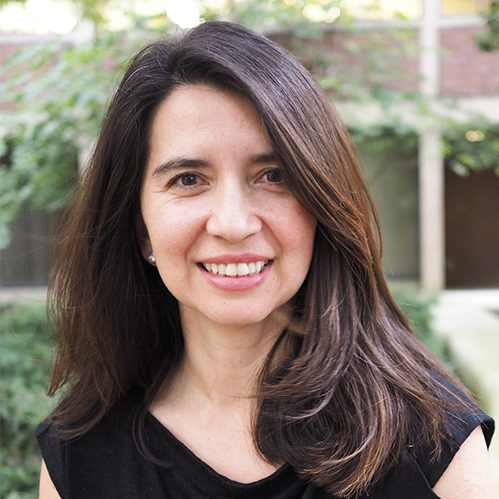 Vivian Gama, associate professor of cell and developmental biology, has been named the new associate dean for equity and inclusive mentoring as of Sept. 1.
"In order to build upon our past and current efforts, we are excited to name Vivian Gama as associate dean of equity and inclusive mentoring," said John Kuriyan, dean of Basic Sciences, School of Medicine. "Vivian brings unique and key perspectives as a faculty member, award-winning mentor, and international scholar. Her leadership will broaden our efforts in a holistic and integrated way and will accelerate our continuing efforts to build equity and inclusion in School of Medicine Basic Sciences."
Equity and Inclusive Mentoring in Basic Sciences
Vanderbilt Basic Sciences, School of Medicine has a 20-year history of leadership in equity and inclusive mentoring first led by Linda Sealy, associate professor emerita of molecular physiology and biophysics, who co-directed the Vanderbilt Initiative to Maximize Student Diversity, now known as the Vanderbilt Initiative to Maximize Student Development. IMSD, in tandem with other initiatives in the Office of Biomedical Research Education and Training, dramatically increased the recruitment and training of graduate students from backgrounds underrepresented in science. After the launch of Basic Sciences as a school, Sealy led as the associate dean for diversity, equity, and inclusion from 2017 until her retirement in 2020. In tandem, Larry Marnett, dean emeritus, focused on expanding faculty diversity. During his tenure, 60 percent of faculty recruits were women or from backgrounds underrepresented in science.
In September 2021, to coordinate DEI efforts, Marnett hired Felysha Jenkins as program manager in Basic Sciences, and, in 2023, Jenkins was named assistant dean of DEI. Jenkins has expanded strategy, programming, and training around DEI topics including coordinating the DEI departmental committees, bringing DEI perspectives to the Dean's Advisory Council for Mental Health and Wellness, and launching multiple event series.
In 2023, Alyssa Hasty, associate dean for faculty of Basic Sciences, partnered with Vanderbilt University Medical Center to launch a $17-million, multiyear transformative program with support from the National Institutes of Health to accelerate DEI and belonging in the biomedical research faculty community. This initiative, the Vanderbilt Faculty Institutional Recruitment for Sustainable Transformation Program, will recruit, mentor, promote, and retain exceptionally talented new faculty members.
About Gama
Gama completed her Ph.D. in pharmacology in 2009 from Case Western Reserve University, where she studied the regulation of Bax-mediated cell death. Prior to joining Vanderbilt in 2015, she completed postdoctoral training at the University of North Carolina Chapel Hill in the laboratory of Mohanish Deshmukh. Her postdoctoral work focused on the mitochondrial biology and apoptosis in stem cells. During her postdoctoral studies, she received a Brain Tumor Association Postdoctoral Fellowship and an NIH Independence K99/R00 Award.
Since joining Vanderbilt Gama's work has focused on the molecular principles governing organelle remodeling as a driver of cellular transitions during neurogenesis, a process by which neurons develop in the brain. Gama, who attained tenure in 2020, has pioneered the use of pluripotent stem cell systems to understand the pathophysiology of rare, incurable mitochondrial and peroxisomal diseases with the goal of uncovering new therapeutic targets. Her research program has been funded by several grants including an R35 ESI MIRA from the National Institute of General Medical Sciences and a Brain Initiative Grant from the National Institute of Mental Health. In 2023 she was selected as a Chancellor Faculty Fellow for her outstanding research and mentoring.
Gama's personal experiences, such as coming to the United States from Bogotá, Colombia, and her mentors (notably Deshmukh during her time at UNC) played a major role in her career trajectory. Her background motivates and inspires her own interactions with trainees and staff, especially in building her laboratory, to have a holistic approach to mentorship. She considers each laboratory member's background and specific needs to achieve their goals so they can succeed now and in the future. Her inclusive mentorship efforts have been recognized by grants and awards, such as:
Postdoctoral Scholar Award for Excellence in Mentoring Undergraduates at UNC
Howard Hughes Medical Institute Gilliam Fellowship Adviser for Gabriella Robertson
Howard Hughes Medical Institute Gilliam Fellowship Adviser for Melanie Gil
Vanderbilt Juneteenth Award for Best Allyship
Inaugural Vanderbilt Basic Sciences' Hispanic and Latin Heritage Mentoring Award
Besides her participation as an advisory board member in several training programs across campus, Gama has served as an auxiliary mentor for the BRET program and a faculty co-advisor for the Vanderbilt International Researchers Alliance, and is the current co-chair for the DEI committee in the Department of Cell and Developmental Biology, which she has been involved with since its launch in 2020.
"I'm excited about the qualities and experiences that Vivian brings," said Jenkins. "She is well known and well respected by faculty, staff, and students. I look forward to learning from her and working with her to advance the mission of inclusivity at Vanderbilt within Basic Sciences."
Vision for the Role
"My main goal is to contribute to empowering and maximizing the talent that we have been fortunate to recruit to Vanderbilt but also of new trainees and colleagues we are hoping to bring into our laboratories and departments in Basic Sciences," Gama said. To accomplish this primary goal, Gama plans to "make sure the environment we provide is suitable for success. It is imperative to further integrate inclusive policies at every step of the recruitment and training process for students, postdocs, faculty, and staff." She added, "I am inspired by the incredible advances colleagues like Linda Sealy made toward achieving this goal, and I am honored to continue those efforts in this new role."
Gama's own experience immigrating to the U.S. showed her how needs for mentorship and support are complex, often individual, and dependent on background, culture, and experiences. Her goal is to build policies that ensure that these complexities of differing needs are recognized and that there are supports in place to promote everyone's success.
Gama is excited to continue expanding an equitable environment in Basic Sciences that is unified with the entire university. The beginning of this process, Gama said, will include mapping and listening to understand what is already successful, where spaces for growth opportunities exist, and how to decrease duplicative efforts. Gama sees the whole Basic Sciences community as key collaborators in this effort, which needs to not be a secondary thought, but rather baked into our culture and actions.
"Vivian's expertise and leadership will undoubtedly enrich our initiatives aimed at cultivating a holistic and integrated approach to equity and inclusion," said C. Cybele Raver, provost and vice chancellor for academic affairs. "As we honor our past accomplishments and look towards a future of progress, Vivian's insights and dedication will play a pivotal role in shaping policies that empower all individuals in our academic community."