Long-distance recruiting 101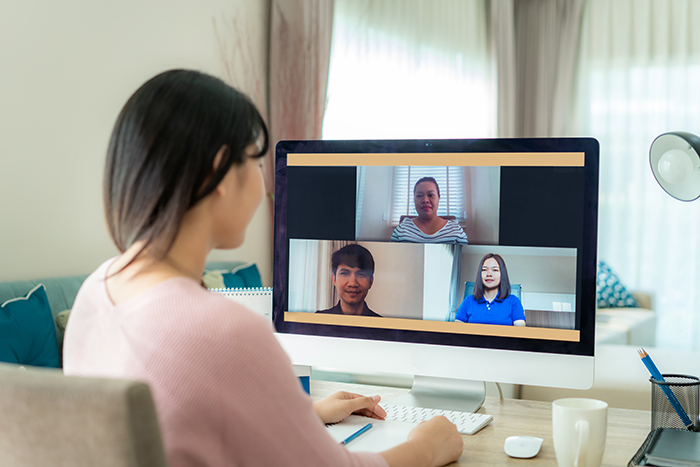 By Lorena Infante Lara
Faculty recruitment in the biosciences is a normal part of life at academic institutions. Candidates visit campuses, meet with faculty in the department they intend to join, interact with students, and, most importantly, present a seminar and a chalk talk. But all of these activities hinge on person-to-person meetings, which are now severely restricted due to the COVID-19 pandemic. The show must go on—but how?
The Department of Molecular Physiology and Biophysics was recently confronted with this conundrum. It was in the midst of a faculty recruitment search that had already brought seven candidates to campus before the university indicated that it would be instituting a remote work policy and a lab ramp down starting on March 16. Unfortunately, that left three candidates with uncertain interview paths.
"We wanted them to have as normal an experience as we could given the circumstances," said Alyssa Hasty, associate dean of faculty development of Basic Sciences and professor in the MPB department.
For faculty candidates seeking an appointment in MPB, the "normal" recruitment process spans about three days and three nights for the initial campus visit, and follows a scheme implemented by the recently arrived department chair, Nancy Carrasco. Instead of inviting candidates to campus one at a time, MPB hosts small groups so that the candidates can also interact with one another.
The first two groups of candidates came to campus in January and February, and their visits occurred without a hitch. They arrived on a Wednesday night and had dinner with Carrasco and the vice chair of the department, Roger Colbran. On Thursday, they presented in a symposium for all interested students, postdocs, faculty, and staff; had lunch with the faculty recruitment committee; and dined individually with faculty with related research interests. Friday, each candidate presented a chalk talk to small groups of faculty. Throughout their visit, the candidates had the chance to meet with and interact with numerous members of the department.
When the university announced its decision to institute a remote-work policy, the recruitment committee decided to host the visits online. So they armed themselves with Zoom knowledge, promoted a virtual symposium where all MPB members could attend without breaking their social distancing limitations, and coordinated with faculty so they could "meet" with the candidates and attend their chalk talks. All to great success; the symposium alone saw an attendance of 60-70 people per talk.
Without coming to campus, the three candidates missed out on the chance to experience not only our beautiful physical environment but also our atmosphere: our collegiality, collaborativeness, and general feelings of support for one another. And yet, improvising and digitizing the program so that the candidates could still interact with members of the department undeniably shows Vanderbilt's resilience and willingness to give everyone a fair shot. And no other group of candidates can say they got a sweeping view of campus from the chair's apartment window.