About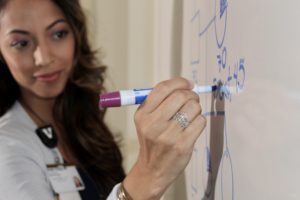 The mission of the Master of Genetic Counseling (MGC) program is to graduate genetic counselors who are leaders in the field of genetics and genomic medicine. The MGC is a full-time, two year (five consecutive semesters) program. Students in the MGC program enroll in coursework and clinical training to gain the knowledge and skills required to be successful genetics health professionals. Research skills are attained through a mentored research project that is publishable in a peer-reviewed journal.
The vision of the MGC program is:
Being on the forefront of genetics and genetic services research
Creating a nurturing environment to foster genetic counseling training
Nesting the program in a strong, connected academic and clinical community
The program goals are to:
Matriculate diverse graduate students in genetic counseling who are empowered to succeed in the expanding field of genetics, genomics, and personalized medicine.
Facilitate faculty and student collaboration with Vanderbilt researchers to enable significant contributions in the areas of genetics and genomics, genetic counseling, and personalized medicine.
Improve access to genetic services by increasing the number of providers and expanding awareness about the field.
Graduates of the MGC program will:
Expand their knowledge about genetics and genomics and practice the application of this understanding in medicine as set forth by the Accreditation Council for Genetic Counseling (ACGC) standards.
Develop skills to sensitively convey complex medical information to health care consumers and providers, utilizing appropriate evidence-based approaches to practice, as outlined in the ACGC competencies.
Evaluate and analyze research to formulate important questions, and apply critical thinking and appropriate investigational methods to pursue answers to those questions.
Accreditation
Vanderbilt University Master of Genetic Counseling Program has been granted accreditation as a New Program by the Accreditation Council for Genetic Counseling (ACGC) effective January 31, 2019.