Admission Process
Applicants to the Medical Scientist Training Program (MSTP) should possess:
an excellent academic record
a strong motivation to pursue a career as a physician-scientist
previous research experience outside of required laboratory courses
leadership qualities
Applying to the Vanderbilt MSTP through AMCAS: 
Individuals apply to the MSTP track by selecting MD/PhD program on the American Medical College Application Service (AMCAS) forms. The admissions process at Vanderbilt requires that candidates choose either the MD or MD/PhD Program on the AMCAS application.  Once the AMCAS is received by Vanderbilt, all applicants will create a user ID and password to access the secondary application online.
Vanderbilt University School of Medicine recognizes that the undergraduate academic experience of applicants varies greatly. Therefore, we have made the decision to move away from "requirements" to "recommendations." Learn more about our course recommendations.
Application Fee: The secondary application fee to the Vanderbilt MSTP is WAIVED for all candidates.
Vanderbilt University School of Medicine uses the AMCAS Letter Service for all letters of recommendation. Applicants should solicit confidential letters of recommendation through this system from at least three individuals who can specifically address their qualifications for the dual degree. We strongly encourage applicants to submit letters from all previous research mentors.
Interview Process: Competitive applicants are invited by the MSTP to interview at Vanderbilt. The interview process includes time to meet formally and informally with faculty and students. Each applicant will also have an opportunity to meet with faculty members who are working in his or her primary area of scientific interest during the interview.
Admission Timeline:
The AMCAS application opens for submission in May, and can be submitted at the end of May, and we will begin receiving verified applications at the end of June. The deadline for submission of the AMCAS application is November 1. The secondary application and letters of recommendation must be received no later than December 1 of the year prior to enrollment. Since admission is highly competitive, individuals are encouraged to complete the application early in the cycle. Applications to the MSTP can be received from individuals who are currently enrolled in the M.D. program and students in the first year of Ph.D. training may also be considered for admission. Individuals in their residency or fellowship training who elect to pursue a Ph.D. during this time may join the MSTP.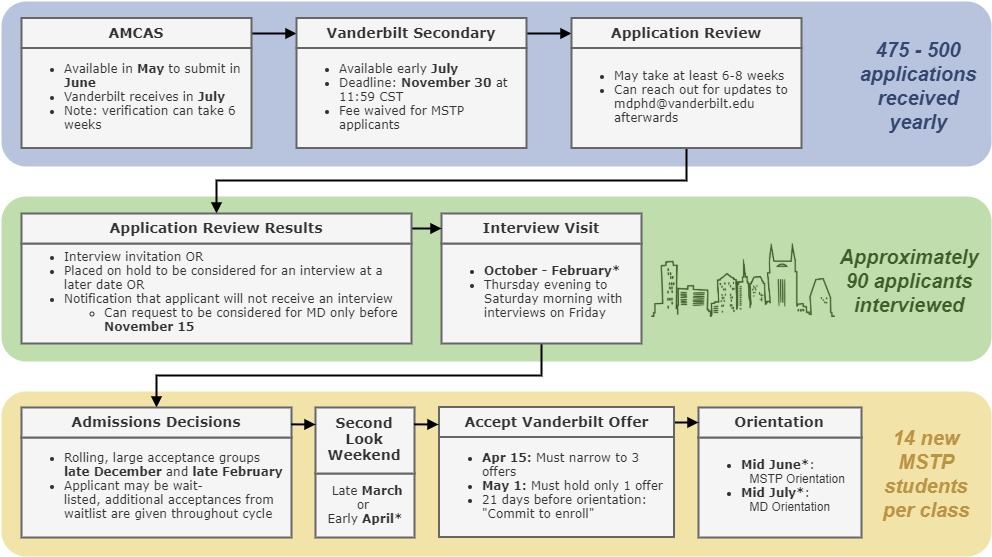 *2023-2024 Admissions Cycle dates:
We anticipate MSTP interview invitations will begin in September.

Interview Visits:

 TBD October-February

Second Look Weekend:

TBD March or April

MSTP Orientation:

 mid-June

MD Orientation:

 mid-July
Admission Decisions: Admission decisions are made on a rolling basis. Early applications are strongly encouraged. Successful candidates will be notified of their acceptance to the program by the admissions committee.
Please schedule an appointment with Dr. Megan Williams if you have questions about this process.
Commitment to Diversity
Vanderbilt University is committed to the principles of equal opportunity and affirmative action. Vanderbilt welcomes applications from all individuals who come from diverse populations that are under-represented in science or academia, including but not limited to racial and ethnic minorities, individuals from disadvantaged socio-economic backgrounds, and individuals with physical disabilities.
Vanderbilt provides accommodations for students with disabilities. The Student Access Services Office is responsible for coordinating disability support services and monitoring the accessibility of programs, activities and buildings for the Vanderbilt University and Medical Center communities, consistent with the Americans with Disabilities Act of 1990 and Section 504 of the Rehabilitation Act of 1973. Their staff assists departments with providing reasonable accommodations for students, faculty and staff with disabilities; ensures that Vanderbilt programs and events are accessible to the Vanderbilt community and visitors; monitors the accessibility of the university and medical center buildings; investigates disability discrimination complaints; and provides training on disability related issues. Students needing disability related assistance can contact Student Access at: https://www.vanderbilt.edu/student-access/. The Technical Standards for the Doctor of Medicine Program are available here https://www.vanderbilt.edu/catalogs/kuali/som.php#/content/60da2185030bed1dff90f856.