Curriculum
The central goal of the Vanderbilt MSTP is to train leaders in academic medicine. The MSTP offers an integrated curriculum through the Vanderbilt University School of Medicine and the Vanderbilt University Graduate School.
We provide students with an integrated curriculum comprising a strong core education in medicine and intensive training in scientific inquiry using a preceptor-oriented, problem-solving approach. The curriculum is designed for a 7-year time to degree, though some students may finish earlier or later.
MSTP students usually complete the first two years of Medical School (M1 and M2), pursue graduate studies for three to four years (G1-G4), and then return to medical school to complete one immersion year (clinical training combined with didactic training).
The integration of clinical and scientific training is illustrated with blue color for predominantly clinical domains, gold for scientific domains, and black for MSTP-specific programming.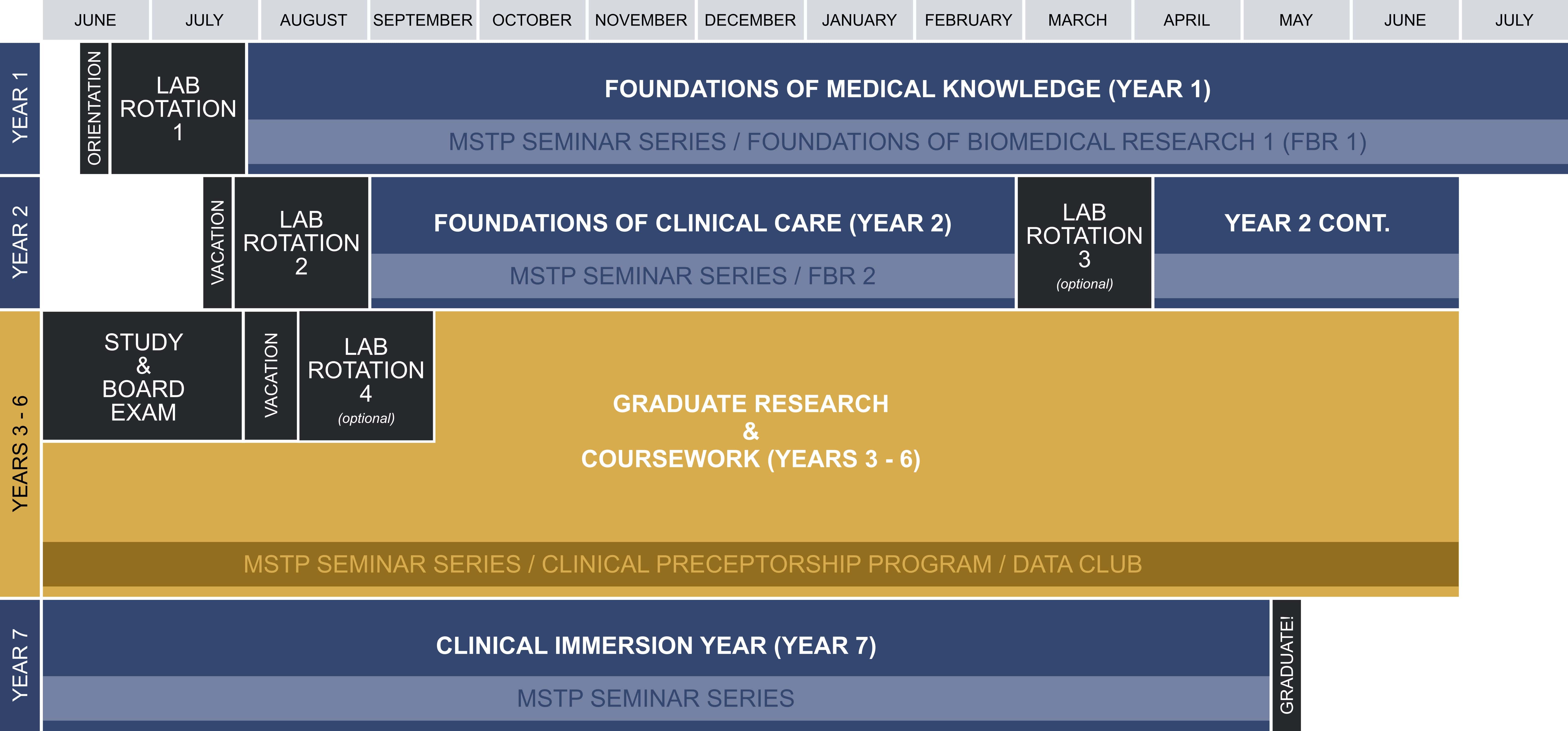 Preclinical coursework:

Anatomy, histology, physiology, pathology, and foundational sciences taught in lecture, team-based settings, and small-group case-based learning format

Physical Diagnosis:

Introduction to clinical knowledge and skills essential for performing a medical history and physical examination. This course takes place in lectures, simulation centers, observed clinical encounters, outpatient clinics and the hospital setting and exposes students to hands-on patient care in the first month of medical school.

Learning Communities

:

Groups of students and faculty nurturing clinical reasoning, critical thinking, ethics, bias, leadership, health care policy and more

Foundations of Health Care Delivery:

Integrate patient care with other health professions and systems knowledge in the context of social determinants of health, settings of care, and patient safety.

MSTP Seminar:

Students, residents, and faculty members meet for journal club presentations, clinical cases, extra-curricular academic and wellness activities

Foundations of Biomedical Research I:

Students learn how to critically review research articles, conduct robust statistical analyses, and conduct reproducible research

Laboratory Rotation:

Lab rotations last approximately three weeks and are selected with the guidance of the MSTP Leadership Team
Sample first year weekly schedule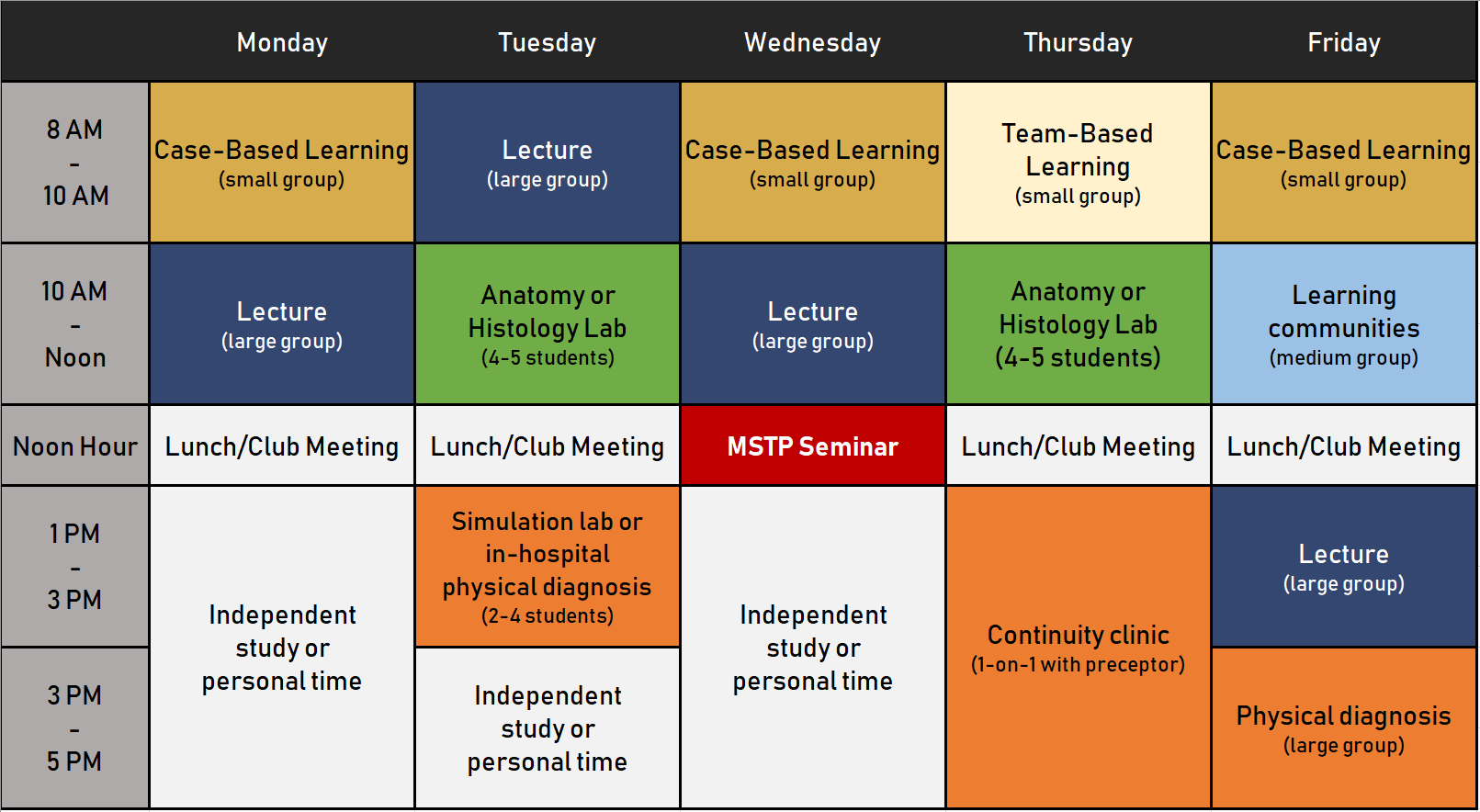 Six blocks of clinical clerkships:

Internal medicine, surgery, pediatrics, obstetrics and gynecology, neurology, psychiatry, and time for elective opportunities

Diagnostics and Therapeutics

:

Focuses on the strengths and limitation of different clinical labs and treatment approaches

Continuation of:

Learning Communities, Foundations of Health Care Delivery, MSTP Seminar

Foundations of Biomedical Research II:

tailored to the interests of individual students and mentors, with emphasis on examining papers foundational to the students' field of research, examining advanced scientific rigor and reproducibility concepts, and surveying the process of applying and reviewing individual fellowships.

Laboratory Rotation(s):

A minimum of two lab rotations are required with room for additional optional rotations if desired
YEAR 3-6 | GRADUATE RESEARCH
Student may select from following MSTP affiliated PhD granting programs and departments:

Biochemistry

,

Biological Sciences

,

Biomedical Engineering

,

Biomedical Informatics

,

Cancer Biology

,

Cell & Developmental Biology

,

Chemical & Physical Biology

,

Epidemiology

,

Health Policy

,

Human Genetics

,

Mechanical Engineering

,

Microbe-Host Interactions

,

Molecular Pathology & Immunology

,

Molecular Physiology & Biophysics

,

Neuroscience

, or

Pharmacology

Follow graduate school specific requirements to thesis defense:

Many programs give credit for the first year graduate school basic science requirements due to similar content from first year medical school courses.

Clinical Preceptorship Program:

 Provides MSTP students with exposure to clinical medicine during the period of graduate training. Students maintain clinical skills, explore clinical specialties, and cultivate relationships with clinical faculty in various medical specialties. This required component of the MSTP curriculum is designed to ease the transition from Graduate School to the immersion year of Medical School.

Leadership Workshop 1:

Provides formal instruction on leadership competencies fundamental to the physician-scientist career path

Continuation of:

Learning Communities, Foundations of Health Care Delivery,

MSTP Seminar
Highly personalized courses:

Building on clinical and foundational scientific knowledge through clinical engagement in areas of interest

Leadership Workshop 2:

Provides continued leadership training to MSTP students in their final clinical year of medical school to build on concepts from Leadership Workshop 1 during graduate school

Application to residency

Continuation of:

Learning Communities, Foundations of Health Care Delivery, MSTP Seminar