Chair's Message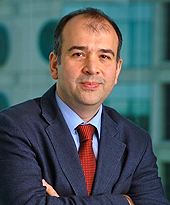 Ege T. Kavalali, Ph.D.
Professor & Acting Chair, Department of Pharmacology
William Stokes Chair In Experimental Therapeutics
I am honored to welcome you to the Department of Pharmacology at Vanderbilt. We are one of the most distinguished Pharmacology departments in the country and one that has incredible potential to advance basic science and contribute to urgently-needed drug development in the coming years.
Our research interests include five major areas:
signal transduction
neuroscience
bioactive lipid metabolism
genetic basis of cardiovascular dysfunction
drug metabolism
Molecules under investigation include G-protein coupled receptors (rhodopsin, adrenergic, serotonin and receptors), heterotrimeric G-proteins, ion channels, transporters and regulatory proteins such as arrestins, protein kinases and protein phosphatases.  We provide training focused on critical thinking to promote innovation, scholarship and integrity.  To this end, we foster creativity, collegiality, and leadership.
DEI Mission Statement
The Department of Pharmacology at Vanderbilt University is committed to ensuring that all students, faculty, staff, visitors, and persons feel supported and welcomed. Though often not discussed, systems of inequality, oppression, and injustice exist within academia and shape, whether explicitly or implicitly, our language, decision-making, and priorities.
The Department, with the support of its Diversity, Equity, and Inclusion committee, is dedicated to supporting historically marginalized groups in addition to unlearning the systems that have contributed to this marginalization. These systems include (but are not limited to): racism and white supremacy, xenophobia, classism, sexism, ableism, and heterosexism. We also aim to create new infrastructure for which minority identities are uplifted and their voices are heard. These minority identities may include (but, again, are not limited to): racial and ethnic minority identities, sexual and gender minority identities, low-income socioeconomic backgrounds, and non-English language backgrounds.
With your help, we will improve the Department of Pharmacology's diversity, inclusivity, and equity of all persons.