Allan D. Bass Endowed Lecture
---
Allan D. Bass, Ph.D.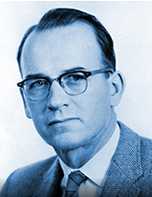 Allan D. Bass was Professor and Chairman of the Department of Pharmacology at Vanderbilt University School of Medicine from 1953 until 1973. He served as Acting Dean of the School of Medicine from 1973 to 1974 and as Associate Dean for Biomedical Sciences from 1973 until his retirement in 1975. Additionally, he was Associate Chief of Staff for Education at the Veterans Administration Hospital from 1974 to 1981.
Dr. Bass was nationally recognized as an outstanding administrator, scientist, and educator. He participated actively in many national societies including The American College of Physicians, American Society for Pharmacology and Experimental Therapeutics (President, 1967-1969) and the American Medical Association Council on Drugs (1962-1972). Dr. Bass was active in scientific research for more than four decades, and wrote many professional papers on such topics as anthelmintics, skin sterilizing agents, sulfonamides, adrenal corticosteriods, hormones, and chemical transmitters.
Dr. Bass was responsible for the development of Vanderbilt's Department of Pharmacology from a relatively small entity to a program that has achieved national recognition. As an educator, Dr. Bass always made every effort to assist each student to reach his or her academic potential and to meet professional requirements. Pre-doctoral and post-doctoral students trained in pharmacology during Dr. Bass' tenure now reside throughout the nation and several foreign countries, and many have held leadership positions in academia, government and the pharmaceutical industry.
---
Allan D. Bass Endowed Lecture History
1977  Avram Goldstein
1979  James R. Gillette
1981  James A. Miller
1981  Elizabeth C. Miller
1983  Norman Weiner
1985  Elliot S. Vesell
1987  Richard W. Tsien
1989  John R. Blinks
1993  Roger A. Nicoll
1995  David E. Clapham
1998  Phillip Needleman
2003  Susan S. Taylor
2005  Morgan Sheng
2007  Brian K. Kobilka
2009  Xiaodong Wang
2010  Melanie Cobb
2012  Thomas Südhof
2014  Peter Doherty
2016  Joseph T. Coyle
2021  Susan Amara
2024 Per Svenningsson **Upcoming**