Pharmacology 100 Club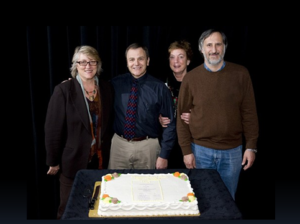 The Department of Pharmacology is now in its sixth year of growing the Pharmacology 100 Club and the number of contributors continues to increase! For those who have participated in the past, Thank You!
Our graduate program is 80 years old and we have just awarded our 286th Ph.D. in Pharmacology! Your donations provide support for our graduate students to attend scientific programs that will uniquely enhance their graduate education and future careers as well as the direction of the program as a whole.
A donation of $100 will go toward funding awards such as:
Allan D. Bass & Sara Bass Graduate Assistance Fund: Established by private donations in memory of Allan D. Bass, Sr. who served as Chair of Pharmacology for more than two decades, this fund is available for students experiencing family or other personal emergencies.
Pharmacology Graduate Education Enhancement Award: Initiated by contributions from Pharmacology faculty to enhance training of graduate students and their ability to participate in collaborations, courses, and other endeavors to complement their training.
Lee Limbird Dissertation Enhancement Award: Established in 2005 by private donation, this fund has been used by students for dissertation expenses and travel expenses and for special training opportunities.