GPCR Invited Postdoctoral Seminar Series 2022-2023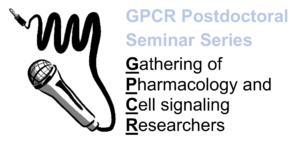 The Vanderbilt University Department of Pharmacology hosts an invited seminar series open to senior postdoctoral researchers from U.S. institutions. Selected speakers will present their research to members of the Pharmacology Department, the Warren Center for Neuroscience Drug Discovery, the Vanderbilt Center for Addiction Research, the Vanderbilt Brain Institute, and more. This is an outstanding opportunity for postdocs to expand their professional network, particularly for those entering the job market soon and seeking academic careers.
Submissions for the 2022-2023 series are now open!
We welcome applicants from all areas of pharmacology research, including but not limited to molecular pharmacology, signal transduction, behavioral and neuropharmacology, cancer pharmacology, cardiovascular pharmacology, drug metabolism, and drug discovery. Individuals of underrepresented groups are especially encouraged to apply. This hybrid series will run monthly beginning in late Fall 2022 and each speaker will receive an honorarium for their time and effort. Selected speakers will be allowed to choose between virtual and in-person attendance.
SUBMIT YOUR APPLICATION HERE!
Please follow the link to complete the APPLICATION and be prepared to submit:
Cover letter containing your research interests, your career goals, and any other information you find pertinent (one page)
Extended abstract describing your current research and continuing with your future directions and the big questions you plan to ask in the next 5 years (one page)
CV
Applications will be open until October 15th. Selected speakers will be notified by mid-November, 2022. Seminars will begin in December, 2022 and run through Spring, 2023.  Requests for additional information may be sent to GPCR_seminar@vanderbilt.edu.
 POSTDOCTORAL SELECTION COMMITTEE
Lillian Brady, Ph.D. (Chair)
Suzanne Nolan, Ph.D. (Co-Chair)
Deborah Luessen, Ph.D.
Burak Uzay, Ph.D.
Marie Doyle, Ph.D.
FACULTY ADVISORS
Cody Siciliano, Ph.D.
Rick Sando, Ph.D.