Immersion
Years 3-4
The Immersion Phase (years 3 and 4) is a highly individualized period that builds upon the foundational knowledge acquired earlier, in a context that is most relevant to each student's individual interests.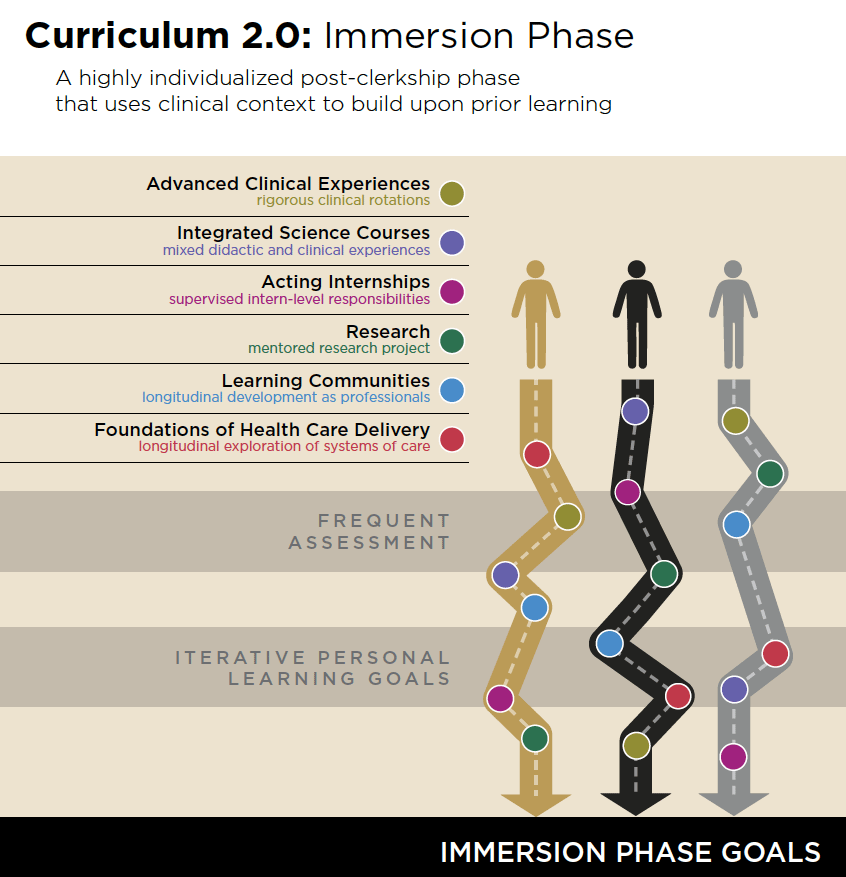 To deepen foundational science knowledge during meaningful clinical engagement
To solidify clinical skills
To enhance practice-based learning skills
To ensure readiness for intern role/residency
To expand knowledge and skills regarding scholarship
To further grow knowledge and skills regarding leadership
To encourage professional development
Leadership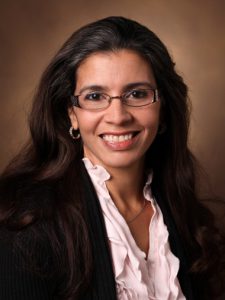 Lourdes Estrada, PhD
Immersion Phase Leader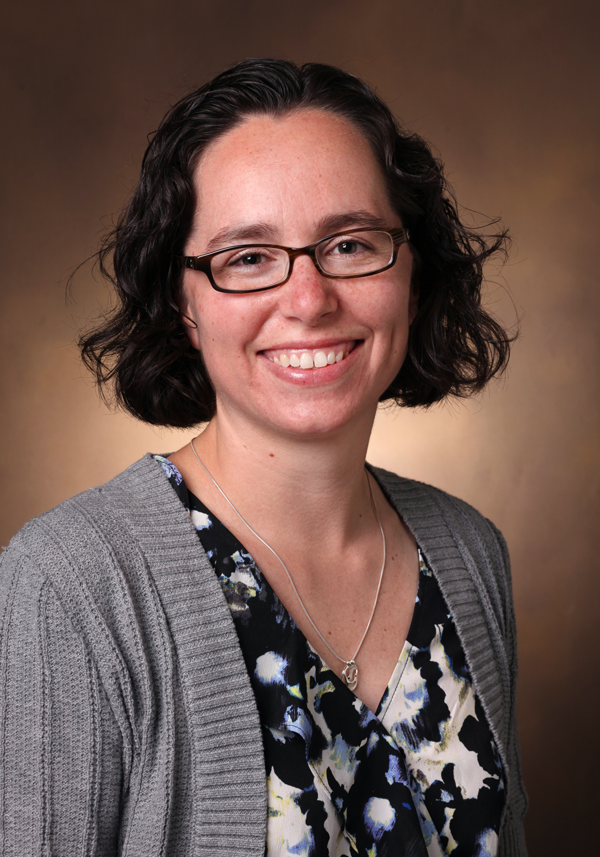 Kendra Papson Parekh, MD
Immersion Phase Leader
Courses
Integrated Science Courses
Advanced Clinical Experiences
Acting Internships
Advanced Electives
Special Studies
Immersion Course Descriptions and Weekly Schedule Example
Longitudinal Elements of Immersion Phase
Foundations of Health Care Delivery: Immersion Phase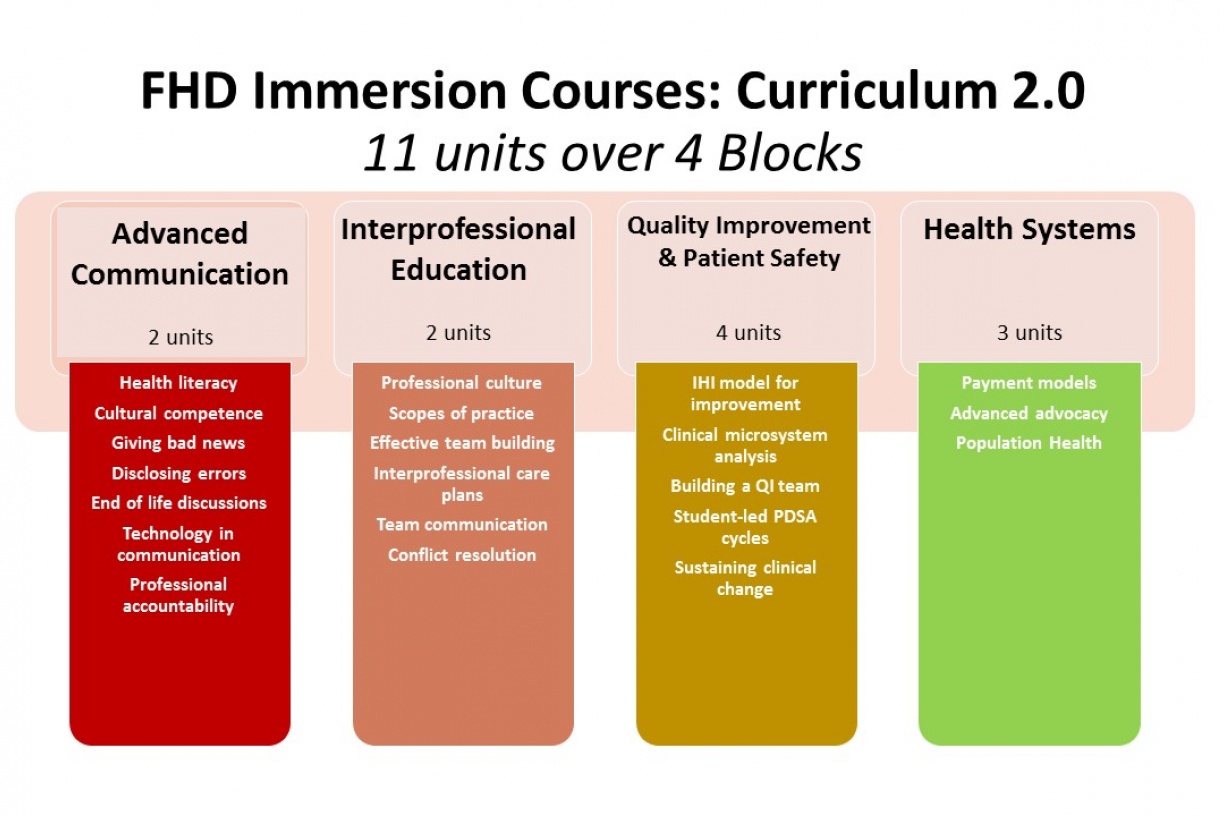 During the third and fourth years, students complete 11 required FHD immersion units designed to provide students with advanced skills. These units are offered in a series of three Immersion Weeks (two units at a time) and the other five are offered in a month-long unit, various times of the year.
Each month-long unit is equivalent to 16-20 hours of curricular time. These courses are primarily self-directed, asynchronous learning via online modules, experiential learning and simulation. Students may take only one FHD: Immersion Phase unit at a time and will co-register in these units alongside other Immersion Phase courses (with the exception of Acting Internships). Students have protected time each Tuesday afternoon (1-5 p.m.) of the unit to complete FHD work. Students will meet as a group with the block/unit directors on specific Tuesdays of each unit from 1-5 p.m. for a face-to-face didactic session.
Student Research Inquiry Curriculum
PLAN (Year 3)
The course, PLAN: Developing a Research Project, helps students develop a complete, structured research proposal. Conducted as a sequence of small group sessions, PLAN encourages personalized interactions between students and course instructors. Detailed, regular feedback from course directors and mentors allows students to refine their individual research projects. By the end of the course, each student and mentor pair has a completed research plan that will serve as a guide during the subsequent Research Immersion Phase.
Research Immersion (Years 3-4)
All medical students conduct a 3- to 6-month mentored research project that they developed and refined in the PLAN course. During these months, students work full time on their research, attend weekly Research Area group meetings, and provide updates to their mentor and Research Director.
Bench2Bedside
Community and Global Health
Epidemiology and Informatics
Ethics, Education, Policy, and Society
Medical Scholars Program
The Vanderbilt University School of Medicine Medical Scholars Program is a one-year, in-depth research experience available to students at Vanderbilt University Medical Center and Meharry Medical College. The goal of the program is to train leaders in academic medicine, ultimately strengthening and expanding the nation's pool of medically trained researchers.
Learning Communities
The Learning Communities-Immersion course seeks to maximize medical student learning related to student development as professionals. Helping students solidify an appropriate image of the medical profession and skill set related to functioning within the healthcare environment are the essential foundation for future success. Development as professionals involves knowledge, skills, and attitudes related to students' practice as well as the environment within which the practice will occur. The longitudinal nature and trusting environment created within the Learning Communities fosters student professional development, specifically addressing personal areas of metacognition and reasoning, ethics, and leadership, as well as the knowledge and understanding of the broader healthcare environment. The preparatory work and the academic sessions will build on prior experiences in LC-FMK and LC-FCC. The LC-Immersion course will focus on solidifying student understanding of previously covered topics such as cognition, critical thinking, metacognition, and ethics, while exposing students to new topics within the learning and leadership development arenas. In sum, the Learning Communities will provide the nurturing environs to maximize student development as professionals.