Neil Osheroff, John G. Coniglio Chair and professor of biochemistry, received the 2023 Alpha Omega Alpha Robert J. Glaser Distinguished Teacher Award.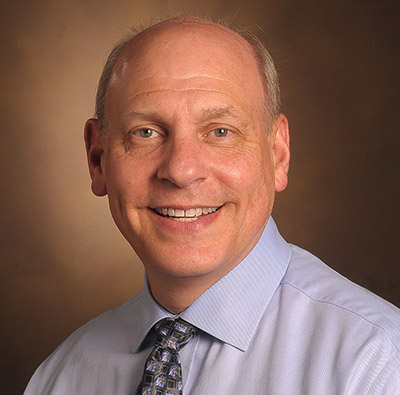 The award is given by the Association of American Medical Colleges to recognize and celebrate gifted educators from member schools who are making significant advances in medical education. Up to four awards are presented annually.
As a professor of biochemistry and medicine at Vanderbilt University School of Medicine for more than 40 years, Osheroff is the longest serving course director currently teaching medical students. He also codirects the preclerkship phase of the medical school curriculum and leads the Master Science Teachers cohort, a role established in 2007 to recognize VUSM's outstanding basic science educators. Through his teaching, he has helped medical students at VUSM and across the globe acquire the basic science skills and knowledge they need to thrive in clinical practice, according to the AAMC.
"What I find really exciting about teaching medical students these days is that over the years, I've really come to understand the fact that basic sciences are the foundation of clinical practice, and we need to teach it that way," Osheroff said in a video produced by AAMC. "I was one of four faculty members tasked with developing and implementing our pre-clerkship phase of curriculum 2.0 at Vanderbilt…and it's really influenced medical schools throughout the U.S. and even worldwide. This honor means the world to me. This is an incredibly important award and I think it really has served a capstone for a very long career in medical education."
In addition to his teaching, Osheroff researches the function and biology of DNA topoisomerases, enzymes that function to unwind and untangle the DNA double-helix by creating transient cuts in the DNA. Beyond their normal functions, these enzymes are the primary targets for some of the most active drugs currently used for treating cancers and bacterial infections.
Osheroff has consulted globally with institutions including the Medical School for International Health at Ben Gurion University and the A. M. Dogliotti College of Medicine at the University of Liberia. In 2018, because of his groundbreaking work, he was elected as a fellow of the American Association for the Advancement of Science, recognizing his outstanding contributions to DNA research, teaching, leadership, and curricular innovation in medical education. He is also a fellow of the Association for Medical Education in Europe.
"I sustain my passion for teaching because I'm fortunate enough to work with phenomenal colleagues and we have amazing medical students at Vanderbilt," Osheroff said. "Some of the things I'm most proud of in terms of my educational career are the fact that I just taught my 40th class of medical students at Vanderbilt."