Lab-to-Table Conversations
Sign up here to receive an invitation to our monthly conversations!
---
October 12, 2021, 12:00 p.m. CT
"Jason Isbell: Songs and Sobriety" Please join us for a discussion with four-time Grammy award-winning musician Jason Isbell moderated by Danny Winder, director of the Vanderbilt Center for Addiction Research, and Erin Calipari, assistant professor of pharmacology. The discussion will cover the impacts of COVID-19 on addiction and sobriety, the stigma of addiction, and the intersections of sobriety, addiction, and music. Featured guest Jason Isbell has had personal experience with addiction and sobriety, which has influenced his music and work over the last decade. This has included his 2013 album Southeastern, his first after getting sober, as well as more recent songs like "It Gets Easier" and work with Bradley Cooper on the movie "A Star Is Born."
The event is free and open to the public. Register here!

September 23, 2021, 12:00 p.m. CT
"In the Weed(s): A Panel on Medical Marijuana, CBD, and Delta 8"  With the growing legalization of medical and recreational marijuana in states across the country, as well as growth in use of CBD and Delta 8, what does current science say about the efficacy of its use and its short and long-term impacts on your body? What are the current legal trends for these substances in the United States?
To delve into these questions, please join Larry Marnett, Ph.D., dean of the Vanderbilt University School of Medicine Basic Sciences, for the school's monthly Lab-to-Table Conversation, where he will be moderating a conversation about the science of marijuana and the current legal context for its use with the following panelists:
•  Ziva Cooper, Ph.D. – director of the UCLA Cannabis Research Initiative and associate professor in psychiatry and anesthesiology at UCLA,
•  Robert Mikos, J.D. – LaRoche Family Chair in Law at the Vanderbilt Law School, expert on marijuana law and author of the book Marijuana Law, Policy, and Authority, and
•  Dr. Sachin Patel, M.D., Ph.D., James G. Blakemore Professor of Psychiatry and Behavioral Sciences, Molecular Physiology and Biophysics, and director of the division of general psychiatry at Vanderbilt University Medical Center.
The event is free and open to the public. Register here!

August 17, 2021, 11:00 A.M. CT
"Watts, Metabolism, Data Analytics: Science's Impact on Cycling Over 25 Years" Over the past few decades, biomedical science has made huge strides in understanding how the human body works. New scientific insights have drastically impacted how endurance sports athletes train and eat. For the monthly Vanderbilt University School of Medicine Basic Sciences Lab-to-Table Conversation, join Matt Tyska, Cornelius Vanderbilt Chair and professor of cell and developmental biology, as he moderates a conversation about science and cycling with the following panelists:
• George Hincapie, former professional cyclist, 17-time Tour de France rider, owner of Hincapie Sportswear, and a co-host of the THEMOVE podcast,
• Bobby Julich, former professional cyclist, Tour de France veteran, Olympic medalist, cycling coach, and host of the Bobby & Jens podcast, and
• Dr. Kevin Sprouse, head of medicine for EF Education-NIPPO Pro Cycling, and sports medicine provider for PGA golfers, NFL and MLB players, Olympic track and field athletes, and more.
The panel will discuss their personal experiences with training, coaching, and medicine in cycling and how science has impacted their efforts through the years. View this conversation


July 27, 2021
"Toward a Cure for Melanoma" With the peak of summer approaching, this panel will discuss innovative research in melanoma and how it could move the needle towards less toxic treatments and better outcomes for patients. Moderated by Ann Richmond, Ph.D., Ingram Professor of Cancer Research and professor of pharmacology, the panel will feature: Justin Balko, Pharm.D., Ph.D., associate professor of medicine and pathology, microbiology and immunology, and Leader of Molecular Oncology, Center for Cancer Targeted Therapies Researcher; Dr. Anthony Daniels, M.Sc., M.D., assistant professor of ophthalmology and visual sciences, cancer biology, and radiation oncology; Dr. Doug Johnson, M.D., M.S.C.I., assistant professor of medicine of hematology/oncology; Dr. Caroline Nebhan, M.D., Ph.D., clinical fellow in hematology/oncology. View this conversation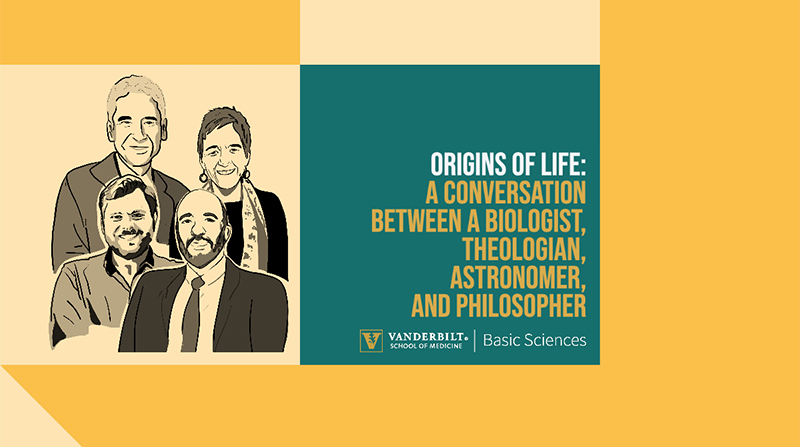 June 17, 2021
"Origins of Life: A conversation between a cell biologist, theologian, astronomer, and philosopher" How do academics with diverse areas of expertise view the origins of life? What kind of conversation would take place among a cell biologist, a theologian, an astronomer/physicist and a philosopher if they all sat around the same table? Witness this virtual discussion hosted by the School of Medicine Basic Sciences that will bring together perspectives from single-cell biology, theology, space and time and metaphysical philosophy to explore the unique and common understandings among the fields. The discussion will be moderated by Ian Marcara, Louise B. McGavock Chair and chair of the department of cell and developmental biology. The panelists are: Ellen Armour, PhD, E. Rhodes and Leona B. Carpenter Chair in religion, gender and sexuality Lenn Goodman, Andrew W. Mellon Professor in the Humanities, and professor of philosophy Stephen Taylor, assistant professor of physics and astronomy  View this conversation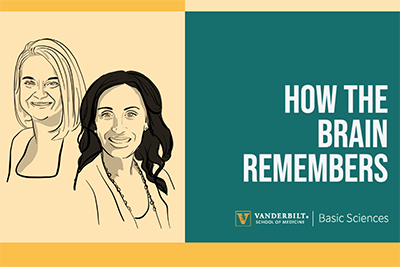 May 26, 2021
"How the Brain Remembers" — a Conversation with New York Times bestselling author and neuroscientist Lisa Genova and Vanderbilt Brain Institute Barlow Family Director Lisa Monteggia. This event was presented in partnership with Nashville-based Parnassus Books.  View this conversation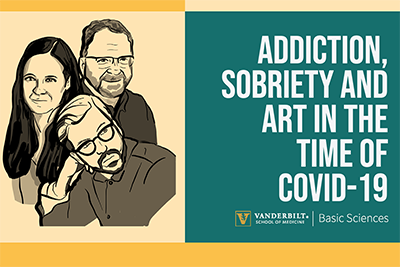 April 21, 2021
"Addiction, Sobriety and Art in the Time of COVID-19"
Featured guest, Will Welch, global editorial director of GQ magazine will join Winder and Calipari for the discussion. Welch has had personal experience with addiction and sobriety and has made discussing these issues through articles like "Creating While Clean" a focus of GQ in recent years. View this conversation!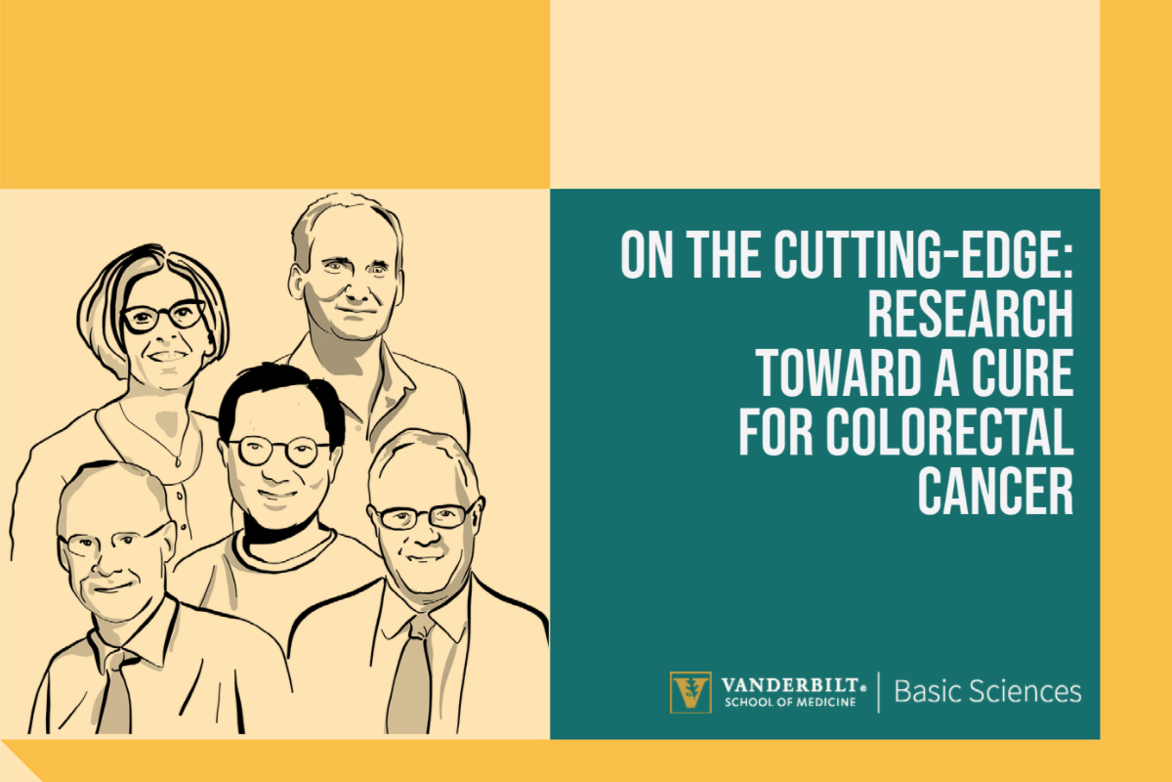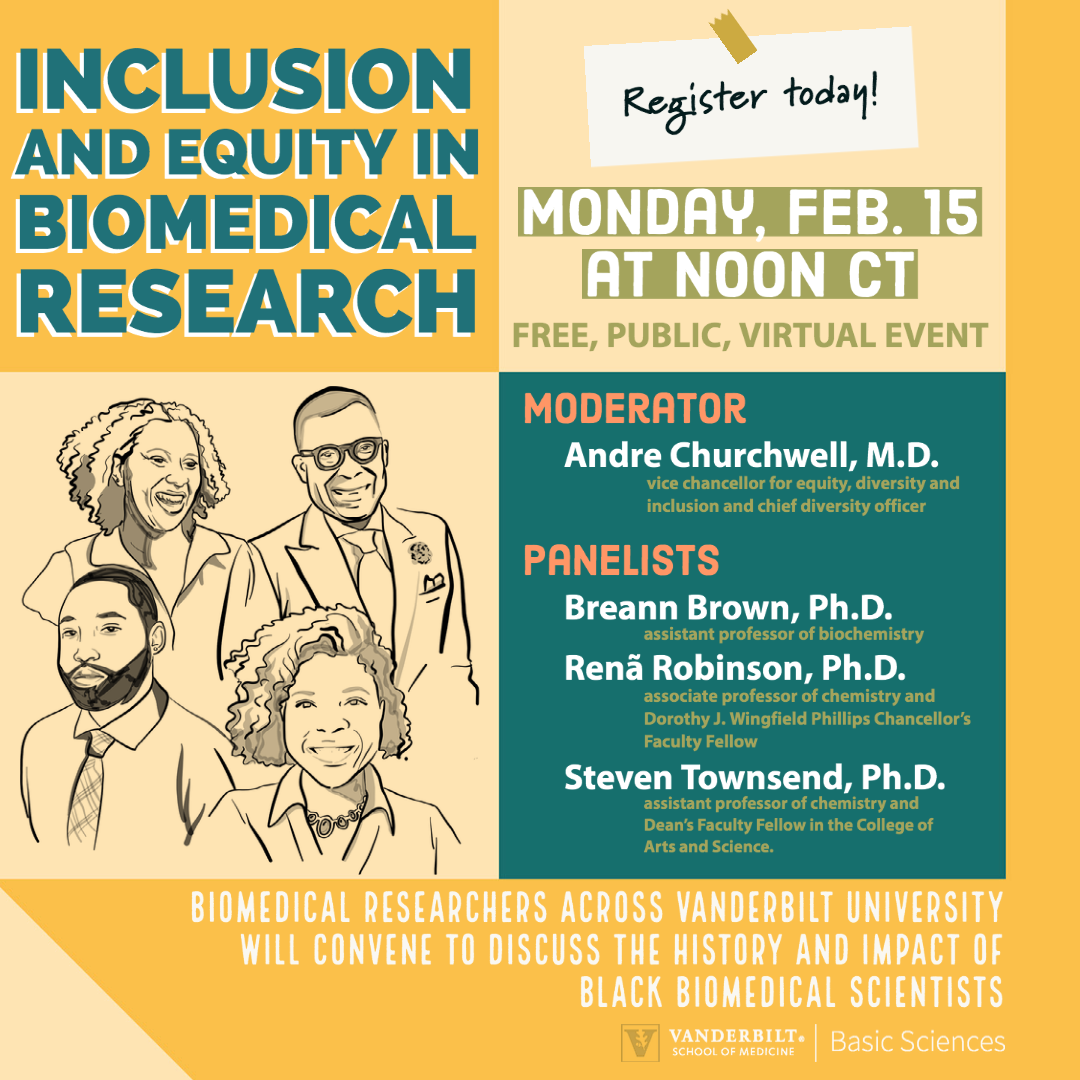 February 15, 2021
"Inclusion and Equity in Biomedical Research"
Featuring André Churchwell (moderator) and panelists Breann Brown, Renã Robinson, and Steven Townsend.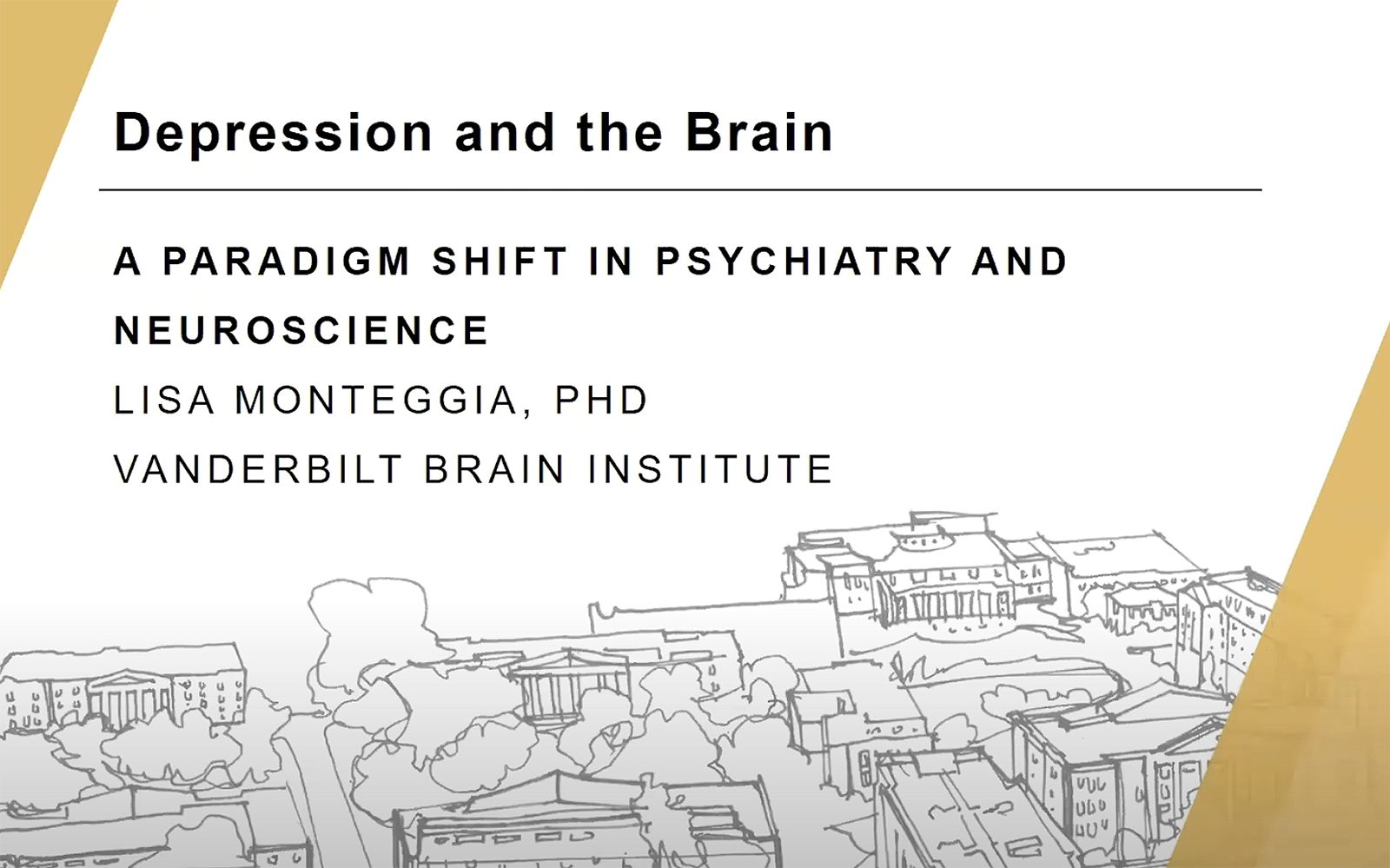 October 6, 2020
"Depression and the Brain: A Paradigm Shift in Psychiatry and Neuroscience"
October is depression awareness month. An estimated 17.3 million adults in the United States had at least one major depressive episode in 2017. This number represented 7.1% of all U.S. adults. To align with awareness on this illness, Dr. Lisa Monteggia covers the ground-breaking research occurring in basic science focused on depression, which she counts as one of our strongest research areas. Dr. Monteggia discussed the recent breakthroughs and future directions our research will take. View this talk!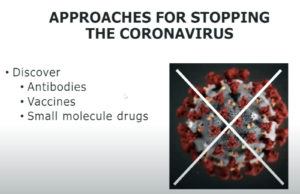 July 3, 2020
"A Promising Start to Ending Coronaviruses"
Featuring Stephen W. Fesik, Orrin H. Ingram II Chair in Cancer Research. Steve Fesik, PhD, discusses his research on protease inhibitors for coronaviruses.  View this talk!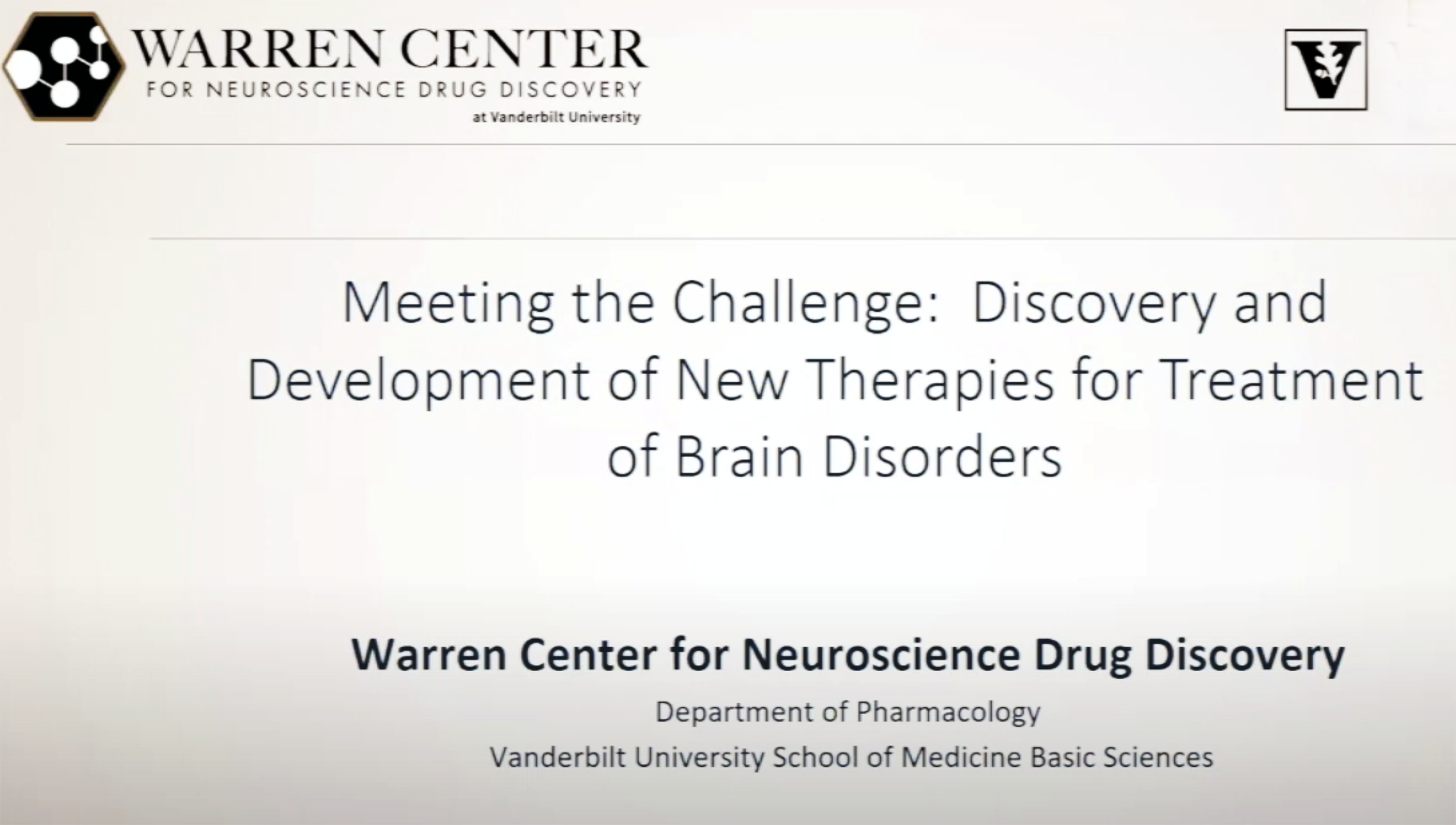 August 4, 2020
"Meeting the Challenge: Neuroscience Drug Discovery with the Warren Center"
The Warren Center for Neuroscience Drug Discovery (WCNDD) extends traditional academic pursuits in basic science to take the most exciting advances in our understanding of human disease and drug targets to a point where these breakthroughs can directly impact patient care. This is especially true in discovery of new treatment strategies for the most serious of brain disorders, such as Alzheimer's disease, Parkinson's disease, schizophrenia, autism, and others. By incorporating the highest level of drug discovery into academic research, the WCNDD takes scientific breakthroughs beyond the lab and toward the development of patentable and marketable drugs suited for clinical studies. Jeff Conn and Craig Lindsley give an overview of WCNDD, their neuroscience research and describe the impact of the transformative gift from The William K. Warren Foundation. View this talk!