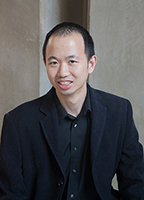 Ken Lau, Ph.D.
Associate Professor of Cell and Developmental Biology

---
: 10475 Medical Research Building 4
2215 Garland Avenue

Postdoctoral Fellowship, MIT/Massachusetts General Hospital
Research Description
Research Description
Our lab develops and applies computational approaches to high content data generated by single-cell technologies to understand epithelial tissue function and organization. The intestinal epithelium is a single cell layer that separates the trillions of microbes in the gut lumen from the host's body. The central goal of my lab is to understand how the inflammatory microenvironment, the so-called "niche", signal to epithelial cells to alter their phenotypes. Microenvironmental signaling is exquisitely regulated to constrain and maintain a homeostatic state between epithelial cells, luminal microbes, and underlying immune cells. A disrupted balance leads to diseases such Inflammatory Bowel Disease and colorectal cancer. My lab is broadly interested in understanding how niche signals are integrated and interpreted to result in cell fate decisions, such as cellular decisions to differentiate into one cell type versus another. We utilize single approaches such as DISSECT-CyTOF (Simmons et al., 2015), multiplex imaging (MxIF) (McKinley et al., 2017), and single-cell RNA-seq to query single-cell states. We aim to unravel the degree of heterogeneity and plasticity of epithelial cell populations, such as cancer stem cells, in vivo, and to translate such knowledge into therapeutically tractable targets.
---