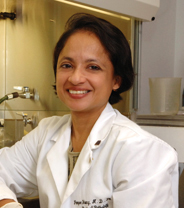 Pampee P. Young, M.D., Ph.D.
Chief Medical Officer, Biomedical Services, American Red Cross, Nashville, TN
Adjunct Professor, Cell and Developmental Biology
Adjunct Professor, Pathology, Microbiology and Immunology

---
Repair and regeneration of tissues and organs using the cardiovascular system as a model
The Young Research Laboratory is located in Medical Center North of the Vanderbilt University Medical Center in Nashville, Tennessee.We are a member of the Department of Pathology, Microbiology and Immunology.    and are affiliated with Cardiac Cell Therapy Network, Vanderbilt Stem Cell and Regenerative Medicine group. We have access to outstanding state-of-the-art resources for basic and translational research at Vanderbilt.
Our passion is to develop innovative therapies to stimulate tissue renewal and restoration with the ultimate goal of optimizing organ function.  Our approach is to understand the cellular and molecular basis of repair and regeneration using bona fide mammalian models of tissue and organ injury.  The primary model systems in our laboratory are cardiac
ischemic injury and complex soft tissue injury in mice.  By combining the animal model systems with studies of cells and tissues in culture, we can dissect multiple aspects of the repair process, including: stem cell-mediated restoration, fibrosis, angiogenesis and the complex interplay of these forces.  Our group uses diverse methodologies (cell and molecular biology, proteomics, metabolomics, structure/function studies) to clarify which proteins and genes and the appropriate context by which they control the repair process.  These studies have led to our focus on the Wnt signaling pathway as regulators of both adult stem cell activity and tissue fibrosis. We have novel drugs (obtained in collaboration with Novartis) and ones developed by collaborators at Vanderbilt with which we can precisely regulate the Wnt pathway.  We are testing whether specific modulation of temporal/spatial regulation of Wnt signaling after injury can enhance organ regeneration.
Impact
Our studies have the potential to have wide impact. Complex soft tissue wounds are a major health concern that plagues diabetic and the aging patient as well as victims of trauma.  We have a special interest in applying our research to the Wounded Warrior  Project® (WWP) to help restore injured blast and burn complex wounds.
Our studies of cardiac repair and regeneration seek to address the loss of myocytes that leads to heart failure.  Heart failure contributes to 250,000 deaths annually and an economic burden that exceeds $500 billion.  Our studies that show that our approach with stem cells and Wnt modulators can improve left ventricle function is highly significant.  In addition, we anticipate our work with understanding atherosclerosis and plaque progress and instability (which leads to myocardial infarction and stroke) will impact our understanding of a disease that constitutes the number one killer in our country.
Our work and laboratory are supported by grants from American Heart Association, National Institutes of Health, and Department of Veterans Affairs as well as private foundations. If you are interested in finding out more about our research, please contact us at pampee.young@vanderbilt.edu
---