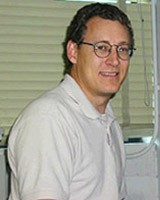 Todd R. Graham, Ph.D.
Professor of Biological Sciences, Stevenson Chair in Biological Sciences
Professor of Cell and Developmental Biology

---
We are interested in understanding how the cell assembles and maintains the ordered arrangement of membrane-bound compartments that compose the Golgi complex. We are also working to understand how the Golgi complex produces several different kinds of transport vesicles that deliver proteins to the cell surface, the endosomal/lysosomal system, the endoplasmic reticulum or newly forming Golgi cisternae.
B.A., Maryville College, St. Louis, MO
Ph.D., St. Louis University, St. Louis, MO
Postdoc, St. Louis University, St. Louis, MO
Postdoc, Caltech, Pasadena, CA
Postdoc, UCSD, San Diego, CA
---