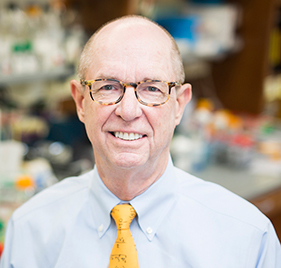 Lawrence J. Marnett, Ph.D.
Dean Emeritus, Basic Sciences, Vanderbilt University School of Medicine
University Distinguished Professor
Mary Geddes Stahlman Professor of Cancer Research
University Professor of Biochemistry and Chemistry
Professor of Pharmacology

---
: 850 A Robinson Research Building
23rd & Pierce Avenue
Nashville, - 37232-0146
Oxidative lipid metabolism in inflammation & cancer
Name: Marnett, Lawrence J.
Title: Professor of Biochemistry, Chemistry and Pharmacology
Department: Biochemistry
Office Address: 850 RRB
Phone Number: 615-322-0907
E-mail: larry.marnett@vanderbilt.edu
Lab URL: https://medschool.vanderbilt.edu/marnett-lab
​Basic Sciences URL: https://medschool.vanderbilt.edu/basic-sciences/
Research Keywords: cyclooxygenase, prostaglandins, antiinflammatory agent, endocannabinoids, DNA damage, mutagenesis, oxidative stress and cell signaling, apoptosis
Research Specialty: Cyclooxygenase-2 structure and function; chemistry and biology of DNA damage-dependent mutagenesis and signaling
Research Description: A major interest in the Marnett laboratory is the structure and function of cyclooxygenase-2 (COX-2). This enzyme catalyzes the committed step in the production of prostaglandins and is the molecular target for non-steroidal antiinflammatory drugs. Functional analysis of COX-2 by structure-guided mutagenesis has uncovered new strategies for synthesizing COX-2 inhibitors and has suggested new biological roles for the enzyme. Current work focuses on the generation of novel antiinflammatory drugs with additional pharmacological functions and on investigations of the chemistry and biology of COX-2-dependent oxygenation of the endocannabinoid, 2-arachidonylglycerol, to glyceryl prostaglandins.
Another major interest in the Marnett laboratory is the chemistry and biology of DNA damage by endogenously generated products of oxidative stress. Individual products of DNA damage are incorporated into viral genomes for in vivo mutagenesis experiments. Similar experiments are used to identify human DNA repair enzymes that remove specific forms of DNA damage.
A new area of interest in the laboratory is the investigation of protein targets of drugs and toxic compounds and the consequences of protein modification in modulating biological function. A broad range of techniques are used by the Marnett group including chemical synthesis, enzymology, protein expression, site-directed mutagenesis, bioanalytical chemistry, mass spectrometry, in vivo mutagenesis, tissue culture, proteomics, and techniques of signal transduction.
---